Noises Off
Michael Frayn
The Old Vic
The Lyceum, Sheffield
–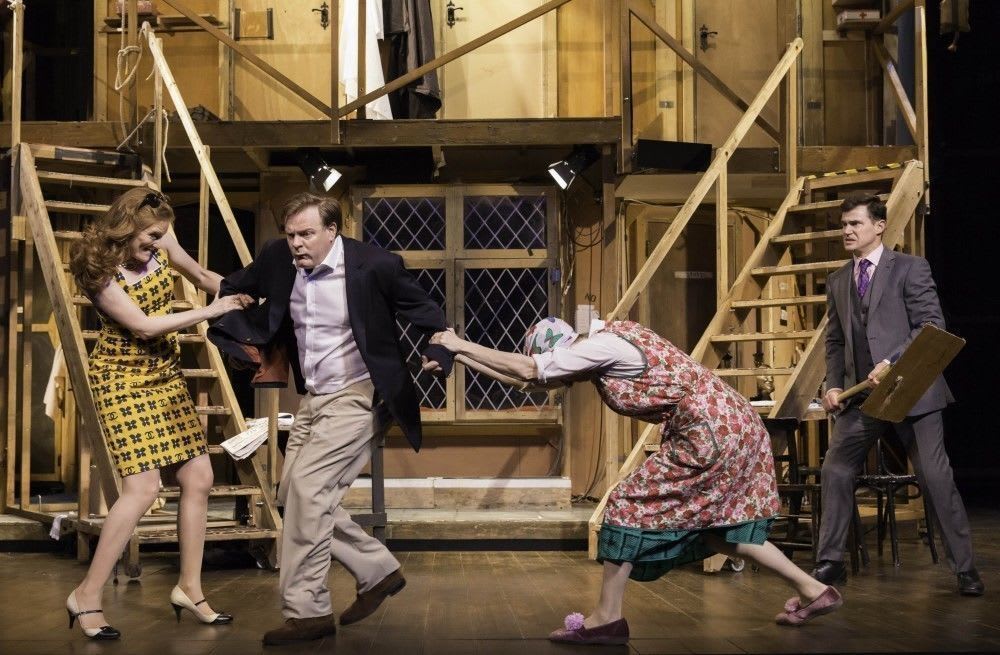 We have a lot to thank Kevin Spacey for, not least this acclaimed production of Noises Off visiting Sheffield this week as part of its national tour.
Anybody who has any experience of amateur dramatics will recognise the on- and off-stage content of this delightful play by Michael Frayn, first performed in 1982 after a long and painful gestation, revived at the National Theatre in 2000 and more recently in Lindsay Posner's production at the Old Vic.
British drama has a long tradition of bedroom farce going back in the modern era to the Whitehall Farces of the 1950s, the Carry On films, and TV series like Fawlty Towers and Are You Being Served. The main ingredients are scantily-dressed girls, trousers round the ankles, mistaken identity and rapid entries and exits through a variety of doors. What Frayn adds to this heady mix is a riotous satire on the dramatic process which follows a touring company from a disorganised dress rehearsal in Weston-Super-Mare, through backstage shenanigans in Ashton-under-Lyne, to a disastrous performance in Stockton-on-Tees.
It took Frayn some time to establish himself as a playwright. As a result, he told a BBC interviewer, 'I hated theatre, detested it'. There is nothing rancorous about this play, but it is possible that some serious minded theatre folk might feel that it trivialises a noble profession.
Neil Pearson plays Lloyd Dallas, the director of the touring play, who can't wait to get away from this incompetent bunch of actors and technicians to get on with a production of Richard III. Pearson seethes with barely controlled frustration and anger, most notable when he 'patiently' waits for an actor to make an exit with the right props, or finds he has to invent some complex motivation to get an actor off the stage carrying a box. It also hasn't helped that he is simultaneously 'carrying on' with the two young women the company. This, added to another stage romance gone wrong, contributes to the mayhem of the second act.
It is a truism that farce has more in common with tragedy than comedy. This outstanding cast of experienced performers gives an object lesson in how to play farce; with huge energy, but also with deadly seriousness, however ridiculous the action; and without collusion with the audience.
Maureen Beattie is convincing and increasingly manic as Dotty the housekeeper; she develops a body language of flailing arms and peculiar walks (reminiscent of Basil Fawlty) as events become increasingly desperate.
This is a high-paced, physical production which makes huge demands on the fitness of the cast, particularly the scantily-dressed Thomasin Rand as Brook Ashton and David Bark-Jones as Garry Lejeune. As well as endlessly running up and down stairs, Bark-Jones is required to tumble athletically down two flights, get up and carry on. It is no wonder that understudies figure prominently in the programme.
Sasha Waddell, as Belinda Blair, makes a convincing, drawling luvvie, while stage husband Chris Larkin (of the dropped trousers) disintegrates before our eyes, dabbing his nose with a blood-stained handkerchief. As stage manager Poppy, Danielle Flett is nervous, ungainly and increasingly hysterical; while Simon Bubb as the handyman / set builder makes the most of his straight man role. Geoffrey Freshwater's timing is immaculate as the drunken Selsden. Selsden may miss his cues but Freshwater's timing is immaculate.
Peter McKintosh's attractive and solid set is a masterpiece of engineering, unshakeable however much door banging is going on and capable of being dismantled and re-constructed in a very short space of time. Props and costumes and complex stage business add to the fun.
In a play like this, which is satirising stage inefficiency, nothing can afford to go wrong, otherwise the bubble bursts. Pace and timing, particularly of fast entries and exits, is perfect throughout. The play calls for a wide range of skills as well as energy from the actors, including mime in the largely non-verbal second act; each member of the cast rises to the challenge magnificently.
The very helpful programme, which includes photographs of the play in action, also has an insert which purports to be the programme for Nothing On, the play we see being rehearsed and performed. The cod biographies are particularly amusing.
Noises Off is touring the country until 27 July.
Reviewer: Velda Harris