Noises Off
Michael Frayn
Theatre Royal Bath Productions in association with Birmingham Rep
York Theatre Royal
–

Listing details and ticket info...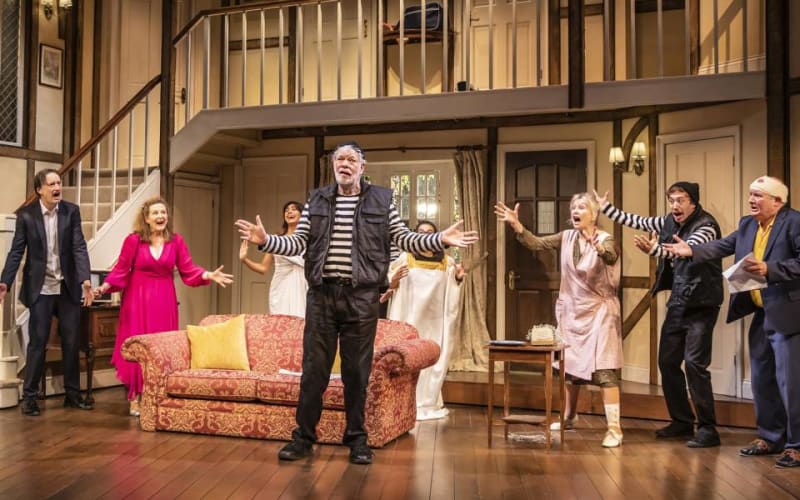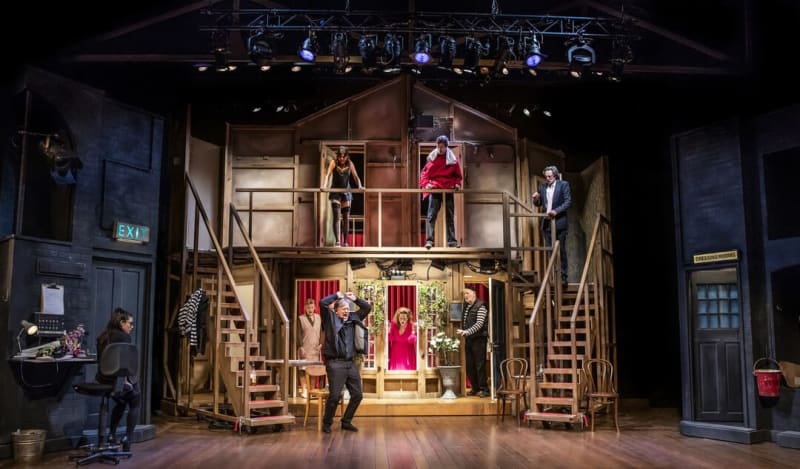 What a stupendous piece of work Noises Off is!
Since its West End première in 1982, Michael Frayn's ingenious meta play—which focuses on how a risible sex farce unravels as it tours around the country—has been accepted into the canon of truly great stage comedies. While it may not have the soulfulness of Twelfth Night or the sparkling wit of The Importance of Being Earnest, I struggle to think of another stage production capable of generating so much hilarity and at such an alarming rate.
In the past, I have written glowing reviews of Mischief Theatre, particularly their breakthrough production The Play That Goes Wrong. As much as I enjoy their productions, I remain convinced that Noises Off represents the gold standard for self-aware theatrical comedy. This is my second time watching Frayn's comic masterpiece (the first was English Touring Theatre's excellent 2016 production), and while it has lost some of the novelty it once held for me, I continue to be awestruck by the depth and sophistication of its construction.
Rather than dramatising a single staging of the play-with-in a play—in this case, Nothing On by Robin Housemonger—Frayn wisely chooses to offer us different perspectives on the same chunk of the play. In the first act—set during the pre-opening night technical rehearsal—we see the actors struggling to remember their lines, mucking up their entrances and getting into trouble with props.
Set during a matinée performance one month into the tour, the second act dramatises the rivalries which have developed between the actors, offering the audience a backstage view of the meta play we saw in the first act. By the time the final act arrives—set near the end of the fictional ten-week tour—Nothing On has almost completely fallen apart.
One of the chief delights of Noises Off is the variety of comedic opportunities it offers its cast. Simon Shepherd is wonderfully deadpan as Lloyd, the director, whose calm veneer occasionally cracks with explosive rage. Liza Goddard shines as Dotty, a charming but increasingly forgetful actress approaching retirement, who struggles with various props—most notably a plate of sardines. Simon Coates is equally delightful as Frederick, the kind of luvvie who needs "motivation" for every action he takes.
While there isn't a dud role in the whole play, my favourite character is probably Garry, who is surprisingly fluent onstage but struggles to complete a coherent sentence when off it. He gets some of the best comic business to do, including falling down a flight of stairs when his shoelaces are tied, and he is superbly played by Mark Middleton. Also hilarious is Lisa Ambalavanar as Brooke, the kind of actor who is incapable of improvising and, therefore, sticks rigidly to the script despite the production falling apart around her.
Lucy Robinson is delightful as Belinda, arguably the most capable and co-operative member of the ensemble, who becomes increasingly frantic in her attempts to inject some order into proceedings, and Matthew Kelly is great value as Selsdon, an unreliable drunkard who hides his liquor around the set. There are also lovely turns from Nikhita Lesler and Daniel Rainford as young stage managers, whose rivalry comes to a head during the second act.
Lindsay Posner's revival of Noises Off was first staged last year to mark the play's fortieth anniversary. After a successful season in the West End, it is now touring the UK. If you haven't seen it before, I urge you to seek it out.
Reviewer: James Ballands