Northanger Abbey
Jane Austen, adapted by Tim Luscombe
Salisbury Playhouse
(2007)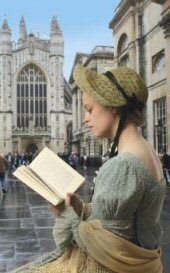 If you are visiting Salisbury Playhouse for the opening production of Philip Wilson's first season as Artistic Director, don't, whatever you do, leave at the interval!
This has not so much to do with Jane Austen's relatively light-weight work, Northanger Abbey, arguably her weakest offering and certainly much lighter than the likes of Pride and Prejudice and Sense and Sensibility, as to the élan with which director Tim Luscombe and his lively company galvanise this play in the second half. So much so that first half trivia is almost entirely overcome by a powerful surge to the excellent final curtain.
Much credit, too, to designer Colin Falconer, first for his splendidly versatile doors which which lend a light, almost farcical touch in Act One, and secondly for the gothic arches of Act Two, redolent of the "vast" abbey. And Mathew Bugg's music raises the tone of lives lived from Salisbury to Bath to Northanger.
The small cast of eight rules out any dreams of Pump Room opulence or multiplicity of serving wenches. Yet the principal characters are all well drawn and Hansjorg Schmidt's lighting is especially sensitive to the distinctions in this production of two halves.
Jenni Maitland is a splendidly robust and determined Catherine with Christine Cox a warm companion as Mrs Allen. Gregory Finnegan is a splendidly upright Henry Tilney, if rather too preoccupied with his horses, while Ben Righton (Capt Tilney) and Dominic Gerrard (Count Morano) also register strongly - albeit that, thanks to Miss Austen no less, the gentlemen wait some time before getting into this work.
There is also an impressive performance as the General by the experienced Terry Taplin, veteran of several memorable Salisbury appearances.
The production runs at the Playhouse until Saturday 29 September.
Reviewer: Kevin Catchpole