Northern Star
Stewart Parker
Finborough Theatre
(2011)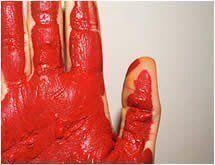 Northern Star might have been subtitled The Seven Ages of Harry McCracken. In the person of the consistently charming Jonathan Harden, this forgotten figure is a star if ever there was one.
Northern Ireland has been at war with itself and its neighbours from across the Irish Sea for generations. This play, which runs through most of the last decade of the Eighteenth Century, bears that out.
The names that we know from that era are mad George III, Lord Castlereagh and Wolfe Tone. However, it is Stewart Parker's thesis that Henry Joy McCracken from Belfast was, if not a greater man than this unholy trio, a more interesting subject for examination.
The drama is seen through his eyes from the noose, which haunts the audience, hanging just above the actors throughout the 2½ hours both literally and metaphorically.
Irish politics have never been simple and here there are a large number of factions and breakaways to try and locate. The Muddlers give way to Orangemen and Defenders but our guide has the strangest of Irish impulses, the desire to unite them all in peace. The magnitude of his task can be seen from the fact that three centuries on, nobody has succeeded in doing so.
The style of the play keeps the audience going, with wit never far away and great variety as McCracken meets not only obdurate warriors and lazy cowards but Mary, the sweet-voiced Claire McMahon playing the mother of his illegitimate child. Though she may not see eye to eye with her man's stuck-up sister, they have in common a desire for him to see sense and emigrate to America before it is too late.
However, Henry Joy McCracken, like so many before and after, sees his destiny as a martyr, even in the knowledge that his efforts will come to nothing; and that is his greatness.
Director Caitlin McLeod, who has an eye for a striking image, marshals a large cast playing innumerable parts with ease. She is well served by her actors and also a pair of musicians who bring an Irish aura to the evening on assorted instruments.
Northern Star is not the easiest play but it is deeply rewarding for the late, lamented Stewart Parker's lush, poetic language, the portrait of a fascinating historical figure and the sad light that it sheds on Ireland today when even though peace has broken out, there is still an uneasy feeling that it may break down at any moment.
Reviewer: Philip Fisher