Nosferatu
Grzegorz Jarzyna, inspired by Bram Stoker's Dracula
TR Warszawa and Teatr Narodowy
Barbican
–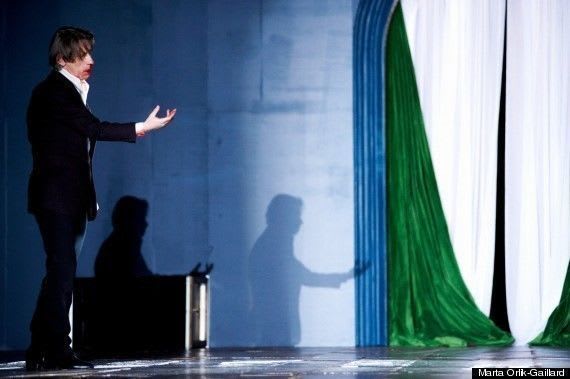 Is it conceivable that Grzegorz Jarzyna deliberately set out to give his audience an experience that would mirror the limbo between life and death suffered by victims of vampires such as the eponymous antihero?
The tempo of the two-hour long Nosferatu is certainly slow enough, though there are moments of comedy, usually delivered with tongue deep into cheek.
This is a brave director who seems to care little for critical reactions or the risk of diminishing audiences as his plays run their course. The upside is a unique style that, when it works, is striking and thought-provoking, as exemplified by an unforgettable version of Sarah Kane's 4:48 Psychosis, seen in Edinburgh and at the Barbican.
Nosferatu is based on Bram Stoker's Dracula but updated and transformed. In the hands of designer Magdalena Maciejewska, the large stage space becomes a hall in some isolated mansion occupied by an odd, contrary group of people.
They start by talking of obscure scientific theories but little happens for some considerable time.
Eventually, pretty red-headed Lucy, played by Sandra Korzeniak, begins to show symptoms of a viral illness, which owes something to her passion for Wolfgang Michael's frosty neighbour, Nosferatu. Her potentially fatal illness breeds dissension between two doctors, orthodox Seward and mystical Van Helsing, respectively Jan Englert and Jan Frycz.
Her demise leads to conflict, as the latter suggests that, despite consigning her remains to the grave, he expects Lucy to return—and she does.
While the house guests continue to bicker, Lucy and the cold-blooded next door neighbour wreak havoc as they seek blood from the locals, aided by Marcin Hycnar's imponderably inhospitable Jonathan.
While the slow pacing, combined with Jacqueline Sobiszewski's atmospherically dim lighting and an unpredictable but powerful soundtrack composed by John Zorn, Nosferatu keeps viewers guessing and interested for quite a long time.
Eventually, many will decide that they are waiting for a denouement as elusive as Godot, though the final moment contains great humour, if limited meaning.
While this re-telling of the Dracula story will probably go down in the records as a horror fans' collector's piece rather than a popular hit, there is every chance that it will haunt the subconscious minds of visitors who manage to stick with it right to the end.
Reviewer: Philip Fisher