Not I / Footfalls / Rockaby
Samuel Beckett
Mighty Mouth
Royal Court Theatre Downstairs
–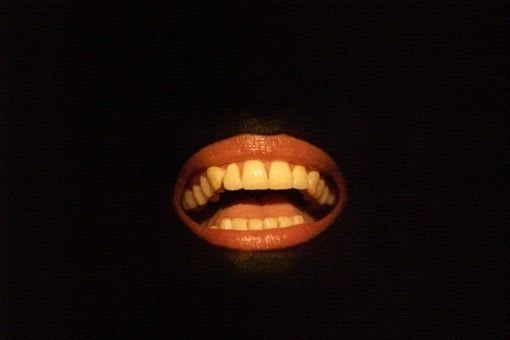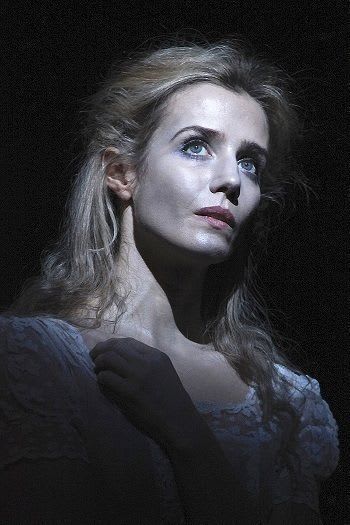 This trilogy of tiny plays is a triumph that owes much to the vision of its creative team. While Lisa Dwan gives an acclaimed, virtuoso performance, the impression owes almost as much to director Walter Asmus, a Beckett specialist, and his designers of set and costume, Alex Eales, and lighting, James Farncombe.
The result is a minimalist vision that would not look out of place in an art gallery. However, you have to like the dark and murky to appreciate an hour in which the lack of visual clarity acts as a metaphor for the texts.
Not I
The opening piece is a dream or nightmare for actresses, which Lisa Dwan impressively takes in her stride. It features a disembodied mouth suspended eight feet above the stage and spewing out words into pitch darkness.
How the actress manages to breathe in this tour-de-force is almost as much of a mystery as the poetically delivered message that the playwright is trying to convey about the meaninglessness and repetitiveness of her life, starting at the moment of birth and progressing through brief snapshots.
Footfalls
Following a long, eerie blackout, the rather longer middle play features a slowly pacing, middle-aged woman who enters into a dialogue with her unseen mother. Again, lighting is minimal, enhancing a ghostly aura that is entirely deliberate.
The old woman is lying on a sickbed from which she seems unlikely to arise, bemoaning a lot a life that is little worse than that of her daughter, by whom life seems to be passing without even acknowledgement of her existence.
Rockaby
Last up, and still saving on the electricity bill, is a gently soothing chance to watch a woman rocking herself into a stupor of inaction, ending in sleep or even, conceivably, death.
Once again she is in a dialogue, this time like Krapp with her own recorded voice, about not very much.
By the end of a collective 55 minutes, viewers are likely to come away with admiration for all concerned and an overall sense of depression engendered by three short existential plays that rely on rhythm and delivery, without conveying very much direct meaning.
Reviewer: Philip Fisher