Not One of These People
Martin Crimp
Royal Court Theatre (London), Carte blanche (Québec City) and the Carrefour international de théâtre (Québec City)
Royal Court Theatre (Jerwood Theatre Downstairs)
–

Listing details and ticket info...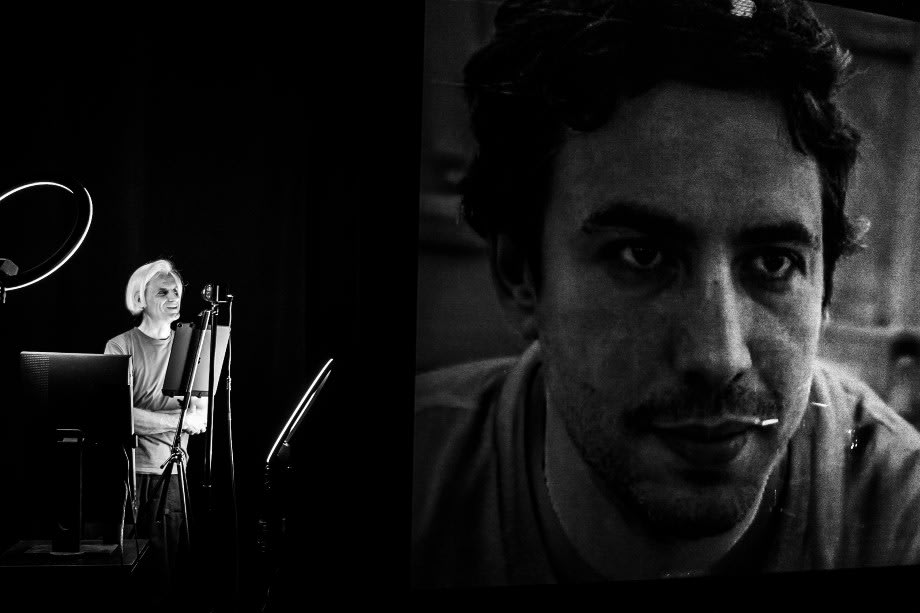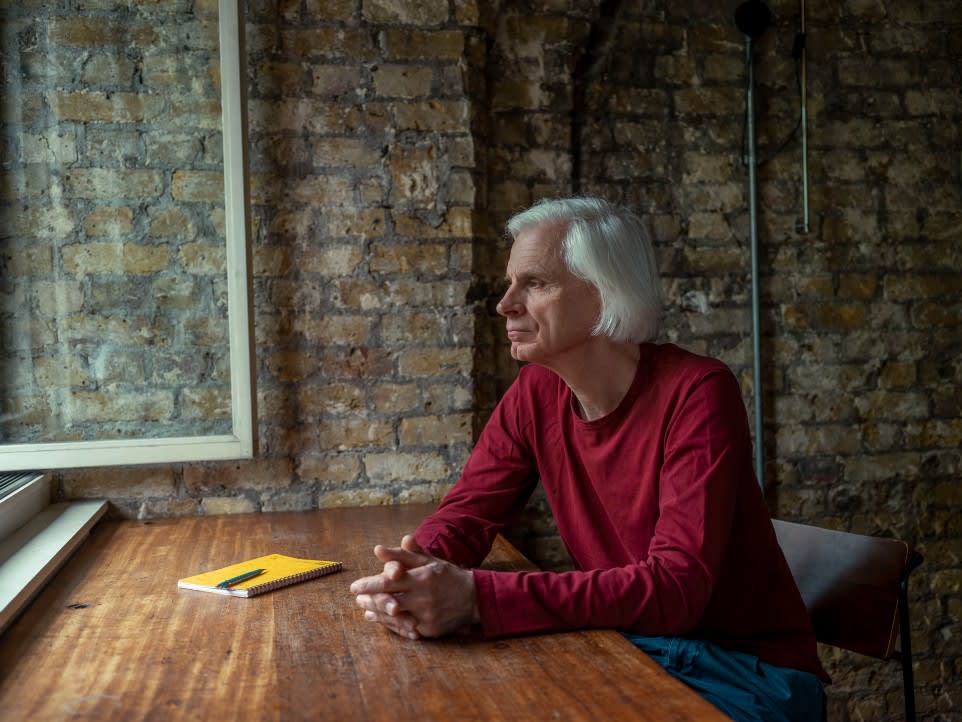 Martin Crimp's lightweight provocation is in part prompted by his encounter with young writers he met at the Royal Court who spoke of their worries about what it was safe to write about in the current climate of culture wars. He feels writers should have the freedom to express themselves without having to look over their shoulder.
Initially intending to write verbal snippets for a thousand characters, he settled on 299 he would deliver in person over 110 minutes against a screen showing the deepfake pictures of the characters dreamed up by artificial intelligence. The pictures are lifelike but initially static. Some way into the event, their faces animate in a weird lip-sync to words read by Martin Crimp standing at a lectern for most of the performance.
Although there is no plot, no story, no characterisation or any obvious purpose to all this, he claims to have structured the event into three sections. The first hundred characters reflect what he refers to as the "cultural toothache" around the clash of what is regarded as permissible, the second set of people we see let us glimpse what are supposedly a series of confessions and the final ninety-nine contributions he suggests are a riff on notions of chance but seem similar to what has gone before.
Many of the characters' contributions are short but seemingly trivial such as the one claiming, "I'm not one of those people who takes risks with spaghetti." Others gently mock their targets. The picture of a baby lip-syncs the words "Exxon Valdez? Deepwater Horizon? I've read the reports, and these are not quote unquote 'accidents', these are the entirely foreseeable consequence of unregulated capitalism."
Of course, that doesn't mean he thinks that the environmental movement are a bunch of babies. The whole point of the title is to indicate he might not be one of these people, though of course perhaps winking at us that he might be.
When a character claims "if queer's the new normal, I found myself thinking then what's the point of my queerness? I've been upset by this for quite a few days", he is not having a laugh at a persecuted group still subject to the death penalty in places outside the UK.
Nor is he taking lightly the #MeToo protests when he has a character say, "I've noticed the men in my rifle club getting very defensive about issues of consent." But it gets a laugh and that can't be said of most of the event. There were no laughs for the character declaring, "I need a man to be a man, I want to be fucked—I don't want him to keep asking 'Is this alright? Is that alright? I need him to know and just do it."
Neither is he endorsing the trans woman character bitterly complaining about feminism (as if trans women haven't got enough problems from some so-called feminists) when she says, "I transitioned for the high heels, for the glamour, for the bathroom camaraderie and bikini tops, for looking pretty in the mirror, feeling hot. So now is someone trying to tell me these things are wrong… What we need to do is shift the whole meaning of the word feminism."
Trying not to exclude any group, he gives us a white man who explain,s "it's really hard to be a white person now. I mean I'm not saying it's ever been easy, but right now in the climate as it is now? yea, yea pretty difficult." Another character tells us, "that much of this so-called Nazi data is pretty reliable." A different character says, "I'm watching it because I've heard it's anti-Semitic."
There are also non-white characters. One tells us, "I acted black in front of my lighter-skinned cousin's friends, I claimed I know what a bat thinks, I refused to tick boxes about ethnicity just so as white people could feel they were listening."
Two-thirds through the performance at my end of the theatre, six people made a dash for the exit and the occasional laughter became rarer. About twenty minutes before the show closed, even Martin Crimp needed a rest, so while a recording of his voice continued, he wandered off to a version of his office where he sharpened a pencil read a book and did other tasks. As for his final lengthy reading, which perhaps we are to assume is the character of Martin Crimp, I bet you won't find a single person who could understand what it was about.
Of course, in some ways, the lack of a coherent narrative echoes the confusion and sometimes very prejudiced chaos of social media. Theatre, for instance with Jonathan Spector's engaging play Eureka Day performed this year at the Old Vic, can make such social media conflict an entertaining and very amusing integrated element in the performance. But surely its inclusion in a work has to have some purpose beyond replicating undigested chaos.
All the same, you can almost imagine the chuckles of Martin Crimp mischievously having lots of fairly harmless digs at liberal sensitivities and occasionally tossing an unsettling nugget amongst the rest, for instance with the character who is clearly an undercover police officer in an illegal, abusive relationship with an activist.
Maybe Martin Crimp doesn't want to have a purpose or to give us anything more coherent and less tiring to listen to, even perhaps more useful to those daily suffering injustice or fighting environmental catastrophe, but he could perhaps remember that audiences often want a little more than the equivalent of listening to the drunken ramblings of a group of strangers in a late-night pub.
Reviewer: Keith Mckenna