Notes on a Lasagne
Jono Gadsby
The Singular Ensemble
Brockley Jack Theatre
(2009)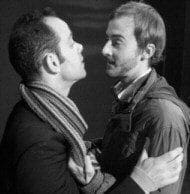 Notes on a Lasagne is a two-hander that left me re-working Larkin: "They fuck you up, your wives and lovers. They may not mean to, but they do".
Writer Jono Gadsby has Mini finding suicidal Chris at a cliff's edge late at night one Christmas Eve. Mini appoints himself Chris' good Samaritan declaring, "I'm going to save your life" and seemingly he will exploit all number of ploys to do so and then to sort out Chris' problems as well. What emerges is a meandering discussion largely concerned with the nature of relationships which reveals how both men find themselves in this unlikely Yuletide venue.
Both Mini and Chris are economical with the truth and so the history which drives each of them to the cliff is woolly and rather unsatisfying. Various inconclusive confessions are made by Mini regarding his less than squeaky clean past, and apart from some hints about sinister proclivities Chris is unrelentingly the victim of his "evil bitch whore from hell wife". Mini may really be a "nutter" but Chris' stance is unlikely in his denial of any responsibility for his failed marriage and current predicament.
Despite the too many digressions in the pair's discourse, Gadsby nonetheless succeeds in achieving passages that have a ring of truth about them and some moments of genuine unease.
The skitting about over so many issues means that none receive much scrutiny but they give rise to some comic elements which are pleasingly dark and quirky and Mini is sufficiently off-centre to be slightly intriguing. Rather like the lady from Dubuque, but with less finesse, we are teased by his unclear identity: "I can change things" he says, though without any obvious wherewithal as to how.
Gadsby and his co-director Chris Rogers get a good deal of action from a piece that is essentially static in nature, and their work is well supported by a suitably unambitious set design, though a less yellow light would have better reflected the night time setting.
Peter Clapp's face bears none of the care-worn lines you would expect of a misunderstood and life-abused Chris but he imbues his angry outbursts with a bitter-edged hatred. Peter Rae is an engaging and well thought-out Mini balancing the various sides of the "cliff walking lunatic".
"Notes on a Lasagne" plays Tuesday to Saturday until 26 September 2009
This play is not suitable for children
Reviewer: Sandra Giorgetti