Nothing is the End of the World (Except for the End of the World)
Bekah Brunstetter
Finborough
–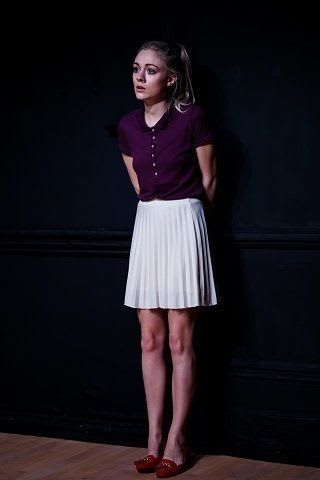 This 90-minute piece, which originated on the far side of the Atlantic, practically has two titles and it comes over almost like two separate plays.
At its core is a standard drama of teen angst, lived out in a Manhattan school that takes great trouble to integrate kids from mixed backgrounds.
Here, we see peppy class president, Skye Lourie as Jessica, dating the basketball jock, Kit. There are two geeky girls who eventually form an alliance thanks to the outsider status granted in one case by a father who murdered her mother and in the other, religious nuts. Add in the compulsory gay boy and rock chick and it isn't difficult to guess the rest.
Their antics are then filtered through the medium of a reality TV camera, complete with intrusive voice interrogating their motives.
Overlaid on to this is something a little more unusual in the form of two new pupils, who just happen to be man-made, using the best technology that artificial intelligence can provide.
Godfrey and Olive draw the pick of the performances from Dan Crow and Lisa Caruccio Came. This acting duo synchronise impeccably under Max Pappenheim's direction through long spells of enthusiastically robotic behaviour that irritates the hell out of the human teens.
It would be giving the game away to reveal whether their spell at high school changes them into something more human or possibly makes the real kids into bright automatons.
Reviewer: Philip Fisher