Nothing But the Truth
John Kani
UK Arts International
Hampstead Theatre
(2007)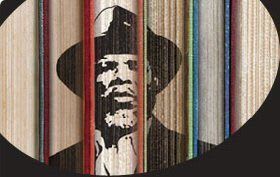 There are only a handful of theatre practitioners around the world who can worthily live with the title of genius. John Kani, who has previously been closely associated with Athol Fugard and Winston Ntshona, particularly on The Island and Sizwe Banzi is Dead, is one of them.
He grew up under the oppressive regime of Apartheid in South Africa and was even imprisoned for his writings, which first opened the public's eyes to life on Robben Island. This would make him somebody worth listening to and watching, even if his work was mediocre. It never is.
Nothing but the Truth is deceptive. It looks like a simple story about an old man contemplating death as his younger brother's ashes are about to be scattered.
In fact, it is a multi-layered play set in 2000 that looks at truth and reconciliation on both a national and a personal level, considers African township life and shows us an old man who has elements of Willy Loman but ultimately overcomes jealousy and bitterness to give the play a hopeful ending.
Sipho Makaya, played by the writer, is an unfulfilled man of 63 given to Xhosa mutterings in moments of irritation. He still has hopes for the future, as long as he can be appointed to fulfil his long-cherished ambition and become chief librarian of the New Brighton Township, attached to Port Elizabeth. This after all is what the Black man fought for through all of the years of white rule up to 1994.
He lives with his loyal daughter, Motshabi Tyele's Thando, who still maintains an African attitude to obedience and is as happy to spend time with her father as the fiancé that we never see.
As the play opens on their tidy but very busy home, designed by Sarah Roberts, they are making plans for the funeral of Sipho's brother. He was a political activist and having been forced out of the country decades before is now returning in an urn.
He is accompanied by his daughter, Mandisa Mackay, born in London and sounding like it, which is a great credit to actress Rosie Motene who hails from far closer to Cape Town than Camden Town.
She is very glamorous, as befits a fashion designer, and brings London attitudes to a very different environment. This potentially sets up clashes, particularly with the old man but also eventually with her "sister", Thando.
Gradually, the play turns to the subject of truth and reconciliation, first as Thando explains the African concept of forgiveness. This apparently allows brutal murderers to run free but subtly punishes them while offering release to victims' families.
There are lot of secrets in the Makaya/Mackay family including dead children and disappearing family members. These are slowly revealed to turn the seemingly grumpy Sipho into a noble, if very ordinary representative, of "the quiet majority who stayed behind". He ultimately achieves his own reconciliation with an estranged and now dead brother and overcomes his personal shortcomings.
All three actors play their parts well, under the direction of Janice Honeyman. Though the play lasts for little more than an hour and a half, it contains untold riches and allows each the chance of a powerful monologue, as well as some great comedy.
Fittingly, it is John Kani who brings down the final curtain as a simple man who finds enough hope in his new game of happy families to balance out all of the sorrows that he and his country have suffered.
Nothing but the Truth is a marvellous play that has a short run and may well not transfer within London. That would be a tragedy, as the world might well become be a better place if more people have the chance to see humane, thoughtful and very moving stage productions like this.
However after it closes at Hampstead on 24th February, it will be touring to Newcastle, Leeds, Salford, Birmingham, Leicester, Nottingham and Cambridge.
Peter Lathan reviewed this production on tour at Northern Stage, Newcastle and David Chadderton reviewed the touring version at The Lowry, Salford.
Reviewer: Philip Fisher