NotMoses
Gary Sinyor
Arts Theatre
–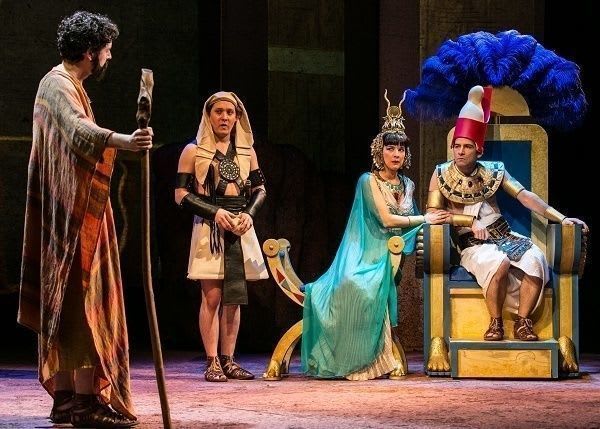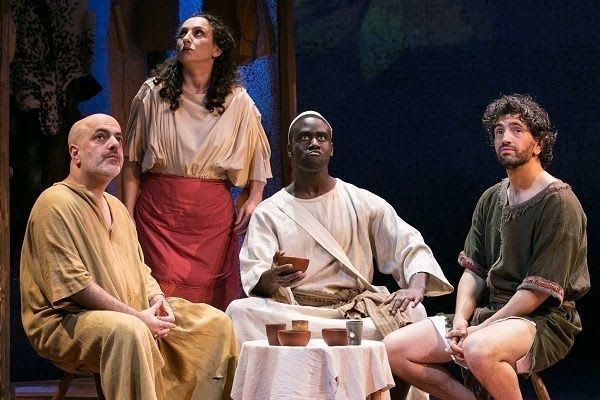 Gary Sinyor is best known as the moving force behind the popular movie Leon the Pig Farmer. 23 years on, he makes his belated stage debut as both writer and director of this light comedy with Jewish themes that echo some of those in the film.
Like so many before him, rather than creating a story from scratch, Sinyor sought inspiration from an established source, in his case, the Old Testament of the Bible.
Such an approach takes one along a road paved with dangers. The most obvious are the risk of blasphemy accusations coupled with unflattering comparisons with a rather good and well-loved original that has stood the test of time.
The early scenes skate through holy lore: after a painful circumcision, Abraham and Sarah begetting a dynasty that swiftly passes through the generations until the Children of Israel have become enslaved by Pharaoh in Egypt.
There, the ruler's wife-sister played by Jasmine Hyde comes upon not one but two abandoned, floating babes.
She rejects the smart one and claims Thomas Nelstrop's Moses as her own, bringing him up as a full brother to Niv Petel's rather wet but sinister, egotistical Rameses. In doing so, the family are obliged to ignore his inexplicable Yiddish wisecracking.
In the desert, a Jewish family comprising long-suffering Aviva, Antonia Davies and impatient Tel, Dana Haqjoo (who doubles as Pharaoh), brings up the unfavoured other child, atheist NotMoses, played by Greg Barnett.
The rest, as they say, should be history. Sinyor's shtick is to follow the biblical tale religiously, perverting and subverting it in his efforts to get generally cheap laughs; even the 10 plagues are utilised for their dubious comic effect. As a novelty, we even get a brief aural visit from a youthful, Testament-hopping Jesus.
The comedy is where the piece's problems lie, since many of the tyro playwright's attempts are not very funny; several of the better jokes miss their audience, possibly as a result of his inexperience as a director, while others require Jewish heritage or knowledge to hit home.
The result is a 2¼-hour canter with simple design, largely conveyed by computer-generated projections onto the backdrop, through biblical times. Some love interest is provided by Danielle Bird as feminist Miriam.
Comedy can come down to taste but NotMoses is a show packed with familiar, derivative humour, spiced up with elements of sexual innuendo and swearing, that will do well to attract West End audiences in the face of so much quality competition.
Reviewer: Philip Fisher