Nowhere to Belong
Yasmin Alibhai-Brown
Royal Shakespeare Company New Work Season
Soho Theatre
(2006)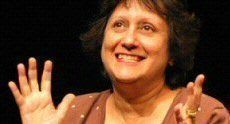 Poor Yasmin Alibhai-Brown! The writer turned solo performer opened the latest show in the RSC's Soho season of New Work on a night when she was struggling, alternating between tissue, glass of water and even an inhaler.
Ill health clearly added to a patent nervousness at finding herself on a West End stage, delivering a one-woman show about someone who had last acted at school but was desperate to do so once more - herself.
Dominic Cooke, the next artistic director of the Royal Court and leader of the RSC's New Work season, had helped the feisty lady by commissioning an autobiographical show about her upbringing and its close relations with Shakespeare.
Miss Alibhai-Brown is brave, starting with a prophetic voice-over, purportedly of friends telling the wannabe star "You aren't a bloody actress. Think of your reputation". That reputation has been built into celebrity status as a cultural commentator and strongly-opinionated media personality and is unlikely to be damaged by a few effortful nights on stage.
The writer was brought up as a Shia Muslim in Kampala, Uganda, with a dissolute but intelligent father and devoted mother. She starts by talking of her early years in a lush poetic style.
The main thread of her tale is about schooling in a community where English expatriates mixed with Asians and even a few Africans but in which a rigid class system was applied. There are both poignant and comic moments, the latter best personified by an Asian teacher who lectured on Romeo and Juliet as an allegory about traditional obedience to parents rather than the more commonly accepted theory of thwarted love.
This was challenged by Joyce Mann, an actress-cum-drama teacher who decided to direct R & J with Asian Capulets and African Montagues and young Yasmin as the female lead. Seemingly, the ambitious teacher did not understand the hornet's nest that she was stirring in a country rife with sectarian differences and soon to be ruled by Idi Amin.
As the performer explains, while the play sold well, it was as much for its sensationalism as either the desire to enjoy Shakespeare or the quality of the production.
The impact on the Alibhai family was devastating, despite the award to their daughter of a scholarship to an English drama school. However, it is hard to believe that the impact was quite that related in this play, where poetic licence may have been allowed to embroider a goodish story in order to embellish and enhance a plethora of political and cultural points.
If Yasmin Alibhai-Brown is to be believed, not only was her mother in tears and her extended family attempting to rip her limb from limb but tragically, her father, who was soon to meet an untimely death, never again exchanged a word with his intelligent, empathetic daughter after her ill-judged stage debut.
Life isn't perfect in Britain either, as the writer is constantly the victim of racial abuse, not only from random members of the public but even a taxi driver who having completed the journey abusively refused a fare from someone of her race.
Nowhere to Belong showcases a lady who strangely speaks Shakespeare's lines fluently while struggling with those that she has written herself. It fulfils a long-held ambition but does not make for fluent theatre. That is a pity as its heart is in the right(-on) place.
Reviewer: Philip Fisher