Nowhere and Everywhere at the Same Time
UK Premiere
Choreography by William Forsythe
Focus on Forsythe Sadler's Wells and UBS Openings: Live at Tate Modern
(2009)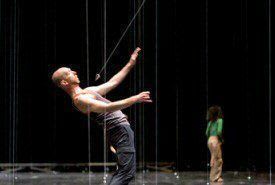 William Forsythe, the classically trained dancer turned avant-gardiste choreographer and explorer of the body in space, in motion, in fusion with art and music, is the Picasso of the dance world. One has to be a skilled and talented draughtsman/craftsman before one can subvert, deform, and deconstruct.
At the bottom of the slope of the Tate Modern's Turbine Hall the rectangular space has been filled with hundreds of pendulums - small silver cones suspended by thin threads from its high cathedral vault.
Swinging thuribles, censers, displaced or dodged by sixteen dancers (dressed down in comfortable everyday clothes and trainers) - in a world of their own, paying obeisance to their muse, or worshipping at the base of the basilica, offering body and soul?
An illusion of idiosyncratic organic improvisation, of moving cuneiform script, the dancers are kinetic sculptures, beautifully top lit by Tanja Rühl and Ulf Naumann, light streaming down from the heavens, lighting up faces in a spiritual glow. Graceful and gawky; simian, avian, and amoebic; repetitive, urgent, and contemplative moves and shifting shapes intriguing - all are superb in their concentrated efforts.
Thom Willems's ambient electronic music, with occasional insinuations of sonorous church organ sounds and string vibrations, creates a meditative mood for the dancers and the audience, who can sit on benches, on cushions on the floor, or walk around the work of art as in gallery, and consider it in part and/or as a whole.
Nowhere and Everywhere at the Same Time (premiered in New York in 2005) is a continuous performance loop that plays for 90 minutes without stop, but there is no obligation to stay - the dancers come and go, too.
Viewed best standing long ways on, and on foot one is drawn into the dance - the synchronicity of human movement... a single dancer catches the eye, another comes into peripheral vision, another distracts as she untangles three threads - will she do it - but she's taking attention away from a group walking boldly through the forest of threads, untouched by them... a found pathway.
In reverie the mind wanders, concentration waxes and wanes as the dancers semaphore, hopscotch, bum-shuffle, crawl and slither like commandos, and set the pendulums swinging to and fro, to and fro... hypnotic and destabilising.
A ritual? A salute? An inquiry and an investigation, at the very least... The programme note suggests: "Nowhere and Everywhere at the Same Time refers to the phenomenon of gravity. In the cavernous space of the Tate Modern Turbine Hall a group of performers orientate themselves among a profusion of hanging pendulums. The kinetic and metaphoric potential of this landscape is the substance of the performers' persistent inquiries and results in interpretations, both personal and scientific, crazed and categorical. A place where the inevitable loss of body's momentum is carefully contemplated."
The world of dance and art are come together in the audience too - Anish Kapoor, Anthony Gormley, Wayne McGregor of the Royal Opera House, Siobhan Davies Collaboration, cross-fertilisation, between the arts must be applauded. But, such a pity that there are only two performances... What if the pendulums were to remain for longer and the dancers be replaced with spectral forms of their being - a trace, a mirage, left behind for many - not just on the retina of the few A lasting work of art
Reviewer: Vera Liber