Nutcracker
Choreography Wayne Eagling, music Pyotr Ilyich Tchaikovsky
English National Ballet
London Coliseum
–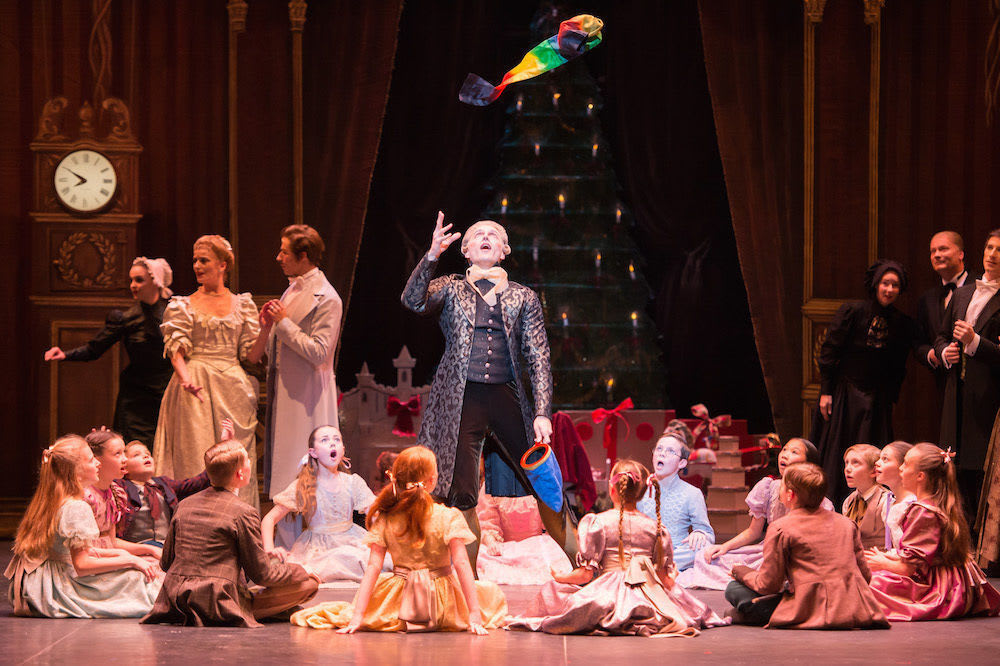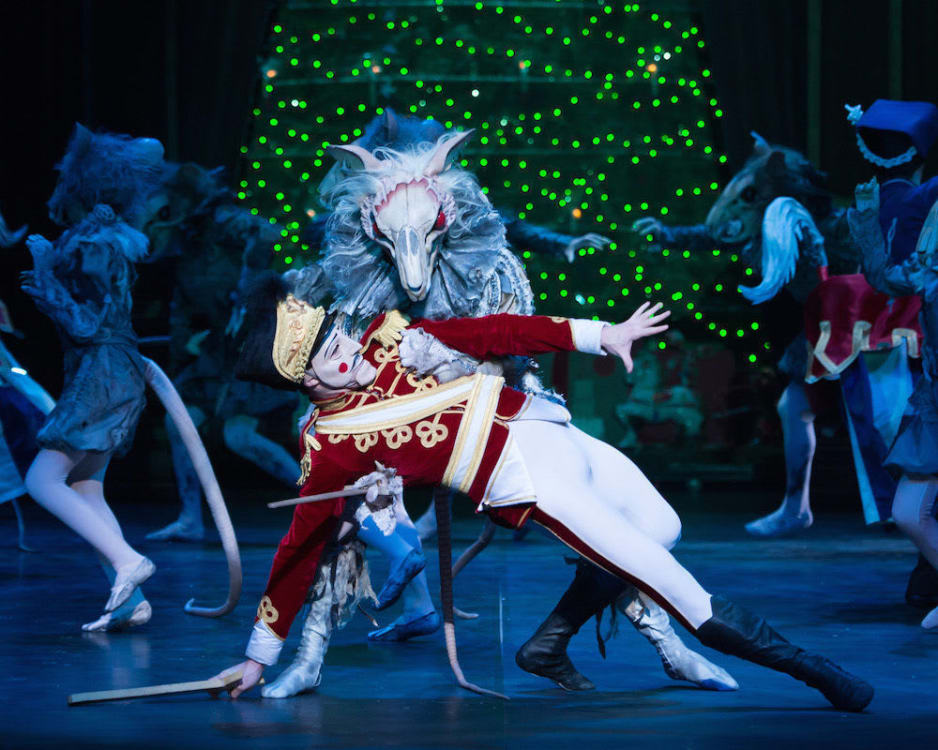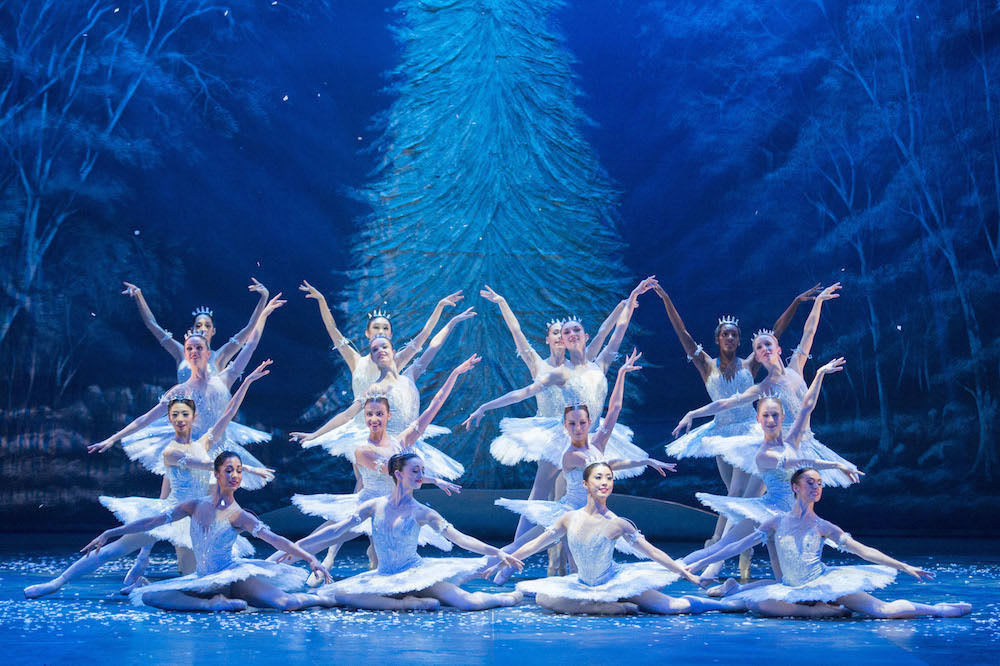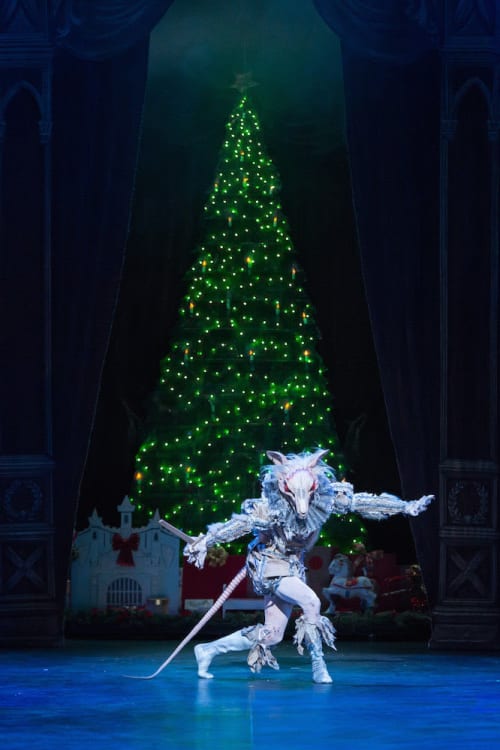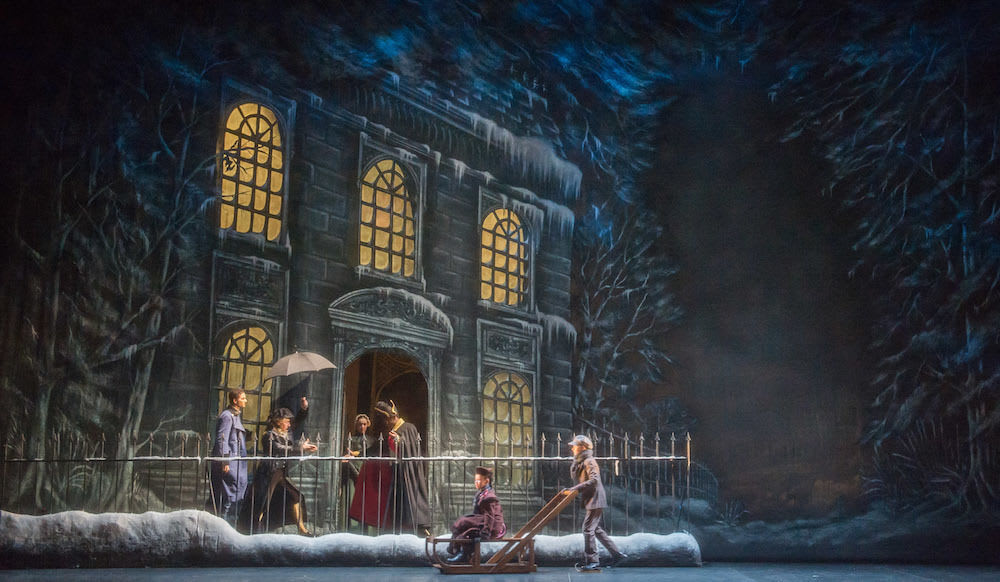 Here we are again, Nutcracker season is upon us. Unseasonal warm weather outside, seasonal warmth inside—there may be skaters on frozen ponds, snowball fights, but there's also a cosy if grand family party, excitement, anticipation and plenty of magic.
Time to let all the cares drop away, become a child again and allow oneself to be wrapped up snuggly in Tchaikovsky's familiar, uplifting, romantic, swirling magical music. It always does the trick: my eleven-year-old companion and I rode home singing.
Wayne Eagling's version, now in its sixth year, may have excised the spell cast on Drosselmeyer's Nephew turning him into a Nutcracker, but it makes perfect sense as a little girl's, Clara's, dream, confusing her love for her Christmas present with an attraction towards a handsome visitor in Freudian transference and wishful thinking.
Triggered by events of the special day—preparations for the Christmas Eve Ball with lots of important visitors, presents, dancing, a magician, special entertainment for the whole family—Clara's overloaded mind is in overdrive.
Getting ready for the family ball, Freddie, the boisterous naughty brother, teases Clara (a self-possessed Cheryl Heung) with a mouse let loose in her bedroom: first element of her late night dream, motifs laid down one by one.
Master of ceremonies and maître de la danse Drosselmeyer arrives with his handsome Nephew (Isaac Hernández debuting certainly fills that role nicely) and enchants with his magic tricks. A Pollock style puppet theatre is brought to life, captivating the children. Clara gets a Nutcracker from Saint Nicholas; Freddie breaks it—stereotypical gender roles.
An overexcited Clara is put to bed. She wakes in the night in fright, runs into the drawing room, where last night's ball took place, Drosselmeyer (a charming Fabian Reimair) moves the clock forward to the bewitching hour, and everything grows in size, as does Clara, turning into prima ballerina Alina Cojocaru (I saw the fourth night cast—the cast is on a rota, each one worth a look).
The cupboard where her Nutcracker is tidied away becomes a soldiers' fort, soldiers march out led by Freddie, a mousetrap becomes a trebuchet and a pretend battle is fought. I rather longed for a bit more snap, crackle and pop at this stage, but the bouncing cannonball is quite funny.
Drosselmeyer arrives with a hot air balloon to rescue her and his Nephew, who is constantly changing places in Clara's feverish brain and heart with the masked Nutcracker (James Forbat), from the Mouse King (James Streeter), but does he?
Little beknownst to them, there's a stowaway clinging to the underside of the balloon basket, who gets transported to the land of snow with them. Her hero finally kills him off-stage in the best Greek drama tradition. There's a lot of tongue-in-cheek for the adults to unpick and chortle at.
Eighteen Snowflakes (including Shiori Kase, the opening night Clara) whirl in pretty patterns in a flurry of snow, one Mirliton (Alison McWhinney delightful) dances with her partner (a quick-change Reimair), Flowers waltz, the puppet theatre grows and fills the stage and folk dancers provide some divertissements.
Crystal Costa, Adela Ramirez and Fernando Bufalà sizzle in the Spanish number, Junor Souza is a sinuous Arabian Nights slave trader with a whip (I see Freddie is no longer amongst the cowed prisoners), Senri Kou is a high-kicking Michelle Yeoh Chinese martial arts specialist and Yonah Acosta a high-flying corkscrew firecracker of a Russian Cossack.
Clara gets to dance a classical grand pas de deux with her prince in glittering costume—the highlight for me. Alina Cojocaru can do this in her sleep—a week ago she and Hernández (lovely line, perfect placement and partnering) were in New York dancing in a 'World Stars' gala.
Her balance, musical phrasing, punctuation and lyricism are superlative, but she momentarily loses the thread in her fouettées—jetlag perhaps—though recovers so quickly that hardly anyone notices. She'll be berating herself, no doubt, but it does not take away from her sensitive performance—one to preserve.
A glorious finale follows, bringing Clara's dream to its climax. She wakes up, checks under her bed for mice, a nicer chastened Freddie joins her. Did they both have the same dream?
Eagling's Nutcracker, English National Ballet's seasonal heartwarmer and breadwinner, is pleasant entertainment and the company dance it with great verve and commitment, but I'd have liked a tiny bit more choreographic Sturm und Drang. The full house audience loves it, as well it might.
Special credit must go to Streeter and Forbat for dancing in peripheral vision reducing masks, to the English National Ballet Philharmonic, to ENB students and all the children from Tring Park School.
Reviewer: Vera Liber