Nutcracker
Choreography Wayne Eagling, music Tchaikovsky
English National Ballet
London Coliseum
–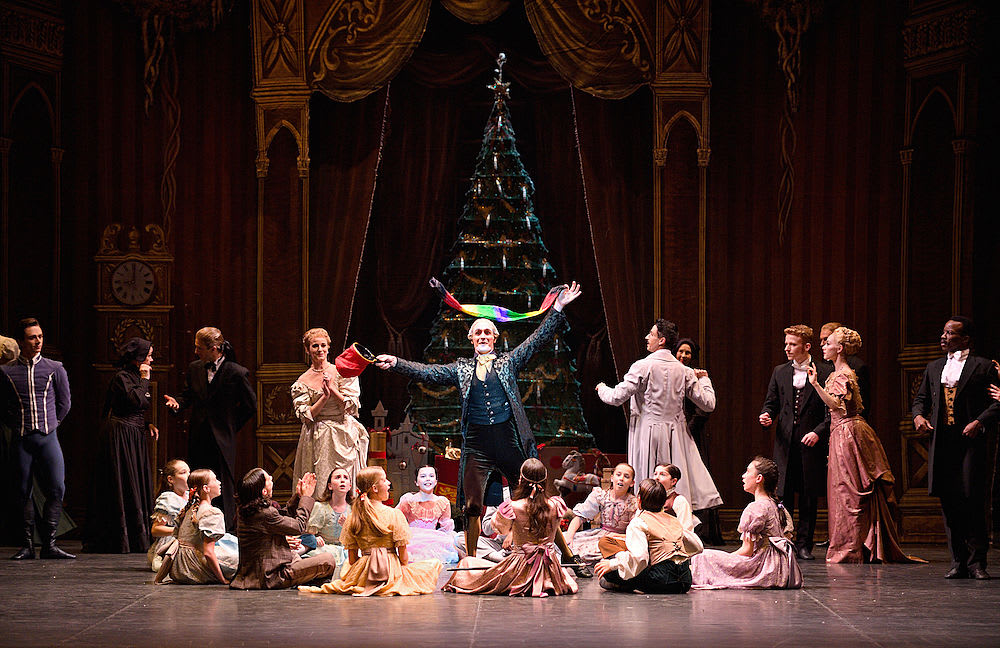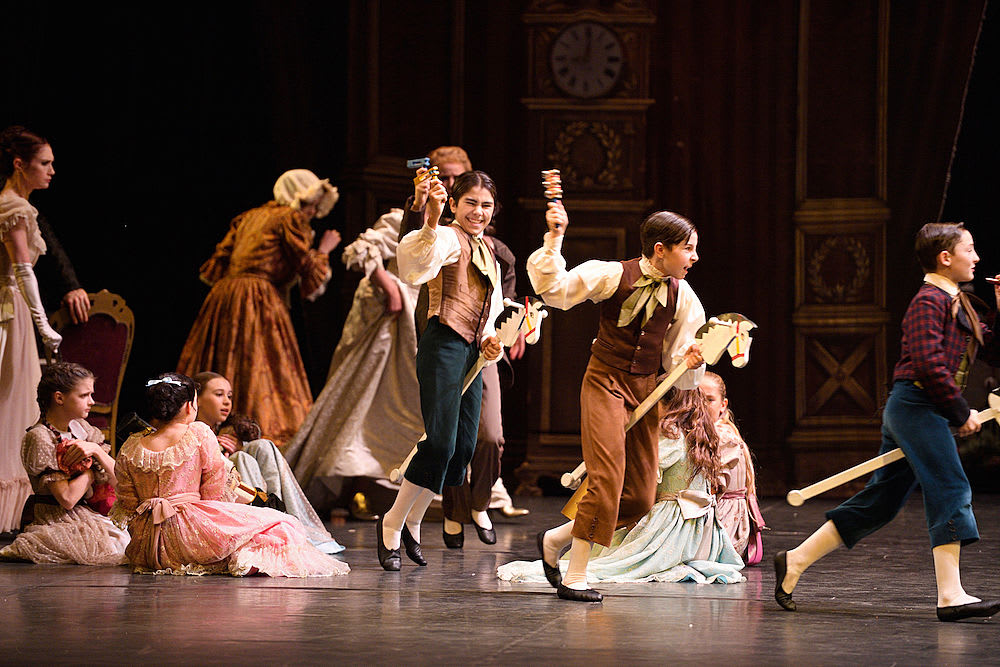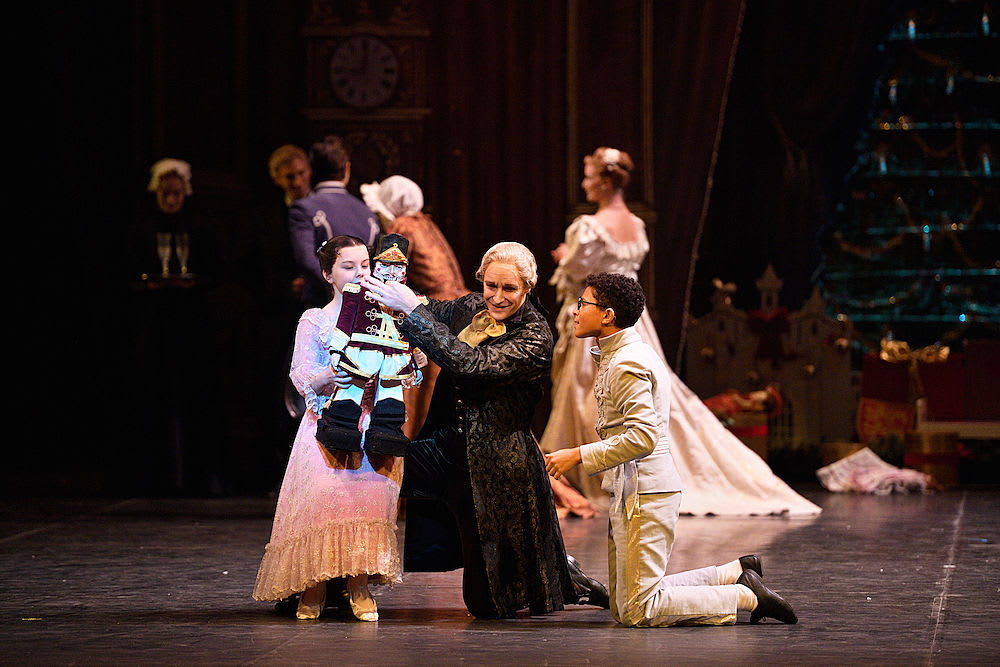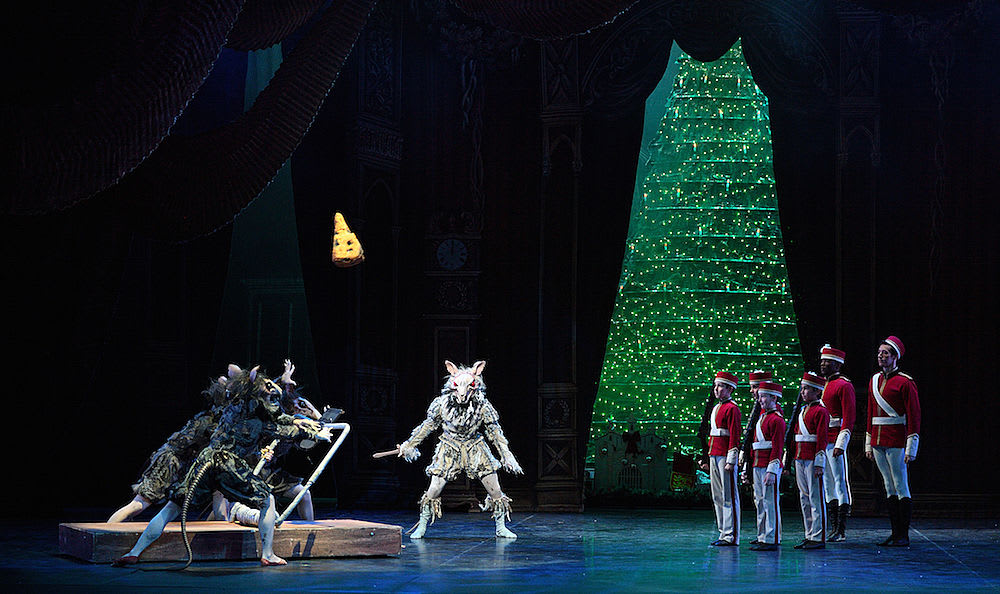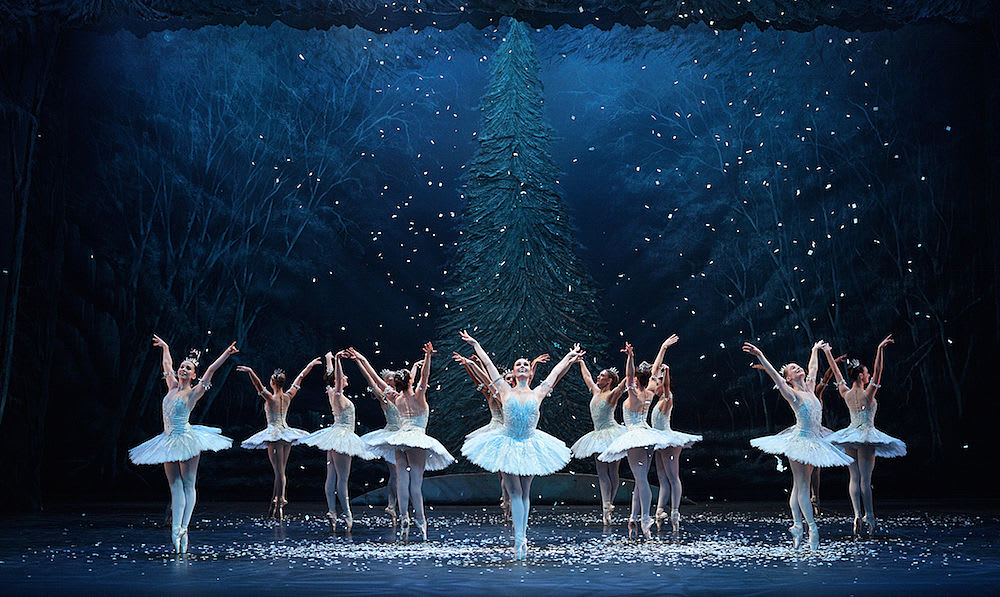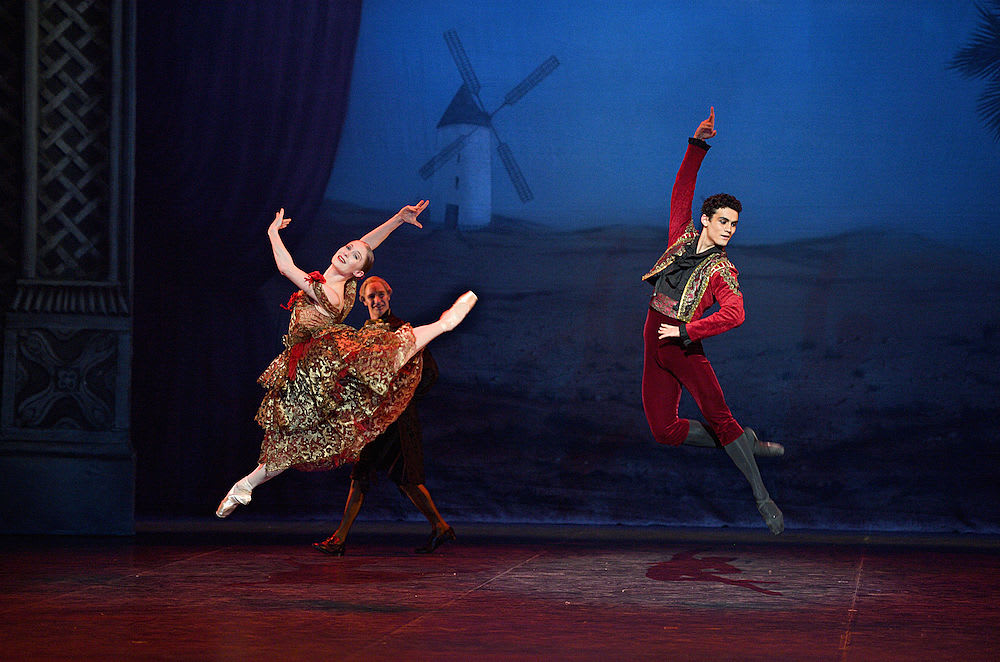 The Nutcracker, or simply Nutcracker as in Wayne Eagling's Peter Farmer-designed 2010 version, ENB's tenth version in its illustrious 70-year history (look out for its anniversary gala in January 2020), has always been a traditionally reliable, coffers replenishing production for the company—after all, who doesn't want a little Nutcracker sugar plum sweetness and Tchaikovsky magic during the winter festive season—but I fear it's time to put this one to bed and commission a fresh one.
Rather late to the Stahlbaum's Christmas Eve party (Nutcracker has been running for over a fortnight at the Coliseum), I find there's something Groundhog Day about it, something listless, or perhaps perfunctory, about its holiday cheer. Or maybe I'm disappointed that the glorious Alina Cojocaru, who dances with her soul as much as her body, will not be performing tonight as listed (no announcement, no paper slip in the programme, just an A4 sheet pinned to the stalls door).
The skaters outside the grand house on the river do their charming pantomimic tumbles and falls, wealthy guests arrive—including magician Drosselmeyer and his handsome military cadet Nephew—and the party begins. Master of Ceremonies Drosselmeyer (his Mozartian wig and outfit quite unlike the other Edwardian era clad guests) sets it all in motion.
Presents are given out, the grown-ups dance, grandpa and grandma too (Michael Coleman and Emila Cadorin), the children (from Tring Park School) dance and squabble. Clara (Tring Park School's teensy Amelia Clark barely up to his navel) is struck by the Nephew—who wouldn't be, it is dashing principal Isaac Hernández—but she sublimates that new love into her clumsy Nutcracker doll. Her brother Freddie is given a hussar's hat and a sabre. To defend the realm...
Childhood dreams and expectations, the excitement of the occasion increasing the feverish imaginings, till they run riot with Mouse Kings and a fort full of soldiers, mouse cheese-trap catapults and soft cannon balls. Naughty Freddie—boys will be boys—scares his big sister Louise (Alison McWhinney) and little sister Clara with a mouse in their bedroom—and here is the origin of Eagling's cod-Freudian elements of the story in Clara's post-party dream.
The toys and the puppet theatre entertainments of the first act grow into the whimsically surreal in the second. The puppet show story, elaborated by certain guests in the first act, comes to life in the second, Eagling spelling out the battle between good and evil, between the Mouse King's dark forces and human resilience, and the love of a heroic man… Knights of old and all that…
Clara wakes up in the night (clock at midnight and Drosselmeyer inside it) to find the ballroom has changed, and so has she. Tiny Amelia Clark, who looks all of eight, has turned into principal Fernanda Oliveira. Drosselmeyer (Fabian Reimair) has concertinaed time. Wish fulfilment and / or a strange dream forecasting things to come?
A hot air balloon is magicked by Drosselmeyer (one of the children gets a toy one) and he, Clara, and his Nephew escape to the Land of Snow—with the Mouse King clinging on underneath, only to be vanquished by the Nutcracker in a puppet show (remember the one in the first act). You see the balloon has landed next to the puppet theatre. I wish he'd been dealt with in the first act.
Dancers from Spain, Arabia, China and Russia step out on to a bare stage and dance their socks off, performing national dance inflected divertissements. Daniel McCormick and Adela Ramirez stand out in the Spanish; Junor Souza is a lithesome Arabian Nights character; and Katja Khaniukova as the fouetté-spinning martial arts Chinese acrobat is great, truly reaching across the footlights. Pedro Lapetra is a splendid Russian Cossack.
Precious Adams excels as lead Flower in the Flower Waltz and as lead Snowflake in the swirling Snowflakes Dance under the falling glittering snow. The orchestra, finally, ups its game, tempo and volume (under Gerry Cornelius's baton it has seemed subdued, sleepy and sluggish in the first act). Or maybe, that's me…
Nutcracker and the Nephew, usually one and the same in many productions, here is a split role (James Forbat is the Nutcracker—quite a different physique), which necessitates some illusion with backcloth lighting, and much to-ing and fro-ing. Still, in a young girl's shape-shifting fantasy anything is possible, even suspension of belief and disbelief.
Clara as the Sugar Plum Fairy gets to dance a grand pas finale pas de deux with her dreamboat as Prince. Hernández and Oliveira give a gala performance, their variations excellent—a long wait, but worth it. To the tinkling of the celesta, she is a music box ballerina, every little girl's first idea of one.
The Waltz of the Flowers goes well, and I spot Rhys Antoni Yeomans, winner of last year's Emerging Dancer People's Choice Award, amongst them because he's the only one smiling and projecting for all he's worth.
Clara and Freddie wake up Christmas morning to find snow falling and all well in the world. But a seed has been planted. Is it the right one?
Reviewer: Vera Liber