Obsession
Based on the film by Luchino Visconti, adapted by Jan Peter Gerrits in an English version by Simon Stephens
Toneelgroep, Amsterdam
Barbican Theatre
–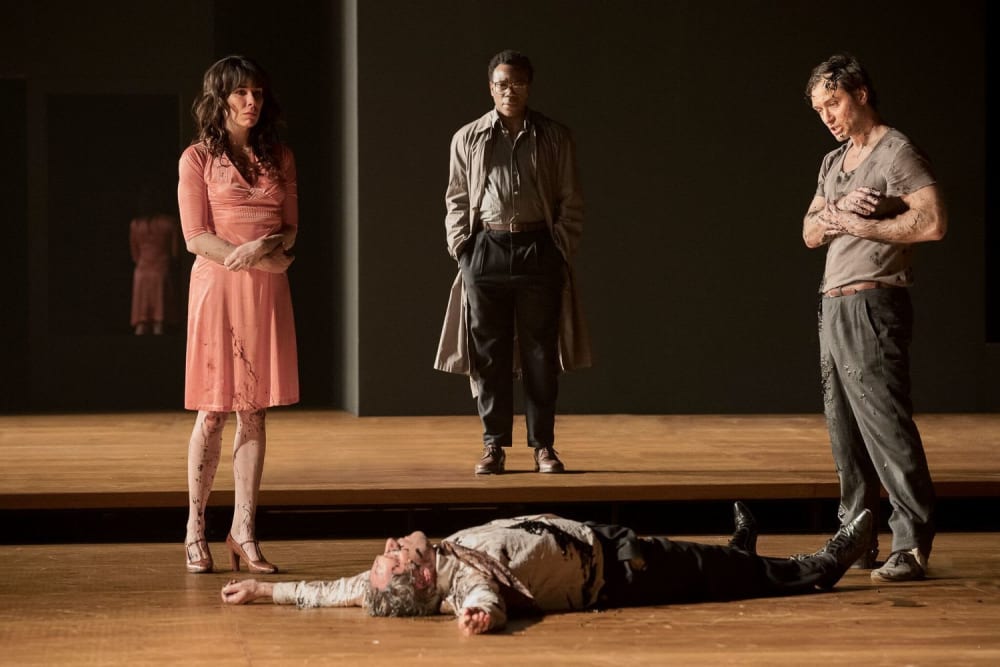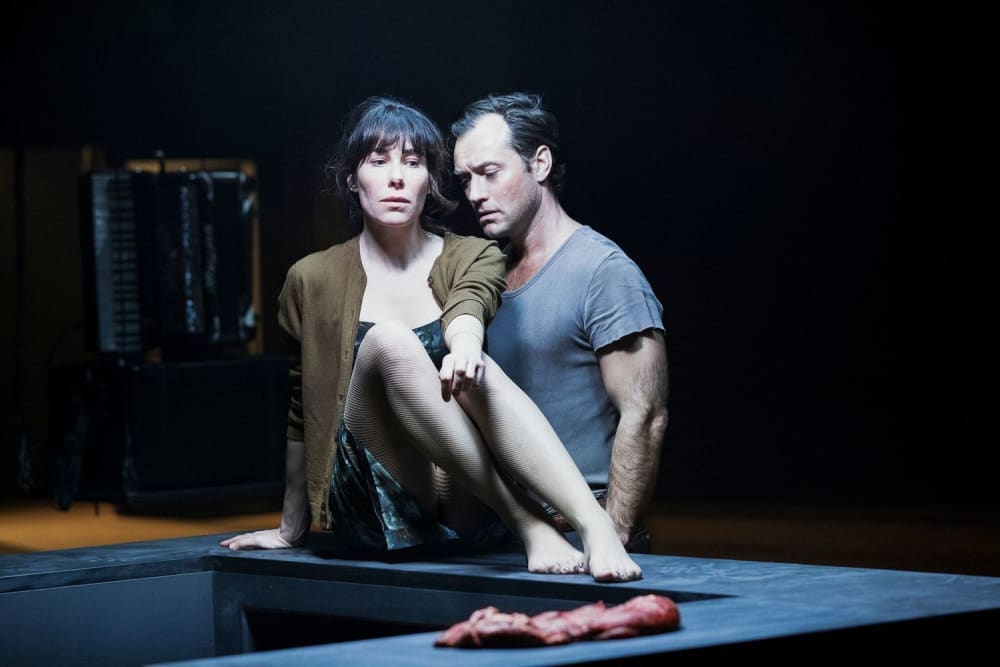 This urbane thriller brings together an international team of cult favourites. Director Ivo van Hove and English adaptor Simon Stephens both have the kind of followings more commonly associated with founders of new religions, while Jude Law is no slouch in the popularity stakes. To add to the mix, their chosen vehicle on this occasion is Luchino Visconti's 1942 film Ossessione or Obsession.
While the movie might best be described as an Italian version of film noir, the stage presentation is pure van Hove, while his designer of choice, Jan Versweyveld, uses a visual style that could be seen as predictable given their aesthetic.
A wide-open stage area, characteristically lit from the sides by the designer, is meagrely populated by random props, the most notable of which are a suspended engine and player accordion.
These both become integral to a story that is told using visual and aural stimulae that bring to mind and may well have been borrowed from a wide selection of genres as varied as an imaginative soundtrack, which has everything from opera to heavy metal. It even features odd bursts of meaningful song, Dennis Potter-fashion.
The 1¾ hours open with the arrival of Jude Law's Dino, a muscular drifter with skills as a mechanic, at the bar run by Gijs Scholten van Aschat in the role of Joseph and his much younger wife, Hanna played by Halina Reijn.
Seemingly within seconds, Joseph starts to cuckold himself, apparently unwittingly although one wonders.
Hanna does her best to resist the handsome stranger but passion swiftly overwhelms her conscience, which has been weakened by the grinding boredom of a loveless marriage to a patronising husband with little to offer but much needed material security. This allows the theme of feminism used in A Doll's House to make a brief appearance, in response to a dominant, uncaring masculinity that recalls Look Back in Anger.
As a result, lust for the young visitor leads to scenes of startling eroticism, heightened by projections onto gigantic screens at the back of the stage.
Elopement seems the only solution to the lovers' dilemma, potentially combined with a permanent means of removing Joseph from the picture. The violence that ensues might be demonstrated symbolically on stage but still has power to shock.
The problem with lust at first sight is that more often than not it wears off far too quickly. In addition, life has a habit of repeating itself with different partners. In these circumstances, at least one party to the affair will wish to escape and, on this occasion, Dino recommences his drifting.
In doing so, he shows an ability to attract any hot-blooded young person, both Robert de Hoog as Johnny and Aysha Kala playing Anita falling for his charms, hook, line and sinker.
Before the end of the evening, a priest and a police inspector both played by Chukwudi Iwuji add extra dimensions of much-needed morality.
On occasion, Ivo van Hove can get so tied up in his methodology that the underlying story disappears or becomes diluted. However, when he gets it right, viewers get a completely fresh take on familiar material and this gripping new adaptation of a movie classic, featuring wonderful central performances by Jude Law and Halina Reijn as the lovers, is one of those events.
Reviewer: Philip Fisher