Odyssey

The Paper Cinema
Battersea Arts Centre
–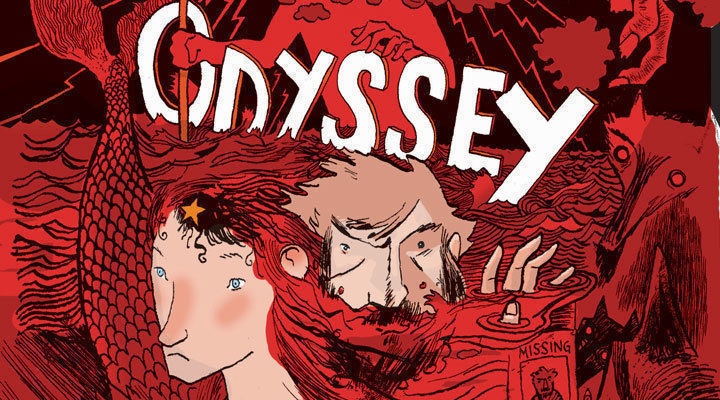 Homer's Odyssey: it's a little archaic, most of its characters are mythical creatures and its sprawling narrative spans a decade.
To distil such a tale into an accessible seventy-minute production using a collection of black and white illustrations, a projector and three sickeningly talented multi-instrumentalists is a rather impressive feat—a feat that The Paper Cinema has mastered.
The brainchild of Nicholas Rawling, Imogen Charleston and Christopher Reed, true to their name, Paper Cinema transforms intricate pen and ink illustrations into captivating animation, manipulated in real-time in front of a live video camera and projected onto a large screen. Dialogue is superfluous, a bespoke musical score in charge of the talking.
The mechanics of the magic exposed, two puppeteers work hard to depict movement, texture and depth, their actions almost as intriguing as the projected sequences. The precision of their movements is a masterclass in choreography: fluent and apparently effortless.
Odysseus sets sail, Troy falls, and the Odyssey begins. Scenes unfold in quick succession, mythical beings swelling onto the screen in flawed attempts to thwart our cunning hero's journey home.
Calypso makes an appearance, as does Cyclops, Hades and Poseidon—all similarly terrifying in stern monochrome—and yet it is the images of Penelope that captivate most, pursued in Odysseus' absence by a group of carnivorous suitors—humorously depicted as a pack of snarling wolves.
Contemporary touches keep the piece light—Telemachus tacks a 'Missing Father' sign to a tree, a Helen of Troy billboard appears in busty glory, and a warning appears from the Sun God via a circular road sign.
From violin to power drill, keyboard to bubble wrap, the accompanying score is endlessly inventive, executed in such pin-point tandem with the onscreen narrative that—where the musicians not mere meters away—it could be a recording.
Criticism could only come in the form of pace—those unfamiliar with the tale may find it a little confusing at times, though breaks in the action allow the musicians to have a much deserved glug of water as well as giving the audience time to digest.
All in all it is a captivating piece, unique and intelligent, that returns to BAC after finding international success. It is well deserved.
Reviewer: Alecia Marshall