The Paper Cinema's Odyssey
A Paper Cinema and BAC co-production co-commissioned by Parabola Arts Centre
Paper Cinema
Battersea Arts Centre
–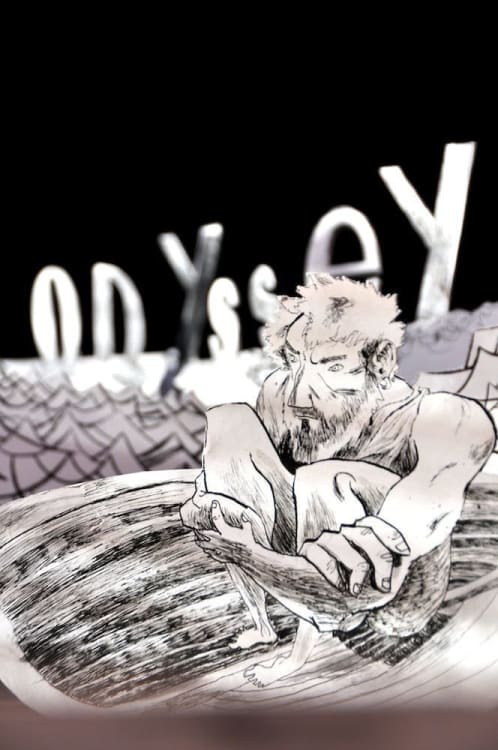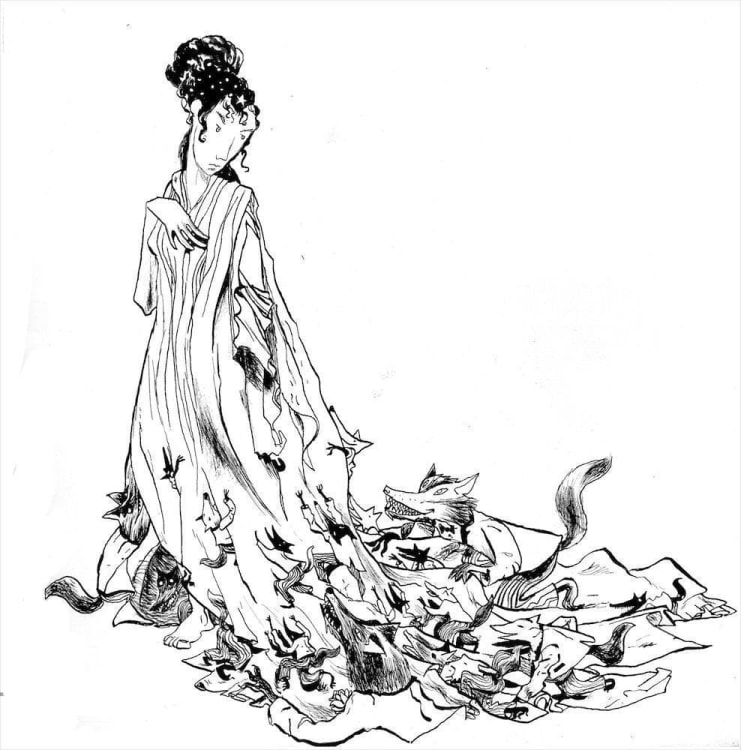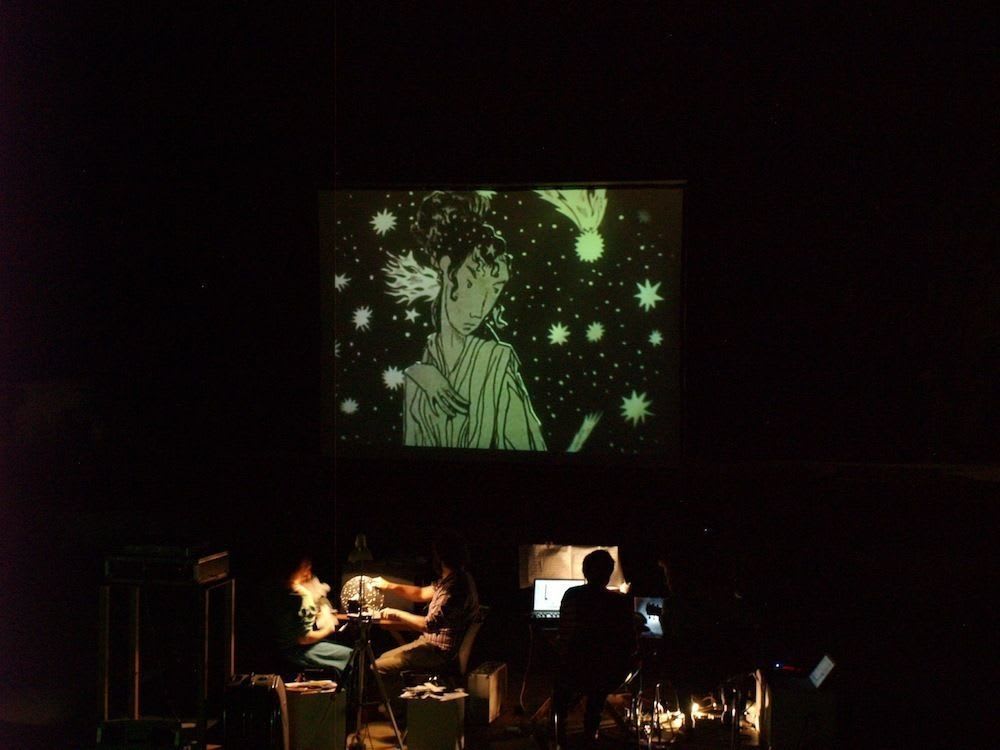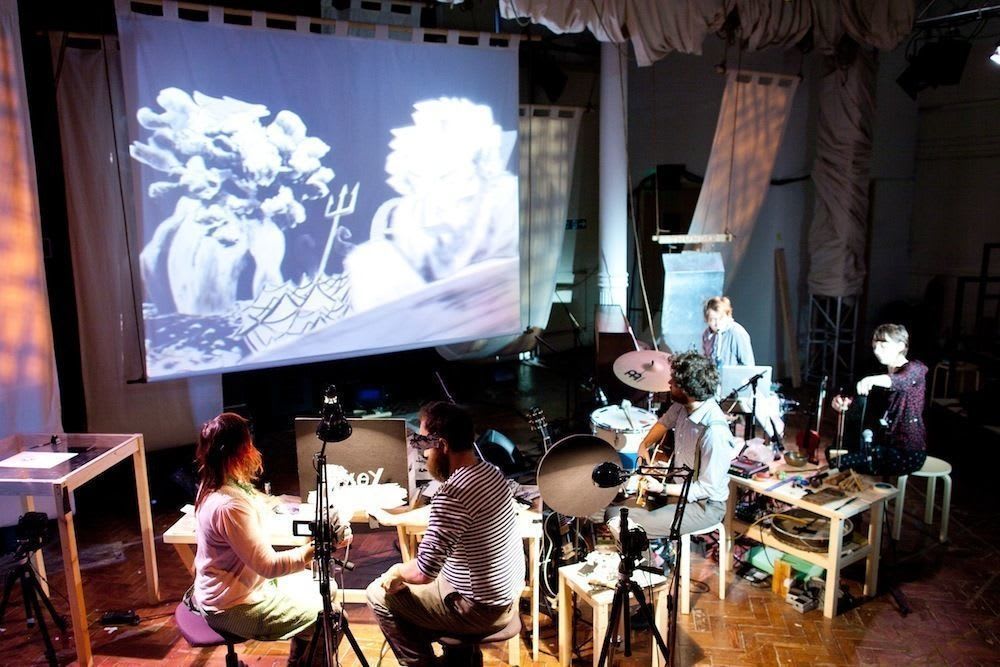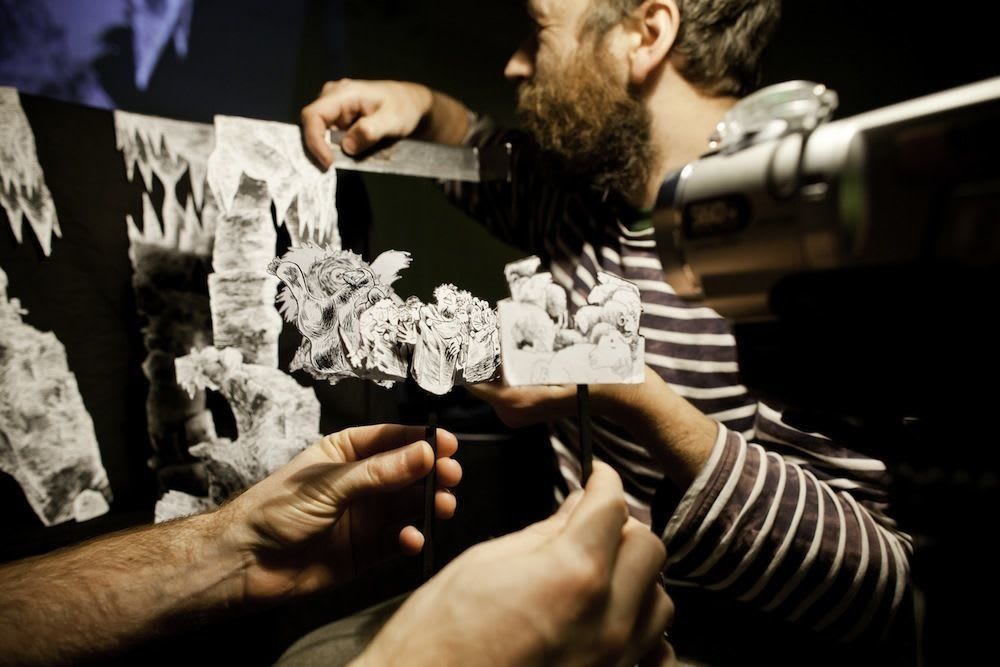 White screen, ships' sails, lights, shadows, music, sound effects, and action—a hand sketches in pen and ink, its image projected on to the screen, and the prologue of Homer's Odyssey comes to vivid and subtle life before our very eyes.
Odysseus, Penelope, her wolf suitors, Telemachus, the Goddess Athene and her owl, Poseidon and his trident, Calypso, the Cyclops Polyphemus, the Sirens, and more, draw us into their mythical realm.
A twenty-year adventure, a long journey home, Odysseus tossed on stomach-churning seas, seagulls spatter his shaggy head, a moral tale of trial, perseverance and patience, is told with economy, cliffhanger suspense, wit and intricate detail (Odysseus's cloak owl clasp; Penelope's starry headdress and wolf-fringed dress).
Inner thoughts, flashbacks, and a modern perspective… Do not eat the sun god's sacred cows is a circular road sign; the god's anger a nuclear explosion. Tension, drama, detail and subtext, small-scale theatre with big sophisticated ideas that work well, bring the ancient world into the modern.
Odysseus in Calypso's cave, in red-washed Hades, and Telemachus searching for his father in modern Greece by bike, coach, train, and thumb. A Helen of Troy billboard flashes by. A zoom shot through the train window finds Telemachus reading about his famous father's adventures in a book.
A pop-up book opens and Troy's battlements rise; it closes and they collapse. The carnage of battle and the joy of the homecoming; the greedy guzzling wolves and the winning arrow into a heart-shaped bull's eye captured in swift moves and a well-paced script.
The final scene with reunited father and son on the roof top watching shooting stars and comets spills into the theatre, lights dance across the ceiling—we are part of the epic tale.
Originality, skill, talent, imagination, and a steady hand, captivate a family audience for seventy-five minutes. Perspective, pace, close-up, dolly tracking shots, montage, cuts and dissolves, storms, flying arrows, the fall of Troy created from cut-out bits of paper. Astonishing.
The nuts and bolts of the production also happen before our eyes. Two puppeteers and three musicians sit before us with an array of instruments to create the simple yet complex magic. Nothing is hidden.
Ingenious tools: bubble wrap popping is the sound of a cow roasting on a spit; a musical saw, a power drill, a thunder sheet, a range of instruments, keys, strings, electronica, but timing is also of the essence, and slick sequencing. To do this live every night is remarkable.
Paper Cinema has taken this travelling show, its visual contents fitting neatly into suitcases, nationwide across some twenty venues. The collective has been in existence for seven years: shame on me for not having been to see them sooner; shame on you if you don't.
Congratulations to illustrator, artistic director and puppeteer Nicholas Rawling, designer and puppeteer Imogen Charleston, musical director and multi-instrumentalist Christopher Reed, and multi-instrumentalists Hazel Mills and Quinta for opening our eyes, ears and minds to storytelling at its magical best in extremely capable hands.
Knowledge of the epic tale is not strictly necessary, but you'd miss some nuances of the production without it. There's a wall in the foyer where the young can add their own images to this tale of old, and memento merchandise for sale: CDs of their original music (composition Matthew Brown) and owl Athene bags.
Reviewer: Vera Liber