Of Our Own Making
Jonathan Brown
Something Underground
Tara Theatre
–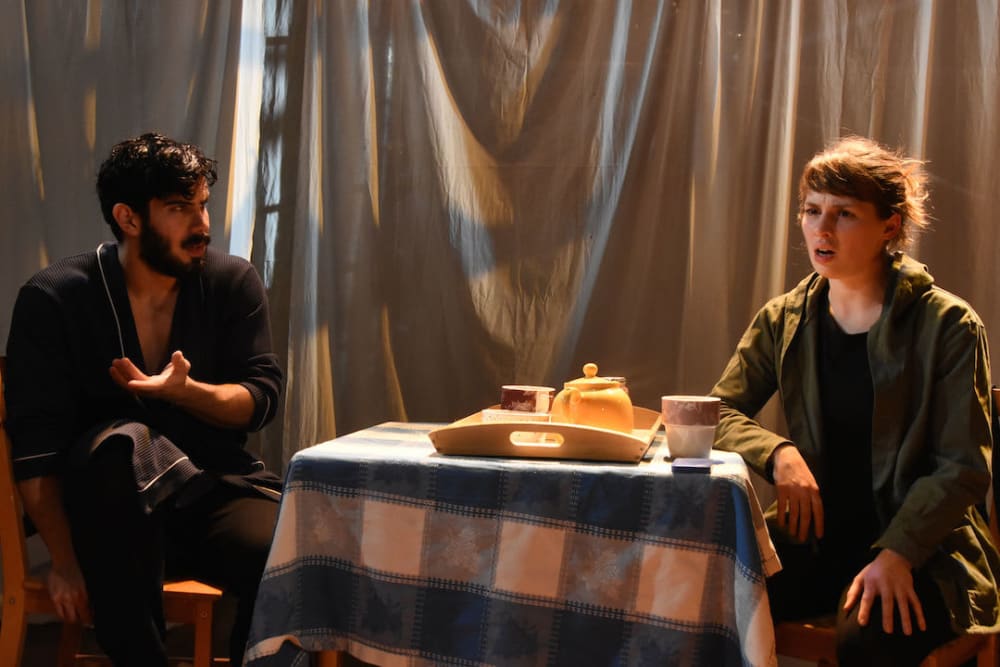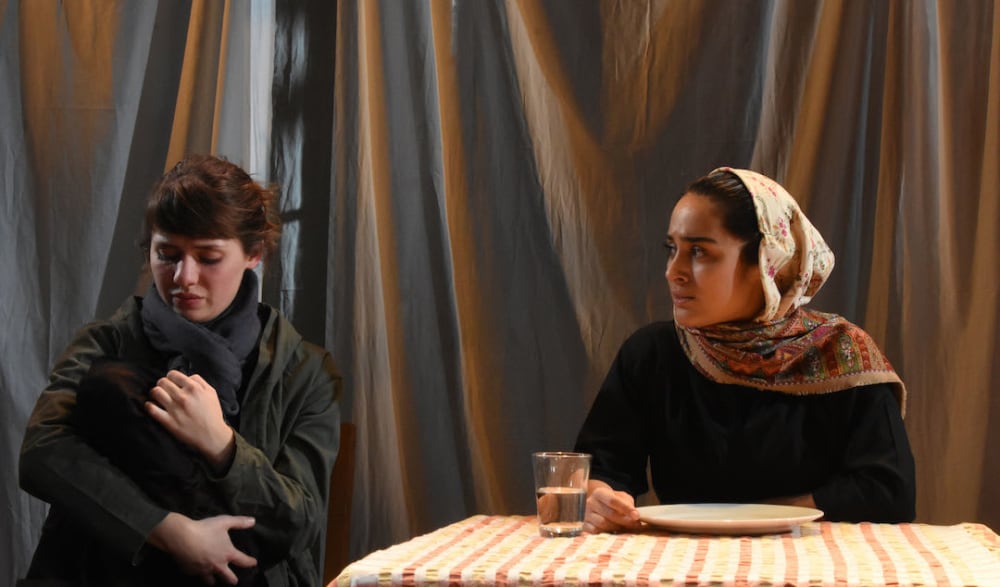 The title Of Our Own Making sounds as much accusation as explanation, but Jonathan Brown's play presents a picture of the international refugee crisis that seeks to replace media exploitation with understanding.
From the Tricycle Theatre's The Great Game to the Young Vic's The Jungle, theatre makers have responded to Middle East conflict and its repercussions and this play offers an attempt to understand how people come to find themselves refugees, jihadists, sectarian fighters and those who collaborate with or seek to exploit them.
It begins with a pre-show projection of an online interchange conducted by a British teenager in a hoodie, the typical beginning of a grooming situation, then starts the play proper on the coast somewhere in Egypt. Here are Amira, a young mother with her baby, accompanied by Saif, who says he is a doctor, and Hussan, one of whom seems to be her husband. They all appear to have fled Syria and hope to get across the Med to Europe; their shared situation has brought them together but none of them is telling the whole truth.
A succession of short scenes takes them to sea at night in a boat that nearly capsizes, then transferred to a bigger one and eventually pulled ashore on the Dodecanese island of Leros (where a barracks used a prison for political prisoners under the dictatorship and then as a notorious mental hospital is ironically now a refugee camp). At one point, it looks as though Saif has hit a problem, he is being interrogated: but this must be a flashback or flash-forward.
The story progresses at speed but interrupted by scene changes while furniture manoeuvred on from behind a line of hanging sheets—or they are drawn back to expose a scaffold that may become a boat, a car or a huge truck—creates a hiatus between them, relying on Dirk Campbell's music to maintain atmosphere.
On Leros, Amira and Saif are befriended by volunteer aid worker Micky, who says she's an actress though like the others she isn't being entirely truthful. She becomes emotionally involved with Saif; when he is worried his papers won't pass inspection, she hides him in her car boot. Natali Servat's Amira is whom she says she is but when Micky encounters her again in the Calais Jungle, she talks Micky into illegal action.
Vincent Kerschbaum as Saif, Erin Elkin as Micky and Hamza Siddique as Hussan are so convincing in the way they present themselves that discovering their real roles makes a fascinating story that takes dramatic twists as it goes on to investigate terrorism further.
As their true selves, Saif describes an Iraq where former neighbours become enemies and movingly details his own traumatic experience, Micky shares her family's Northern Irish tragedy and Hussan makes a passionate denunciation of US and UK action. As the story goes deeper into what can make the world of the Isis fighter seem glamorous and into what makes a terrorist, this play becomes exciting drama.
Dramatist and director Jonathan Brown (who also plays a smooth interrogator and a border guard) has perhaps tried to pack too much into just over two hours playing time and his staging is at times rather awkward, but the play makes its points very forcefully and its plot contrivances emphasise the multi-layered interactions that lie behind the tragedies of the Middle East and their repercussions. This becomes a thrilling drama but seen through individual experience, the personal making for more understanding.
Reviewer: Howard Loxton