The Jungle
Joe Murphy and Joe Robertson
Young Vic Theatre and National Theatre
Young Vic Theatre
–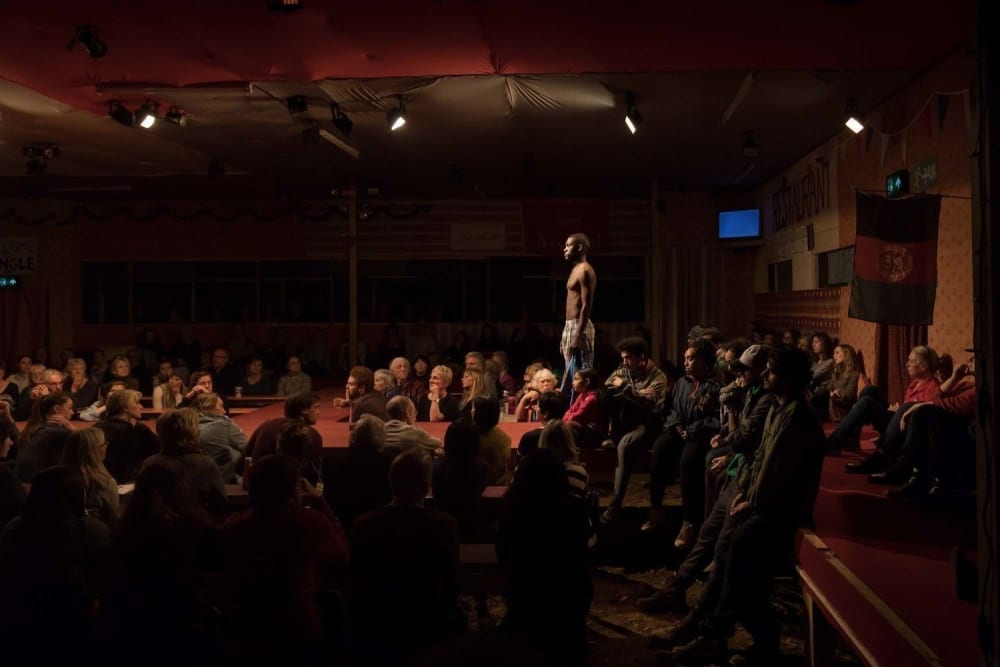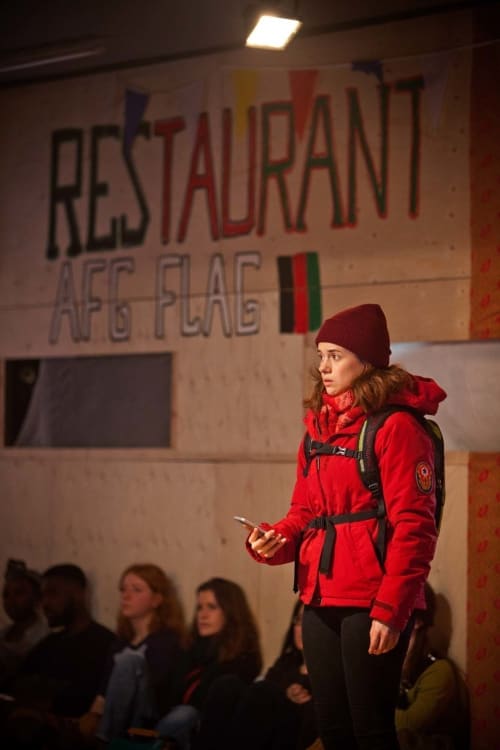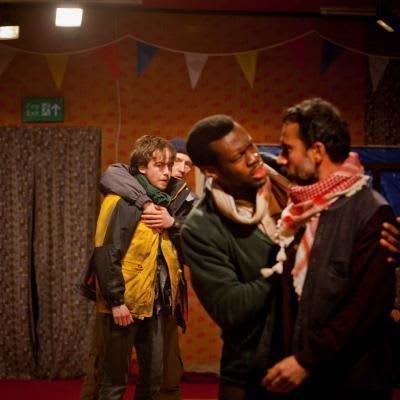 Zhangal, anglicised into The Jungle was the notorious refugee camp in Calais that hit the headlines for several months a couple of years ago. It was a major political football in this country as well as France, when immigration became flavour of the month, particularly in connection with the potential exit from Europe.
Writers Joe Murphy and Joe Robertson along with co-directors Stephen Daldry, making a rare foray back into the theatre, and Justin Martin have collaborated in an attempt to give viewers as close an impression of the experience of living in a makeshift camp as is reasonably possible in the comfort of a London theatre.
The setting is a makeshift restaurant run by fiery Afghan Salar played by Ben Turner, who worked with scraps but bizarrely given a rave review by A A Gill in the Sunday Times. The audience fills the space with actors performing on narrow walkways between them.
The methodology used by the co-writers is largely based on creating personal testaments from a wide variety of inhabitants, then using them to represent those in the wider community.
As if life had not been hard enough for refugees who typically escaped war zones and travelled across vast swathes of the world, often in ludicrously dangerous ways, The Jungle itself is a factional hell-hole where those of different nationalities constantly bicker when they are not fighting.
Its inhabitants also face constant threats of collective eviction by the French government, as well as arrest whenever they make their regular, unavailing attempts to reach Nirvana, aka Leicester.
The most powerful and moving stories are those of Mohammad Amiri's Norullah, a cheery Wheeler dealer from Afghanistan, and John Pfumojena in the role of Okot from the Darfur region of Sudan. Both are teenagers who have seen such horrors that it is hard to imagine how they can ever adjust back to what we all regard as normality.
The camp is administered by a troupe of well-meaning but largely ineffectual British volunteers, who can almost seem clichéd, given their variety and eccentricity. Two 18-year-olds lead the way, both earnest and caring. Rachel Redford is Beth from Wales who teaches but also elicits Okot's story of the war zone that was Darfur and his subsequent journey, while Old Etonian Sam becomes the committed and highly imaginative housing officer.
The overarching story is of perennial loss and threat, the camp regularly being cramped into smaller areas by the French government prior to its eventual closure. However, there are also uplifting tales of unlikely cooperation, some of which can begin to feel a little too obviously staged.
Overall, this co-production between the Young Vic and the National Theatre is a worthwhile attempt to highlight important global issues of inhumane treatment and a reminder that, although the Jungle was eventually razed by bulldozers, the underlying problem is still with us even if it is not currently front page news.
Reviewer: Philip Fisher