Of Wardrobes and Rings

Rising Image Productions
Greenside @ Nicolson Square
–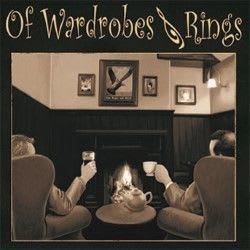 In a comfortable room in the Eagle and Child pub in Oxford, J R R Tolkien waits to meet his old friend and colleage CS Lewis; unbeknown to both, this will be the last time they will ever meet upon this mortal plain.
They gruffly joke and reminisce amidst occasional interruptions from Hattie, the overenthusiastic American barmaid. Although there is clearly great affection there, the pair both harbour various recriminations and it's time for grievances to be aired.
Much like Rising Image's other play, An Evening With CS Lewis, this is a measured and gentle affair; there's a languidity that suits the age of the pair of venerated professors. Even the moments of tension and raised voice are done with a stillness and conservation of energy which well suits the situation.
Meanwhile, the topics of conversation slide from gentle scoffing at attempts by the BBC and Ralph Bakshi to adapt each author's most famous works to deep seated and heartfelt discussions rooted in their vying ideals of Christianity.
David Payne's performance as "Jack" Lewis is as good here as in the one-man show the company is also playing. While Fringe regular David Robinson casts a believable figure as "Tollers", aside from him being a good 20-odd years younger than the man himself at that time and more than a little younger than Payne.
Both of them capably hold sway over the stage and keep the conversation interesting, if very slightly stilted. Mention should also go to Meg Elliot as Hattie, whose cheerful exhuberance allows the play to keep from being too staid and stuffy.
Of Wardrobes and Rings is a wonderful character piece and worth a look, especially for those affictionados of the two literary Oxford dons and their work. It's a wonderful delve into the meaning of old friendship and, while only occasionally surprising the audience, it's a solid performance and a very enjoyable play.
Reviewer: Graeme Strachan