O Go My Man
Stella Feehily
Royal Court Theatre Downstairs
(2006)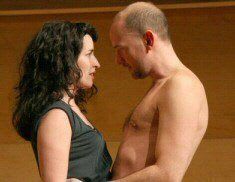 In crossword parlance, O Go My Man is monogamy mixed up, and mixed-up people struggling with monogamy is the subject of Stella Feehily's first Royal Court play since the vibrant Duck.
Where that play looked at the problems facing teenagers, O Go focuses on the thirty and forty-something generation who don't realise how lucky they are.
At its best, this could be seen as a Dublin version of Closer. Love and hatred amongst media folk is presented with a bunch of great one liners, some incredibly perceptive.
Photographer Ian and actress (the semi-autobiographical?) Sarah, played by Paul Hickey and Susan Lynch, are a good couple despite their problems in making ends meet.
Similarly, TV war correspondent (or atrocity tourist) Neil (Ewan Stewart) and publisher Zoë (Aoife McMahon) are as happy as they can be, allowing for his nightmares and long absences. They even have a fairly normal teen daughter, Gemma Reeves' Maggie, who pouts a lot, is highly intelligent and inevitably wants to be a rock star.
It soon becomes apparent that neither relationship is working and it doesn't take Einstein, seen on a wall in Es Devlin's symbolically bland-looking but deceptively adaptable set, to realise that Neil and Sarah will soon be discovered together.
Everyone- including Denise Gough, as a TV producer whose celebrity chef goes off the rails - gets on to the sexual merry-go-round but sanity is in short measure with a single unexpected exception. This is a stream of perceptive madwomen played by the excellent Mossie Smith, who steals every scene in which she appears.
From there, the relationships become confused to the extent that the comedy begins to resemble the spoof soap opera that Sarah suddenly materialises in with no logic, having just been seen failing to make an impression as an extremely smelly Cheshire Cat.
O Go My Man is an uneven work that seems unsure of its aims. At times, it is an analysis of the unhappiness that a search for the perfect relationship causes. It is also a comedy about the acting profession with an even split between great lines and clichés.
Going further, it wants to be about genocide in Africa but isn't and even has a handful of surreal moments, none more so than in an almost Shakespearean multiple reconciliation ending, with the whole cast on stage singing Only Love Can Break Your Heart.
Director Max Stafford Clark gets good support from his cast, especially Susan Lynch and Ewan Stewart. However, he seems to have allowed Miss Feehily to ramble around her subject too much, drifting in and out of ideas and enjoying herself at the expense of a clear narrative thread.
He might have helped her, and himself, had he persuaded this talented writer to sharpen up the script and give the play more direction in the literal sense.
This must go down as a Royal Court experiment that nearly came off but in the final analysis ends up as play that is a lot of fun but one that could have been so much better.
The production will tour from 14th February to the Cambridge Arts Theatre; Nuffield Southampton; Birmingham Rep, Gardner Arts Centre, Brighton; Trinity Theatre, Tunbridge Wells; Yvonne Arnaud, Guildford and Bolton Octagon
Sheila Connor reviewed this production on tour at the Yvonne Arnaud, Guildford.
Reviewer: Philip Fisher