Oklahoma
Music by Richard Rodgers, book and lyrics by Oscar Hammerstein II, based on the play Green Grow the Lilacs by Lynn Riggs
Circle in the Square, New York
–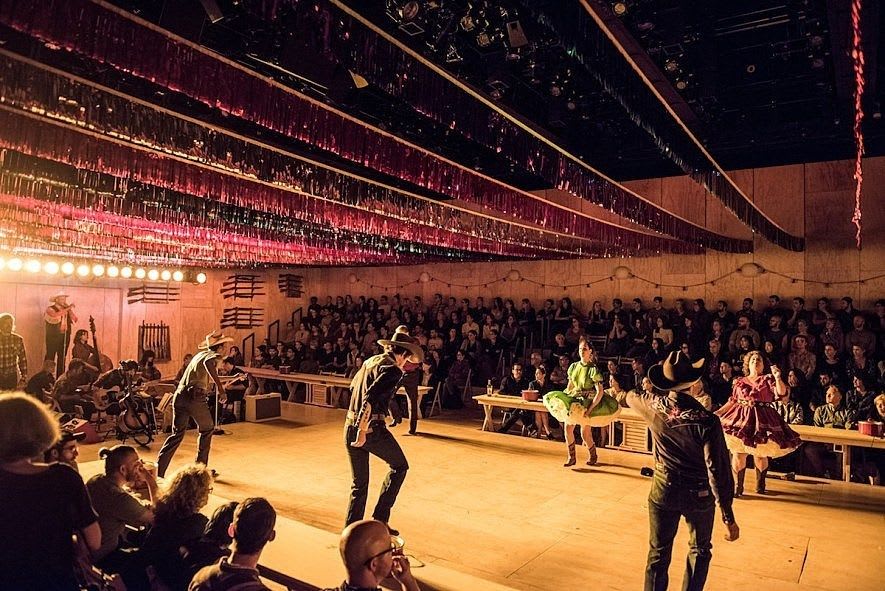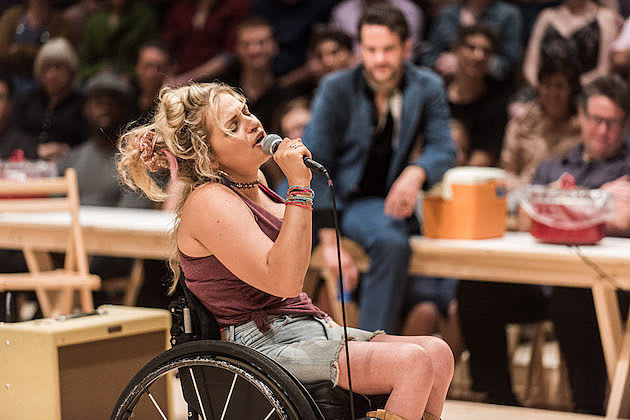 Everybody knows what a Broadway or West End Rodgers and Hammerstein production should look like. Big, expensive sets, flashy costumes and hordes of people on a stage in front of a well-filled orchestra pit. Instead, Daniel Fish has decided to go back to basics with a radical new interpretation of an old favourite.
Since the stage space at the Circle in the Square is shaped something like an ice hockey rink, it was always going to be necessary to do something a little different. With the assistance of scenic designer Laura Jellinek, the director creates a Wild West feel by lining the walls of the auditorium with rifles and filling much of the stage space with pots marked "hot" and corncobs.
To add to the rustic impression, audience members even get a chance to sample chilli and cornbread during the interval in a performance that runs close to 3 hours. The heavily amplified, largely string, band also very literally gets some limelight, placed on stage in the midst of the action.
While the actors dress the part, jeans, chaps and party frocks de rigueur, and sit around on stage when not actively involved in the drama, apart from a large mural on the back wall, the concentration is on human interaction. Frequently, there are one-on-one meetings or conversations between very small groups, making the evening feel episodic. The drama is heightened by two long, threatening scenes played in almost complete darkness, both of which take on an even more sinister feel than would otherwise be the case.
The evening opens in brilliant style as guitar-toting Damon Daunno, with a lovely cowboy singing style, informs us that he has high hopes of attracting Rebecca Naomi Jones's Laurey in "Oh What A Beautiful Mornin'" by utilising "The Surrey with the Fringe on Top". Life is never that easy, and the contrary young woman attempts to make him jealous with the assistance of hired hand Jud. Patrick Vaill works wonders in this role, singing "Lonely Room" with feeling and great power before eliciting enormous sympathy for an ostensibly unlovable character. In parallel, Ado Annie, played by the wonderful Ali Stroker, explains that "I Cain't Say No", two timing James Davis as loyal Will with the amusing Will Brill's flighty pedlar Ali Hakim.
While much of the evening's beauty might come from the songs (building to the catchy title number finale) and storylines, following the interval there is a 15-minute-long, Hendrix-inspired dream ballet, allowing the band to go wild at the same time as dancer Gabrielle Hamilton puts heart and soul into an exhausting but thrilling modern dance routine.
While there might not be the spectacle that some musical devotees demand, the psychological insight in this often exhilarating and always thoughtful production, allied to a series of fine ensemble performances, more than makes up for it.
Having seen a number of directors re-imagining the classics, often with poor judgement, in pared-down modern style, Daniel Fish might just be starting a new trend by doing something similar but more tastefully than most in musical theatre and, if others follow suit and can combine his impeccable care and directorial flair, there could be exciting times ahead for a medium that can sometimes seem jaded and unimaginative.
Reviewer: Philip Fisher