Old Mother Goose
Berwick Kaler
York Theatre Royal
York Theatre Royal
–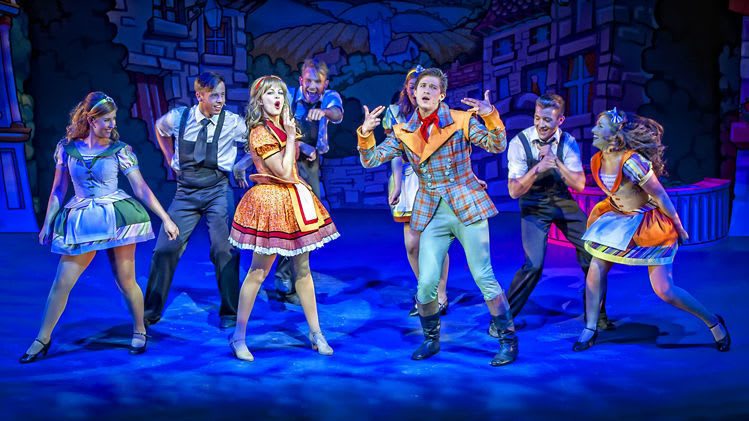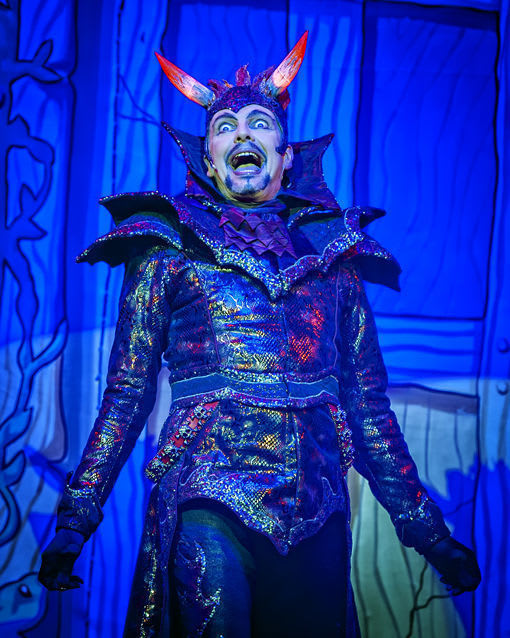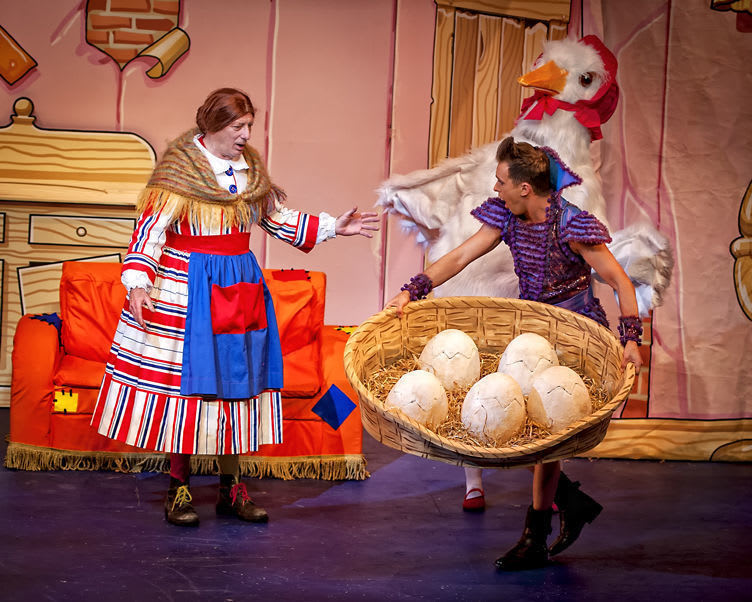 The York Theatre Royal pantomime is a local, if not international, institution, rewarding repeat visitors over Berwick Kaler's three-decade leadership with a range of running gags and familiar faces.
The biggest buzz this year surrounds the return of one of those faces, David Leonard. Leonard has been away for the past two years, taking plaudits as Miss Trunchbull in Matilda and Billy Flynn in Chicago. There was a sense that in his absence the rest of the team worked doubly hard to incorporate (superb) stand-in Jonathan Race, and to up their game in terms of the production values and sheer energy expended on some very daft gags.
Much of the positive energy here derives instead simply from having the gang all back together. The show opens with the committed ensemble performers (themselves mostly returning from previous years) in an invigorating dance number involving Brummie-accented A J Powell, who receives a pop idol welcome from a large posse of shrill fans in the audience.
When David Leonard, as baddie The Dreaded Lurgi, makes his entrance, it's deservedly dramatic. Emerging from the bowels of the stage with his cackle perfectly poised between dastardly, demented and dumb, Leonard is as ever compelling and masterful.
He struts the forestage, forever threatening to stroll into the stalls, and bursting into snippets of song—"Do you remember me?" he enquires. "I remember you, Bernard," he adds, picking out an unfortunate dad on the front row.
Leonard's high kicks and gyrating hips are still impressive, and his gaping eyes and demonic grin seem to show he's enjoying being back.
Martin Barrass returns as Kaler's sidekick, and again puts in a superb comic turn, excelling in particular in solo moments such as his carrot song. The vehemence with which Barrass counts carrots is evidence of his deranged comic genius.
The best moments in the show come when the regulars get the chance to take on each other's accents and stage personas—Suzy Cooper in particular has a ball aping Kaler's Sunderland vowels and wide-legged posturing. AJ Powell also gets a shot at imitating Leonard's evil cackle, which he pulls off with similar aplomb.
Throughout the show, the younger leads—Powell as Puck and Tim Lawrence as the love interest and landlord of Mother Goose's home village—show comic control and stage presence to rival their more experienced elders.
The direction, by Berwick Kaler and Damian Cruden, finds hilarity in the simplest of actions: Powell leaving the stage by the wings when he realises that the door in the painted backdrop isn't going to open for him is one such moment of underplayed brilliance. And Lawrence plays the well-spoken romantic lead to the hilt, but also breaks into a surprising and impressive rap in his duet with Suzy Cooper on "Crazy Stupid Love".
Cooper is also, as ever, brilliant. Constantly committed both vocally and physically to the role of the sexy starlet, but likewise unafraid to gurn unflatteringly and send herself (and her co-stars) up, she's a powerful presence. Her song and dance number "Staying at the Ritz" is one of the strongest of this show.
The quality of the performance almost distracts from the fact that the story's detour to London is entirely inconsequential—though there's a sense that Leonard's absence from York, while not overtly referenced, was somewhere in Kaler's psyche during the show's writing (the goose that lays the golden egg is casually named Matilda, for instance).
Some of the regular set-pieces this year are less organically amusing than in previous iterations—the water-based slapstick and UV-light sequence are technically accomplished but comparatively unambitious; the habitual video sequence begins slowly but does take off in a parody of Grease in which Martin Barrass as Rizzo is the least surprising element.
Here, as throughout, the strength of the production values (design by Phil R Daniels and Charles Cusick Smith, and lit by Richard G Jones) is to be applauded. The team creates a cartoony, well-crafted but far from soulless or slick setting. Musical director Elliot Styche and his band are versatile enough to master a range of styles and set even the most cynical toe tapping.
Sadly, more of the gags than usual delve into the kind of weak "oo-er matron" territory that Kaler & co. usually largely avoid, and if you're not easily amused by ambiguities around the camp 1970s connotations of the word "fairy", some stretches of the evening may wear a little thin. It's never played to Frankie Howerd-esque extremes, but naming one of the lead characters "Gayelord Tingly-Bottom" is the kind of threadbare laugh that the Theatre Royal panto usually manages to do without.
However, there are enough of Kaler's usual madcap puns and references to warrant a warm, Christmassy buzz. (As usual, the references encompass a bizarre range including Tracey Emin, Sister Wendy Beckett, and Dana's 1970 Eurovision hit "All Kinds of Everything"—all deliciously irrelevant).
As mentioned, all of the performers—Leonard most definitely included—are supremely watchable and like the show itself delightfully, masterfully odd.
Reviewer: Mark Smith