Old Times
Harold Pinter
Theatre Royal, Bath, production
Yvonne Arnaud Theatre, Guildford, and touring
(2007)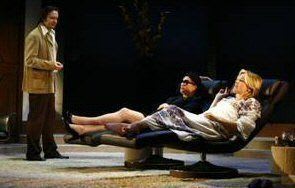 Harold Pinter doesn't write plays – not any more. This actor, director, playwright and political activist (who won the Nobel prize for literature in 2005) has decided to concentrate more on the political situation, recently publishing a collection of poems expressing his passionate opposition to the war in Iraq.
"I think I've written twenty nine plays. Isn't that enough?" he says. He has certainly contributed a rich legacy which continues to keep audiences enthralled and intrigued.
This play is not political, but is a search for truth, something very rarely found in political circles. What really happened all those years ago when Kate and Anna were flat-mates, and had Kate's husband, Deeley, known Anna previously? Memory can play tricks. "The past is what you remember, imagine you remember .."
It begins innocently enough with film maker Deeley and his shy, quiet wife Kate relaxing in their converted farmhouse while expecting a visitor - Kate's friend from twenty years ago when they were young. There is no mention in the programme notes of the house location, but Peter Mumford's lighting effects give a very realistic impression of a seascape with the sound (Gregory Clarke) of waves crashing on a shingle shore, the final crash seeming to engulf the audience. There is no doubt we are by the sea, and Lucy Hall's circular set perfectly encapsulates the beamed farmhouse with its exquisitely chosen contemporary (1970's) furnishings and décor.
The visitor, Anna, is present from the beginning, but as a dark shadowy silhouette looking out at the night sky. Is she really a separate being, or is she the other side of Kate, the darker side of a seemingly composed incurious personality? In Pinter's words "Truth in drama is forever elusive. Sometimes you feel you have the truth of a moment in your hand, then it slips through your fingers and is lost."
The three reminisce about old times, but soon the action turns into something more sinister as Deeley and Anna both discuss Kate and it turns into a strange and dangerous love triangle, each of them claiming to know her, to love her, to possess her. "You talk about me as if I am dead," she says, but without any real passion, her lack of curiosity, her relaxed attitude winning through to the shattering climax when a bolt of lightening illuminates the scene.
Pinter's plays attract the most eminent performers, and of necessity the most experienced, as every word, every syllable, every pause must be spoken and timed to perfection, the musicality of the language being so important. He should be proud of this riveting production, directed "almost forensically" by Peter Hall who directed the premier in 1971, and who received it as a gift from Pinter on the occasion of his fortieth birthday.
Pinter's Celebration was recently aired on More4 television and included nine of our most prestigious actors, including Janie Dee who here plays Kate, with Neil Pearson as husband Deeley and Susannah Harker as Anna. Superbly performed in a composed and realistic style, seemingly ordinary conversations with plenty of humour, but turmoil evident beneath the façade.
At the end you get no answers with Pinter, only plenty of questions hanging in the air for the audience to draw its own conclusions. Intriguing, enthralling, gripping – this is the most perfect interpretation that you're ever likely to see.
Touring to Oxford, Cambridge, Richmond, Windsor, Bath and Malvern.
Pete Wood reviewed this production at Cheltenham and it was also reviewed by Allison Vale at Bath
Reviewer: Sheila Connor