Olivia's Curtain Call
Lyn Gardner
Nosy Crow Books
(2013)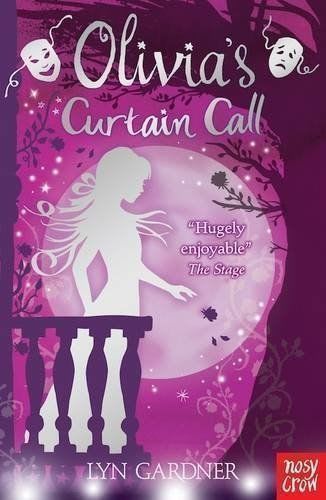 Lyn Gardner has saved the best till last with this gripping finale to her Olivia series.
She will not make many friends as a result of her decision that Olivia Marvell is to retire following a novel at the end of which the youngster celebrates her 14th birthday. Even Olympic swimmers and teeny pop stars tend to last a little longer than that.
We readers will just have to make the best of it, relishing what is announced to be the seventh and final book in the series about a multi-talented, if accident prone young girl who is able to act as well as she can walk a tightrope, following the family tradition in both cases.
In Olivia's Curtain Call, there is much drama, generally fed from our heroine's attempts to get cast in a refreshing West End production of Romeo and Juliet, potentially starring a pair of teenage leads.
This gives the writer free rein to introduce almost as many romances as Shakespeare. It would not be giving away too much to suggest that Olivia and her best friend Tom are getting to an age where love and jealousy might begin to figure in their lives.
The issues around the prospective Romeo and his love interest form one thread of the story. Equally intriguingly, since their families don't get on as a result of potentially shady business dealings, there is another that involves the complicated world of finance and builds to a typically thrilling climax.
Olivia's family have their own share of ups and downs, little sister Eel's attempts to star in Matilda the Musical adding to the excitement, while their father becomes rather curmudgeonly when trying to be even-handed in deciding whether a starring West End role as Juliet is more important than his European circus tour. Unsurprisingly, Grandma Alicia is on the other side of this debate, rooting for the theatre.
Once again, the author provides a rip-roaring tale accompanied by some true insights into life at a stage school and on the professional stage in a well-written, exciting novel that yet again, is likely to have readers in tears of both laughter and something deeper at various times.
It would be nice to say that everybody lives happily ever after but unless Miss Gardner has a change of heart, we will never know.
In any event, her fans are likely to read and reread the seven novels, while waiting to see what the Guardian's theatre critic has up her sleeve to succeed Olivia.
Reviewer: Philip Fisher