On Bear Ridge
Ed Thomas
National Theatre Wales and Royal Court Theatre
Royal Court Theatre Downstairs
–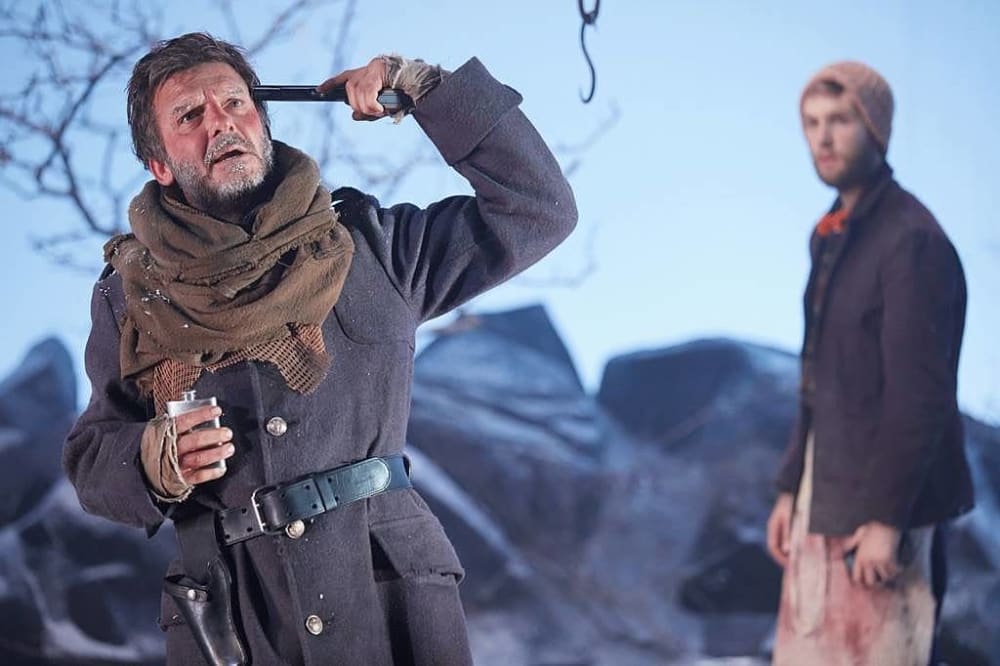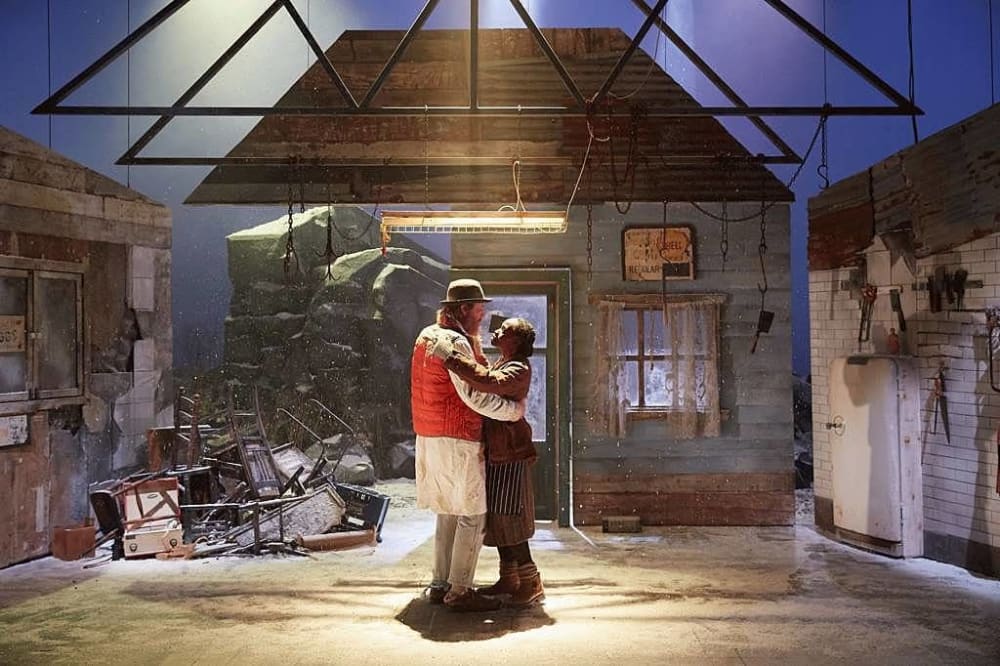 This co-production with National Theatre Wales, jointly directed by the Royal Court's Artistic Director Vicky Featherstone and playwright Ed Thomas, relies almost entirely on obscurity and subtext.
On a Cai Dyfan-designed set that depicts a derelict butcher's shop buried amongst snow-bound hills in an isolated part of Wales, it opens with an impassioned speech from Rhys Ifans in the role of John Daniel.
Both the rhythms and poetic qualities should immediately bring to mind a Welsh Thomas from another generation, Dylan and his epic play, Under Milk Wood. Thereafter, the piece can seem closer to Samuel Beckett at his most mysterious with echoes of Enda Walsh.
Tragically, John Daniel and his wife Noni, played by Rakie Ayola, have been blighted by the early death of their much-loved son, Twm Siencyn.
At the same time, their little domain has slowly been diminished and deserted, seemingly as a result of a war that has left them in a kind of post-apocalyptic nuclear winter.
None of this is entirely clear, although it is compounded by the arrival of an equally depressed soldier who appears to have stepped straight in from the Siberian beat. The sad ramblings of Jason Hughes as The Captain also hinting at something of the kind.
For a duration of just under 90 minutes, this trio with the butcher at the forefront bemoan their collective lot. Whether what we witness is intended to be a dream, and if so whose is never entirely clear but, if so, it is far more of a nightmare for those entrapped.
The main themes to emerge should give viewers a good indication of the intentions of Ed Thomas in penning this work.
Apparently, following the passing of young Twm Siencyn, John Daniel is the last person on earth still speaking "the old language". While the situation for the Welsh language is not yet quite that dire, it is certainly cause for concern amongst the dwindling numbers that enjoy its unique qualities.
Similarly, the economic decline of those in the wilder parts of the principality are mirrored by the problems faced by this ageing couple, as younger people move away slowly but surely followed by everybody else, leaving businesses bereft of customers and heading towards inevitable closure.
It can be almost impossible to categorise some plays. At the opening night performance, there was a good deal of laughter from certain sections of the audience, though some dumb show elements expertly introduced by Rhys Ifans point in that direction while not necessarily having much to do with the script.
Others failed to identify the humour amongst the grim facts being trotted out by each of the characters, the cast being completed by Sion Daniel Young as a kind of surrogate, slaughterer son with a desire to bring hope by learning the old language.
However, the strongest qualities of the play lie in its poetry but also that subtext, reminding us that rural communities are almost literally dying out as the old get older and the young depart.
Reviewer: Philip Fisher