On Bear Ridge
Ed Thomas
National Theatre Wales & Royal Court Theatre
Sherman Theatre, Cardiff
–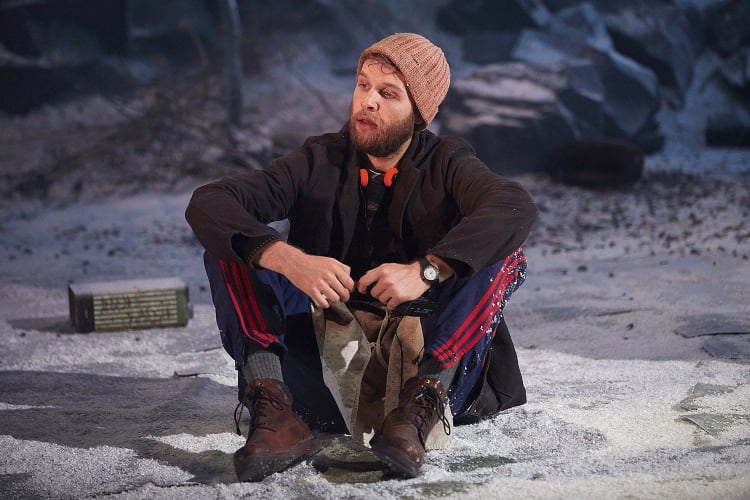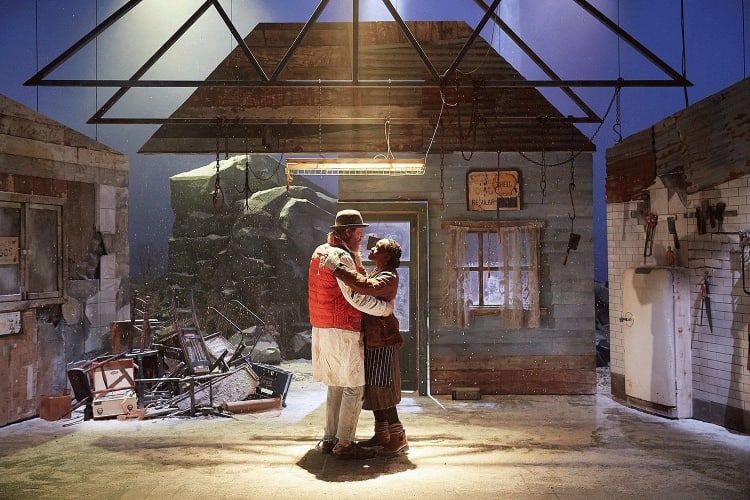 Please note that this is a review of the first preview performance of On Bear Ridge; thus, elements of the show may have been subject to modification prior to the official opening night.
Playwright Ed Thomas announced himself as a fresh voice in Welsh theatre in 1988 with House Of America, which was followed by a sequence of plays which showcased a brand of profane surrealism rooted in his upbringing as the son of a village butcher. In recent years, though, he has devoted himself to television, most notably as co-creator of the pessimistically atmospheric crime series known outside Wales as Hinterland. Aside from an adaptation of Brecht's Mother Courage for National Theatre Wales, On Bear Ridge is the first play he has written in a decade and a half.
This production also marks Rhys Ifans's first theatrical appearance in Wales for twenty years and his first ever on the main stage of the Sherman (although, in interviews, he does claim a familiarity with the bar area). Since he is one of those artists who was critical, last year, of National Theatre Wales' perceived lack of engagement with Welsh and Wales-based artists, it is somewhat heartening to see him heading a distinguished all-Welsh cast in this co-production between NTW and London's Royal Court Theatre (where the show will play following its Cardiff run).
The action of On Bear Ridge commences with Ifans's John Daniel prostrate, describing the nightmarish birth of Twm, his only son. The boy survived and grew to adulthood but is no longer resident in the family home.
The location is a near-derelict shop, complete with empty butchers' hooks and piled-up furniture ready for the fireplace. Cai Dyfan's beautifully detailed set places us on a deserted, rocky hillside, far from the nearest city.
Despite the lack of customers, the outside world does impinge, however. John Daniel and his loving wife, Rakie Ayola's Noni, shout insults and wave meat-cleavers as war-planes fly overhead. Then there is Sion Daniel Young as Ifan William, their upbeat young slaughterman, an old friend of their son's, left behind when Twm went away to study philosophy.
We surmise that we are in a time of war, somewhere in rural West Wales and at some point in the near future. This is not a naturalistic drama, however: Thomas's writing is poetic and elliptical, owing much to the European absurdist tradition. Ifans especially relishes John Daniel's surreal monologues, deftly mining their irreverence for comedy.
But, just as the piece seems to be drifting into directionless sub-Waiting For Godot territory, Thomas wrong-foots us, utilising a classic dramatic trope by having someone come to the door brandishing a gun. That someone is Jason Hughes's Captain, a disoriented military man, who seems to have made his way to Bear Ridge seeking refuge from battle. Or perhaps his intentions are more sinister…
The tone is one of impending doom. This is underlined by Elliot Griggs's bleak lighting, John Hardy's drone-inflected score, and Mike Beer's sound design which never allows us to forget that the troubled outside world is not all that distant. This is mitigated, however, by the obvious affection within the family group, which the confusedly menacing Captain cannot help but be attracted to.
Inevitably, by virtue of his having the largest role, Ifans dominates proceedings, his charisma undeniable. Each of his castmates gets the chance to shine, however, over the ninety-minute running time: Ayola displaying both Noni's nurturing and fiercely protective sides; Young unexpectedly moving as Ifan William confesses the true nature of his relationship with Twm and tells us of his fate; Hughes providing the most shocking moment with The Captain recalling a horror story which pre-dates but somehow pre-figures the war.
On Bear Ridge is a play about loss—of family, of identity, of language, of societal stability, but not of hope. It might also be described as a state of the nation piece—that nation not being Wales, but a United Kingdom riven with strife and hostile to those perceived as outsiders.
Thomas and co-director Vicky Featherstone have given us a powerful production which, though fairly static with the most troubling events taking place off-stage, succeeds by digging deep emotionally, giving us characters we care about and scenarios with which we can all relate, despite the inventively idiosyncratic nature of the storytelling. This is a profoundly affecting piece of work.
Reviewer: Othniel Smith