On Beckett/In Screen: An Exploration of the Works of Samuel Beckett
Conceived and performed by Bill Irwin
Irish Repertory Theatre
Irish Repertory Theatre, New York
–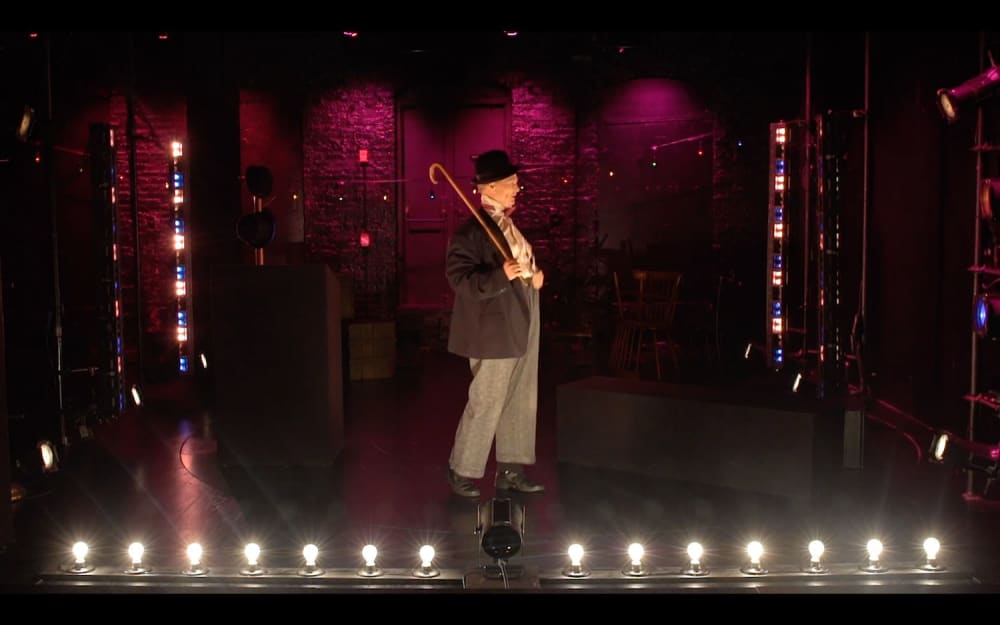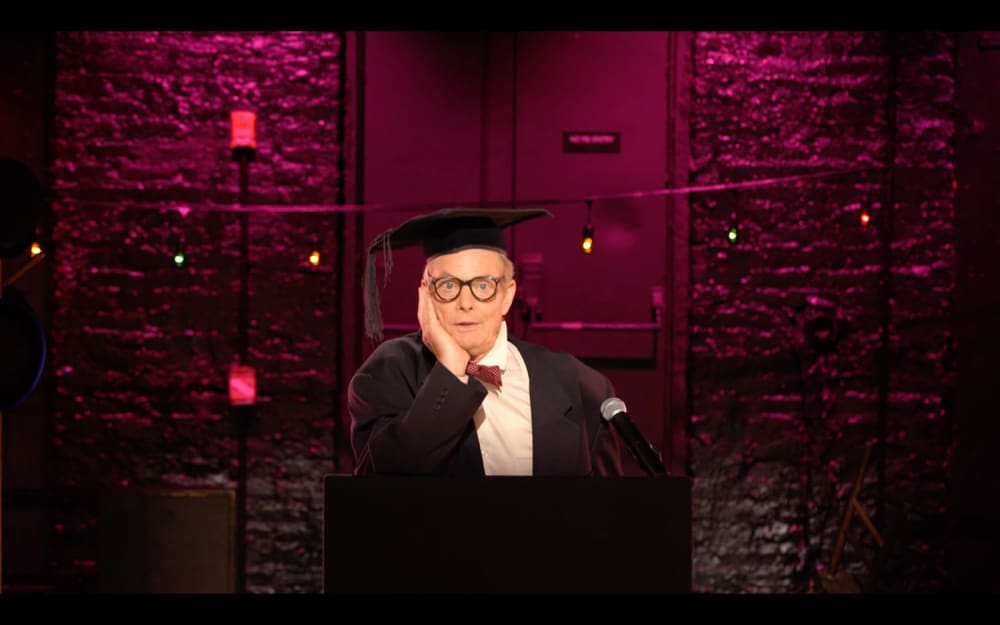 As the accompanying photographs immediately indicate, Bill Irwin loves vaudeville and clowning. As result, he unapologetically views the works of Samuel Beckett through the lens of the comic stage Irishman. He has conceived this filmed 1¼-hour exploration and celebration of the Irish playwright, which he co-directs alongside M Florian Staab, as a means of proving this point.
What Bill Irwin validly claims that he has to offer regarding a playwright about whom so much has been said and written is an actor's knowledge of Beckett's language rather than the view of a scholar or biographer. Narrating from his own love-hate relationship with his subject as he goes along, the actor presents a series of short extracts from the Nobel laureate's oeuvre including his most famous play but also a significant amount drawn from novels and the short prose piece with which he opens and closes the performance, Texts for Nothing.
By standing on stage in the empty Irish Repertory Theater (where he performed the original version of this work in 2018), he becomes a reminder that our own world today is as strange and absurd as anything that Beckett invented. The performer expertly delivers the lines throughout but at the same time animates them with his fluid style of physical theatre.
Although Bill Irwin wears his learning likely, there is plenty of it on show as the extracts from Beckett's writings are blended with intelligent analysis and criticism about such important topics as Irishness conveyed through French and back, psychology and existentialism.
There are many highlights and everybody will have his or her own favourites. For this critic, an unexpected pleasure is the brief, poetic extract from the novel Watt, simultaneously meaningless and meaningful, characteristic of the writer and inexplicably wonderful. Halfway through, there is a change in tone as Irwin dons baggy pants and an oversized jacket and picks up a walking stick, becoming the full Chaplinesque clown.
Having dealt exclusively in the prose works to this point, he begins to embrace writing for the stage. Nobody will be surprised to learn that the concentration is firmly on Waiting for Godot, although less predictably the pronunciation of the unseen character's name is a matter of importance, having caused great consternation amongst casts with whom our guide has worked, including such greats as Steve Martin, Robin Williams and Nathan Lane.
His innate and intuitive wisdom while exploring aspects this play, along with the delivery, would instantly justify a viewing (and donation) on their own, but this production has far more to offer. The dual attractions of On Beckett/In Screen lie in an opportunity to recall the genius of Samuel Beckett at the same time as enjoying the unique performing talents, not to mention charm, of Bill Irwin.
Tickets are free but must be booked in advance. Ideally, the theatre would welcome donations of $25 for individual performances and $100 for the season. The performance schedule is as follows (add on five hours for UK)
Sunday January 31 at 2PM
Friday February 5 at 8PM*
Wednesday February 10 at 8PM
Saturday February 20 at 8PM*
* open captions
Reviewer: Philip Fisher