On The Piste
John Godber
David Ball Productions
The Jack Studio Theatre
–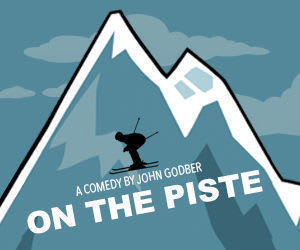 John Godber's 1990 bittersweet comedy On the Piste, set in the French ski resort of Chamonix, has been reworked for a cast of five.
There is a smattering of contemporary references to bring it up to date but nonetheless I found it rather dated, not least because a lot of the comedy is at the expense of dim northerners, something that I thought had passed on sometime after the death of misogynistic mother-in-law jokes.
Bev, the pretty but daft girlfriend to Dave, comes in for a lot of mocking. She has an A grade annoying voice and—still in the early throes of lust—would rather get into Dave's salopettes for physical exercise than into her own for skiing.
The other couple are the more middle class and slightly older Alison and her partner the repeat philanderer Chris, in a relationship from habit rather than love.
They are all four novice skiers and equally at the mercy of sexy French ski instructor, Tony, one way or another.
In the sauna scene, Tony's display of toned flesh and self assurance—his flash of bottom much enjoyed by a group of ladies of a certain age in the audience—confirms a continental suavity not shared by Dave in his leopard-print man-thong (more bottom enjoyment) or the gauche Chris.
The only surprise in Alison screwing Tony during the après ski entertainment is that she had to be drunk to do it. Quelle est la sauce pour l'oie, est la sauce pour le jars, Chris.
The second act comes dangerously close to saying something meaningful about relationships when some of the comedy gives way to make room for a bit of honest talking, and the conclusion does not provide neatly constructed happy endings all round, but it was like biting a soft centre chocolate when you are expecting a toffee. Perfectly nice but nothing to chew on.
Andrew Agnew of CBeebies' Balamory fame directs On the Piste with ample speed and jolly French accordion music to accompany scene changes so the tempo doesn't lull.
Agnew also plays Chris, to Elli Jackson's Alison, good portrayals given the thin characterisations, and the same for James Murfitt's Dave and Robbie Smith's Tony. Ceris Hine is wonderfully whiney as the irritating Bev.
Their performances carry the writing which is missing a bit of grit under the fluffy white snow.
Reviewer: Sandra Giorgetti