On Your Feet! The Story of Emilio & Gloria Estefan
Alexander Dinelaris, songs by Emilio and Gloria Estefan and Miami Sound Machine
Jamie Wilson and Gavin Kalin with InTheatre Productions, Hunter Arnold, Marc David Levine, Eilene Davidson, Iris Smith, Josh Andrews for Kilimanjaro Theatricals, Carlos Candal and Curve
Donald Gordon Auditorium, Wales Millennium Centre
–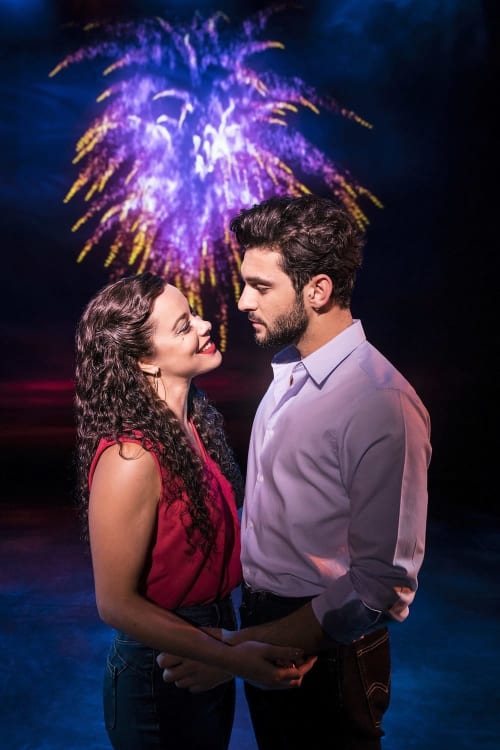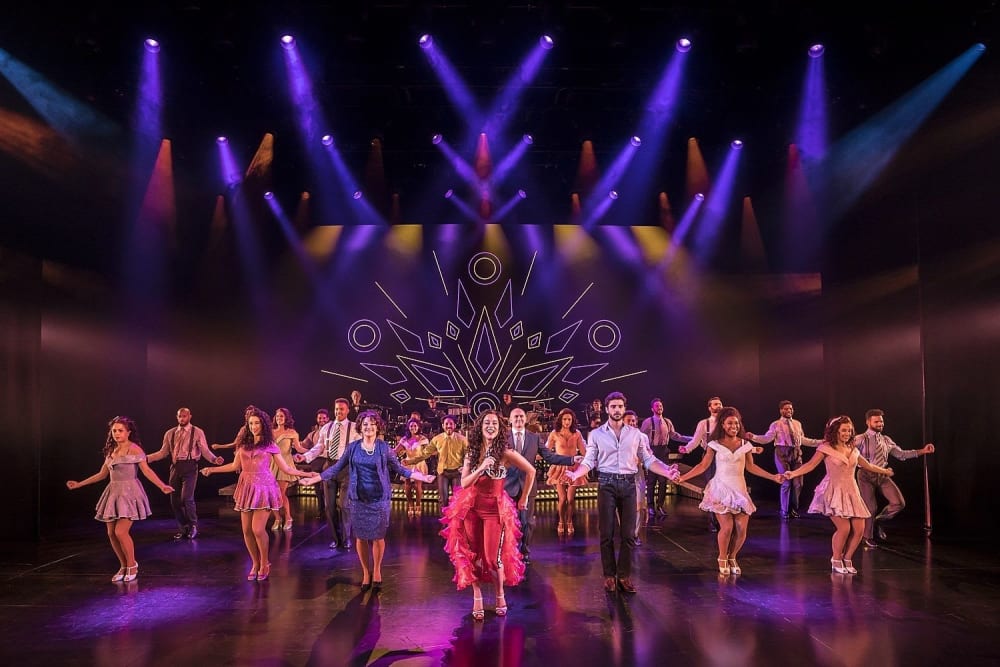 On Your Feet seems, on the face of it, to be something of a hard sell. After all, it is the story of Miami Sound Machine, a pop group the bulk of whose success occurred amongst non-English-speaking audiences and who haven't had a mainstream hit single (samples excepted) since the early 1990s.
Nevertheless, the show ran on Broadway for almost two years, the current UK tour follows a limited but successful West End season and opening night in Cardiff attracted a full house in the Donald Gordon Auditorium.
On Your Feet begins with a full band (led by Danny Belton) in full view on stage, accompanied by extravagant disco-style lighting (designed by Kenneth Posner) raising the expectation that this will be a cabaret-style entertainment. They are soon obscured behind the first of many screens, however (mobile scenic design by David Rockwell, with video projections by Darrel Maloney), as the conventional narrative rise-to-fame unfolds.
This is the story of how shy Gloria Fajardo, a psychology student and amateur musician, attracts the attention of a fellow member of Florida's Cuban émigré community, Emilio Estefan, leader of the Miami Latin Boys, whose ambitions lie far beyond playing on the local party scene. Within a few years, thanks to his entrepreneurial enthusiasm and her songwriting skills, they become, once renamed, a huge international success. There are, however, significant bumps in the road ahead…
The central roles are played by Philippa Stefani and George Ioannides, who are both excellent vocally and convincing chemistry-wise, as affection grows between Gloria and Emilio. They are given strong support by Madalena Alberto as Gloria's disapproving mother (also called Gloria) and Karen Mann as Consuelo, her rather more encouraging and mischievous grandmother.
Alexander Dinelaris's script plays with the chronology of events somewhat (in the programme notes he speaks of the difficulty inherent in creating drama out of a happy marriage and successful career), but doesn't skimp on the pathos—the father of the Fajardo family is suffering from a debilitating illness, possibly picked up during war service in Vietnam, and both families left Cuba under trying circumstances.
The dialogue is not short of sentimental Broadway cheese. Emilio's interactions with a music industry desperate to ghettoise his band (comically symbolised by Robert Oliver's Phil) do amuse, however (there's an excellent joke about Sweden). And director Jerry Mitchell handles the climactic car crash, and its emotional aftermath, in a simple but highly effective manner.
As well as the hits (more than I remembered, although my personal favourite, "I Can't Stay Away From You", is unaccountably missing), the most audience-pleasing aspect of the show is Sergio Trujillo's choreography, with its many Latin American flavours, performed by a talented ensemble costumed, with loving garishness, by Emilio Sosa.
There is perhaps a little too much dry industry talk and not all of the unfamiliar songs are particularly strong. Nevertheless, On Your Feet is entertaining and inspirational and may even prompt Miami Sound Machine agnostics to reappraise their oeuvre.
Reviewer: Othniel Smith