On Ageing
Fevered Sleep
Young Vic Maria Studio
(2010)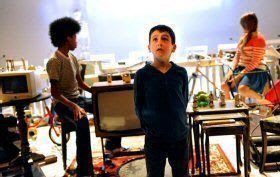 On Ageing might strike viewers as something of a misnomer. On Being Very Young would better describe it or, for Channel 4 addicts, Tiny Brother.
This piece of performance art might come from the same, if junior, school as the work of Ontroerend Goed, the Belgian company that has made such an impression in Edinburgh in recent years, first with the delightfully anarchic Once and for All We're Gonna Tell You Who We Are So Shut Up and Listen then this year, Teenage Riot.
The piece created by Fevered Sleep appears to be made up of a combination of the Verbatim, devised and found theatrical genres.
Where the Belgians use teenagers to entertain, this company goes down a level, as the oldest of the seven performers is only 13 and the youngest a mere 7.
At the start, they come on to the stage one by one, betraying signs of extreme nervousness. Soon enough, this dissipates and they are able to do what is asked of them for 75 minutes.
This begins with their vocalisation of others' thoughts on the ageing process, which for the majority of those quoted seems to have more to do with vanity than philosophy. The use of tiny people to speak the lines of adults has a kind of charm but it can quickly fall away.
Slowly, random objects are brought into the playing space and, by the end, leave hardly any room for movement, presumably symbolising the way that our lives grow and fill up their allotted slots.
As this is happening, the group establish their personalities and perform for the audience, seemingly delivering their own thoughts and words, though the impression taken away is that any spontaneity is carefully rehearsed.
Quite what the creators David Harradine and Sam Butler are trying to do is not entirely clear. On Ageing is only partially a meditation on the topic. It is also a chance to watch children self-consciously at play, choreographed to an extent to catchy, ambient music composed by Ged Barry.
Is this voyeuristic? Is it exploitative? Is it entertainment? No comment - but the kids seemed to have a good time anyway.
Playing until 9 October
Reviewer: Philip Fisher