The Contingency Plan - On the Beach
Steve Waters
Bush Theatre
(2009)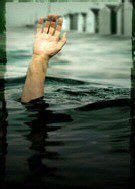 It is quite some feat to blend a tense family drama with complex scientific theory. Few playwrights would dare to delve into the world of science but Steve Waters proves himself up to the task in this work, named after Neil Young's "justly neglected masterpiece", which sets the scene for its companion piece, Resilience.
Robin Soans is outstanding in the role of a nutty professor, swiftly turning into a plausible prophet of doom. His Rob was a leading glaciologist in 1974 when he inexplicably dropped out overnight to an isolated Norfolk beach, that he has not left since.
37 years on in 2011, he and his wife, Susan Brown's Jenny, are awaiting a visit from their son Will, who was born in that earlier, fateful year.
Scientific enthusiasm obviously runs in the genes and Will is a leading player in climate change theory, after spending years studying the hastening disappearance of Antarctic ice floes. The return of the Prodigal proves to be as stormy as Rob predicts the weather will become.
The attractive Sarika, given nice balance by Stephanie Street, hardly pours oil on troubled waters. She is both Will's girlfriend and a civil servant working with the Government on global climate issues. As such, she is the devil incarnate for an increasingly frustrated Rob.
On the Beach is set on a day when an "extreme weather event" that could become a flood of Noah proportions might be on the way and Waters mirrors the climactic explosiveness with similar issues in the family.
Geoffrey Streatfeild, last seen with the RSC playing Henry V, proves a talented actor in a contemporary part. He combines an element of geekiness with inherited passion. Like his father, Will too seems to be heading for inevitable disappointment, as he prepares to face a new Government that will inevitably have to downplay any threat to national security.
The long first act is totally gripping and Michael Longhurst proves to be a master of directing in the round. The tension fails to return in a half-hour second act that feels rather like an add-on. Even so, On the Beach is a brave and enjoyable attempt to bring one of science's most important contemporary issues to the stage.
Reviewer: Philip Fisher