Once
Book by Enda Walsh, Music and Lyrics by Glen Hansard and Markéta Irglová, Based on the motion picture Written and Directed by John Carney
Phoenix Theatre, London
From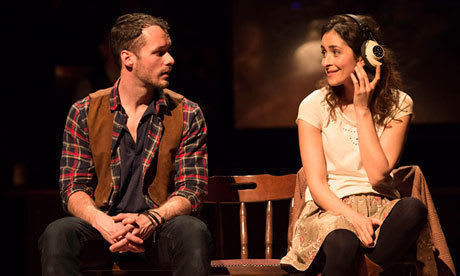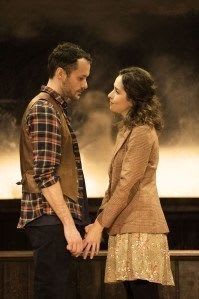 This could be the year that welcomes back the new musical to the West End after a pretty fallow period thanks to the recession.
Within a couple of weeks of The Book of Mormon, another Broadway smash of a very different ilk promises an equally long run.
Once started life as a low budget independent Irish movie that threatened to achieve cult status. It told a simple story of love, music and love for music involving a depressed Dublin singer-songwriter and a Czech immigrant with a tricky history.
What could have been a maudlin film somehow became uplifting, helped by some great music. The latter, with new additions, is played on stage by the full cast, when they are not (and sometimes even are) acting, following the formula used in John Doyle's magical Sweeney Todd.
This version may have been developed and premièred in America but it features a British dream team led by Enda Walsh in unexpectedly romantic mood and supported by John Tiffany (direction) and Steven Hoggett (movement), a duo that hit their zenith on Black Watch.
The result is exceptional. Once isn't so much a musical as a 2½ hour-long play with music. However, the songs, composed by the two stars of the movie, perfectly complement and advance the story, as well as sounding good in their own right.
Typically, the style is Celtic, moving between folk and rock, but with occasional Easter European interludes. The pick by some way is "Falling Slowly", which brings the prosaically named Guy and Girl together then returns to end the evening on a somewhat melancholy high.
For light relief, "Broken Hearted Hoover Fixer Sucker Guy" takes some beating, while the a capella "Gold" perfectly effects a mood change.
All of this enhances a story that sees love burgeon against the better judgement of a seemingly mismatched couple. Declan Bennett's Guy is a quiet brooder with a lovely singing voice, while Girl, played by a brilliant Croatian (rather than Czech) newcomer to the London stage, Zrinka Cvitešić is forceful to the point of domineering but has a wicked sense of humour. This is just what he needs after losing his love to another man and New York.
Along the way, they pick up a musical instrument salesman, given wit by Aidan Kelly, several Czechs including Girl's tri-generational female family, an impromptu band and an enthusiastic audience, all on a simple Bob Crowley set that is ostensibly a semi-circular bar (serving during the interval) but swiftly transforms using minimal props, when required.
The strength of Once lies in its perfect combination of a sophisticated modern love story with great songs performed beautifully and subtle movement that never quite makes it to choreography.
Whether this homage to heart, soul and music can match the 17-year tenancy of Blood Brothers, its predecessor at the Phoenix, may be a bit too much to ask but, like Willy Russell's popular creation, this will undoubtedly be a big hit and could well be one of those cult musicals that devotees return to again and again.
Reviewer: Philip Fisher