Once the Musical
Book by Enda Walsh, based on the motion picture by John Carney
Barn Theatre Company
Barn Theatre, Cirencester
–

Listing details and ticket info...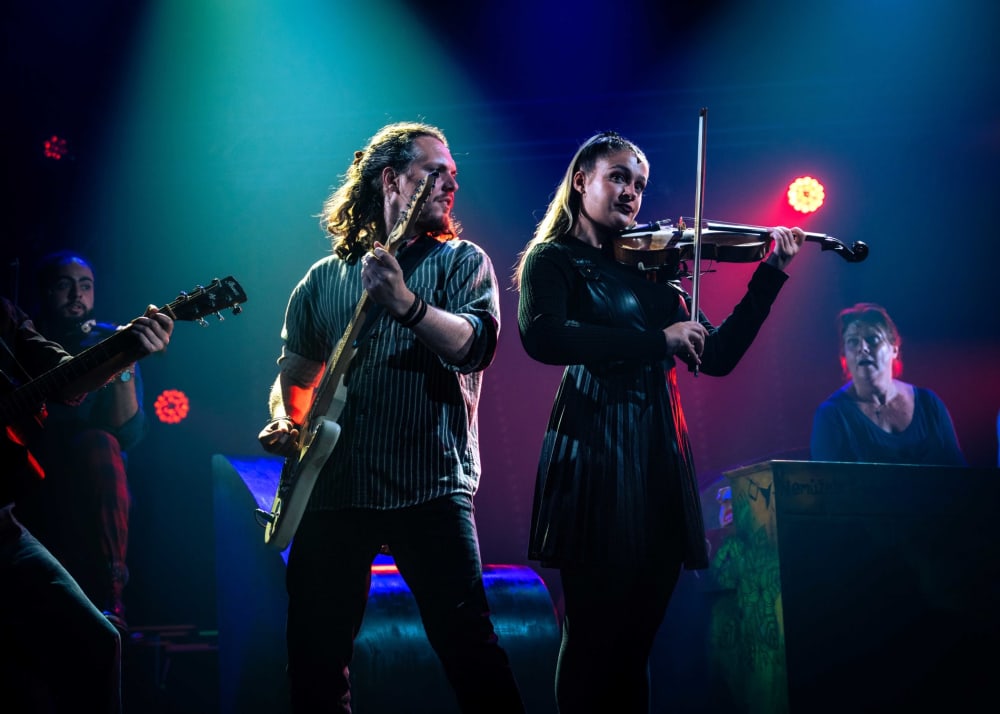 If asked to picture a musical set in Dublin, you might be forgiven if that evoked an imagined mishmash of Riverdance, pints of the black stuff and Bono. But from those first opening bars, and the penetrating spotlight trained on our protagonist—Guy—Once seeks to disperse your preconceptions.
The Barn Theatre itself is an intimate venue which feels altogether fitting for the love story which unfolds before us. Guy (Tomas Wolstenholme) is a heartbroken Irish singer-songwriter fixing vacuums in his father's shop by day and playing local pubs at night. He is on the verge of giving up music altogether when Czech 'Girl' (Sarah Moss) hears him play and their week-long romantic tale begins.
Based on the 2007 film of the same name directed by John Carney, former bassist for Irish band The Frames, Once received an Academy Award for Best Original Song for "Falling Slowly", its eerie Indie folk anthem by Glen Hansard and Markéta Irglová.
As if the soaring harmonies and ample tugging of the heartstrings weren't enough, I was astounded by the irrefutable musicianship of the cast—without a hint of 'fiddly-dee-dee' (as my second-generation Irish husband would say) in sight. Yes, there were actual fiddles, but they were rich and warm, joined by soaring piano, guitar, saxophone and drums. The introduction of each song was a natural progression through the narrative rather than an incongruous segue. If the intention was to emulate the atmosphere of the live music scene, then I was right there—as this felt more like a memorable night in a great live music venue than a cosy theatre in the Cotswolds.
Highlights for me included Bank Manager (Toby Bradford) with his reedy voice and comical sideways glances, raising a chuckle on multiple occasions, and music shopkeeper Billy (David Shute) with his strong views on capitalism, dislike of George Ezra and altogether terrible Ninja moves. It would, of course, be very predictable of me to admit to falling for Guy, but with a voice like that, courtesy of Tomas Wolstenholme, I think half of the audience shared my and our no-nonsense Girl's (effortlessly played by Sarah Moss) sentiments there.
Sophia Pardon's stripped-back set design places Guy's guitar at the heart of the show as a moveable centrepiece which wouldn't look amiss pushed along by any rock star's crew. The cast use this to simple effect as furniture, a bar or the landscape itself, paired with lighting designer James Smith's evocative, and, at times, intense, choice of strip and floodlights that would be worthy of any arena tour.
Once is a must-see this summer: a little CPR for your cold, jaded heart. And you never know; it might just reignite those dreams you lost sight of along the way too.
Reviewer: Rachael Duggan