Once Bitten
Alfred Hennequin and Alfred Delacour, translated and adapted by Reggie Oliver
Orange Tree, Richmond
(2010)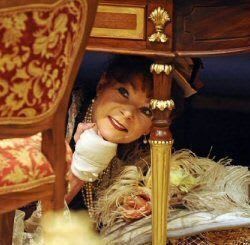 Once Bitten is a French farce written in 1875 and, taking into account the Orange Tree methodology, little more need be said.
There are dropped trousers, mistaken identities, double entendres, costumed domestics, doors galore and pretty mistresses causing trouble for randy husbands and uncles, with a tyrannical mother-in-law thrown in for luck.
The special ingredients in a Sam Walters farce are necessitated by the theatre's design, since in-the-round staging does not immediately lend itself to this form.
What the space does is allow Sophie Acreman to fill in the gaps. She is pitch perfect in her efforts to provide sound replacements for doors and especially a naughty pooch that sadly does not make it past the halfway mark alive.
The story revolves around a hapless lawyer, Fauvinard, who has not had a case in two years but still harbours seemingly unwarranted hopes of a glowing career.
The energetic David Antrobus' character divides his spare time between battling his wife's harridan of a mother, played with voluble fervour by Briony McRoberts, and escaping to cavort with pretty blonde Cesarine, played by Beth Cordingly.
She, in turn, has numerous skeletons in the cupboard as the wife of an absconded jewel thief. Above her salon lives the unseen Zizi and between the two, they turn 11 Rue Saint-Lazare into a sexual conveyor belt as, inter alia, another lawyer and a spare husband troop through and get bitten by the invisible dog. Never far behind is the bumbling roué uncle with a sleep disorder, humorously portrayed by Richard Durden.
To add a little spice and wit, Michael Kirk appears in Napoleonic get-up playing a Commissioner of Police who ends up with little more than the wrong ends of several sticks and some spare pairs of trousers.
The first act is rather slower than ideal, as the scene is set, the second allows sexual shenanigans to take over, with much laughter, while the last brings everything to a happy ending offering strong support for the institution of marriage and power of forgiveness.
As farces go, Once Bitten is not necessarily quite out of the top drawer but there are enough laughs to make a trip to Richmond worthwhile. In addition, for anyone that has never seen one performed at the Orange Tree, a real treat is in store.
Reviewer: Philip Fisher