One for Sorrow
Cordelia Lynn
Royal Court Theatre Upstairs
–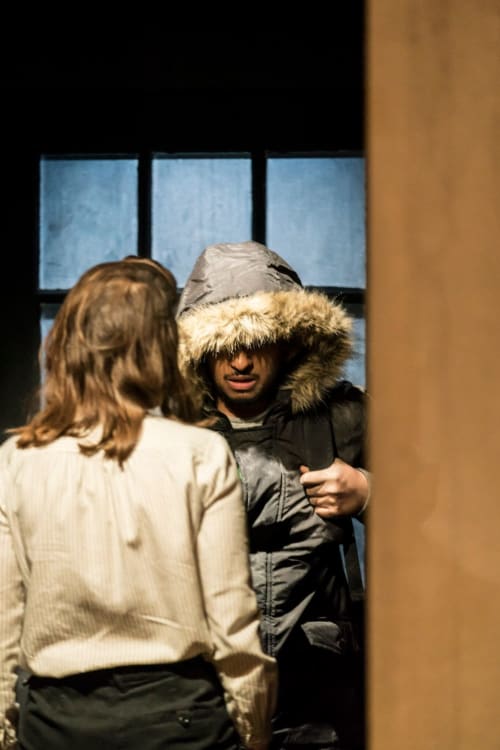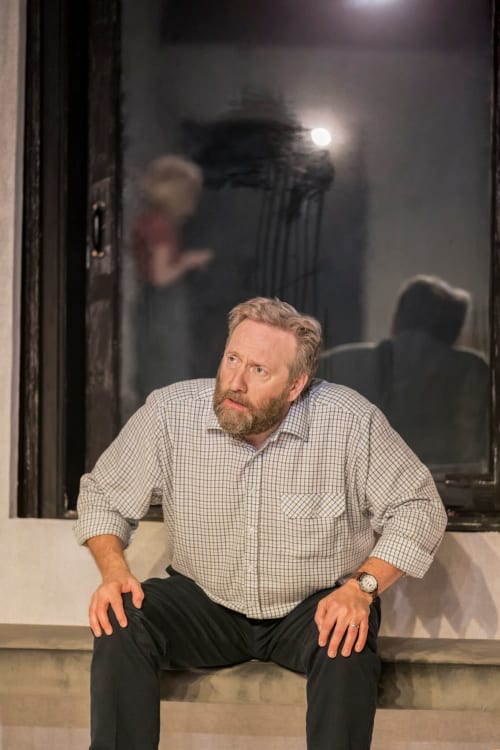 Following a literally explosive opening, One for Sorrow immediately intrigues its audience before the lights even come up in James Macdonald's superbly acted production.
Already, viewers will have worked out that they are witnessing events taking place in a contemporary London overwhelmed by fear following a terrorist outrage, which has killed numbers that, according to news reports, start in dozens and seemed destined to stretch into hundreds.
The atrocities are viewed from the comfort of the Laura Hopkins designed living / dining room (complete with empathetically bleeding walls) occupied by middle-aged couple Bill and Emma and their daughters, Imogen who is at University and Chloe about to complete her A levels.
Very quickly, the parents show Pinteresque qualities that are less prevalent in their offspring but return with a vengeance in the person of a mysterious, uncomfortable and discomforting visitor, whose cadences and repetitions could almost have been created by the Master in his pomp. So could much of the subject matter of an evening that stretches to 2½ hours including a rare Upstairs interval.
The meeting stems from is a public spirited Twitter invitation by Pearl Chanda's Imogen offering shelter to anyone trapped by the tragedy. The oldies played by Sarah Woodward and Neil Dudgeon are far from impressed and begin what can be too much of a comic double act, she a forceful human rights lawyer, he a sadly henpecked husband.
After lashings of tearful angst and inter-generational argument, souped up by Kitty Archer in the role of Chloe, the family eventually welcomes John, complete with dust covered parka and backpack, for an overnight stay.
Although it is not explicitly stated in the play, the script identifies him as a British Asian, meaning that the home team feels justified in contemplating the possibility that he might be one of the terrorists seeking sanctuary from the emergency services, rather than the robot-loving innocent PhD student that he presents to the world.
The remainder of the evening follows the edgy encounters between Irfan Shamji as John and each of the family members. His motives remain clouded, despite a series of long dialogues and speeches which this human magpie tends to deliver in a stilted, unnatural manner.
At various stages, his presence enables each of his hosts to understand themselves better, even if it does not necessarily help them to understand each other, although different groupings do at least form temporary alliances when they are not fighting each other tooth and nail.
What at times promised to be an incisive look at the state of middle-class Britain today and the way in which the fear of terrorism and otherness has changed perceptions tends to get bogged down in personal whimsy rather than homing in on critical issues that would drive the narrative forward, while the character of John remains a mystery throughout.
Even so, it contains much material that should provoke debate about society today and that can never be a bad thing.
Reviewer: Philip Fisher