One Man, Two Guvnors
Richard Bean, based on Carlo Goldoni's Servant of Two Masters
National Theatre
The Lowry, Salford
–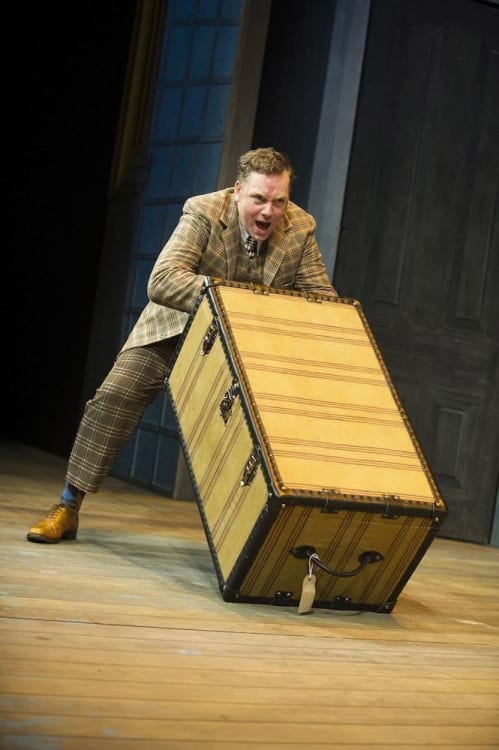 Just over a year after its first award-winning visit to The Lowry, the National Theatre production of Richard Bean's One Man, Two Guvnors returns to Salford with an entirely new cast.
This time, comedian Rufus Hound takes the central role, originally played by James Corden, of Francis Henshall, the titular character who tries to get away with being the servant of two different men while preventing either master from discovering his duplicity. This situation by itself is enough to create many farcical situations, but when you add to this a dead, gay gangster being impersonated by his sister in order to secure a dowry from her brother's fiancée's ex-con father at her engagement party to someone else... Well, the potential for misunderstandings and confusion is endless.
Ex-standup Bean makes the most of this with a script that is really just a series of comic set pieces, some of which have been around for centuries—Goldoni's The Servant of Two Masters on which it is based took stock characters and situations from the low Italian semi-improvised comedy genre of Commedia del'Arte—given a fresh, modern approach and a twentieth century setting.
Any farce tests the performers and director as pace and timing are crucial to making it work, but this production also requires performers who are highly-skilled in physical comedy and in working directly with an audience. Nicholas Hytner's production is beautifully-paced, and he is supported by Cal McCrystal as a dedicated physical comedy director.
Hound, who will take over the lead role on the West End at the end of this tour, fills Corden's shoes admirably. His timing and delivery of the lines is spot on and his physical tumbling gets the laughs, but he really shines in his banter with the audience. The show is designed to blur the lines between improvisation and script, with actors apparently laughing or being thrown by audience remarks, and it is difficult on a single viewing to tell whether these are genuine or carefully rehearsed.
The show also makes superb use of audience participation, with audience members brought up on stage to help on a couple of occasions, and one of them is made to... no, it would spoil it to add anything more; it has to be seen.
There are also some great over-the-top performances by Jodie Prenger as Francis's love interest Dolly, Leon Williams as wannabe actor Alan Dangle, Rosie Wyatt as cross-dressing Rachel Crabbe, Colin Mace as ex-con Charlie Clench, Kellie Shirley as his not-too-bright daughter Pauline, Edward Bennett as ex-public schoolboy Stanley Stubbers and Mark Jackson, stepping in as understudy to play the shaky old waiter Alfie.
All of this is linked together by songs from skiffle band The Craze, which also helps to set the play in 1963.
While the gags and routines are pretty old—even Goldoni was reworking established comic routines for his play in the mid-eighteenth century—they still add up to a greatly entertaining piece of theatre with belly laughs aplenty when put together and performed this well.
Reviewer: David Chadderton