One Night in Miami…
Kemp Powers
Nottingham Playhouse Theatre Company
HOME, Manchester
–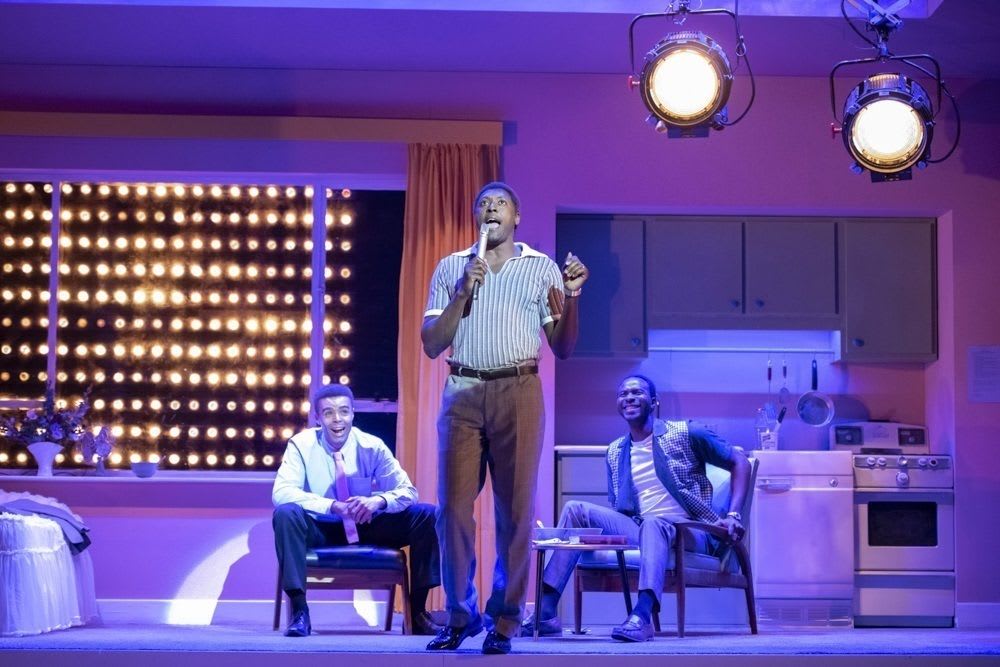 The plays of Terry Johnson regularly speculate about what might have occurred during meetings that actually took place between real-life people. Now author Kemp Powers adopts the technique with One Night in Miami…
In 1964, four men meet in a motel room in Miami. They have two things in common: they are at turning points in their lives and they are black. Cassius Clay (Conor Glean), new World Heavyweight Champion, is considering joining the Nation of Islam and changing his name to Mohammad Ali. Political agitator Malcolm X (Christopher Colquhoun) contemplates leaving the Muslim Brotherhood—and finds he does not have much choice in the matter. Football star Jim Brown (Miles Yekinni) has decided to pursue a career as a movie action hero. The supernaturally talented Sam Cooke (Matt Henry) has just composed a song with potential to become a political anthem.
It does not take long to appreciate One Night in Miami… lacks a plot. The play is very much a series of well-known political statements. As a result, the dialogue has a lot of exposition so as to make sure the audience has the necessary background information to follow the arguments.
The only real dramatic conflict is between the puritanical Malcolm X and the party-loving Sam Cooke. Malcolm feels Cooke is betraying his race by pandering to the tastes of a white audience while Cooke, a savvy businessman as well as an artist, believes he has beaten the system and so is better able to safeguard and promote other black artists. Kemp Powers captures the occasionally exasperated banter between friends beautifully. Jim Brown curtly dismisses the possibility of becoming a Muslim by listing his love of pork chops and white women. His response to Clay's announcement of the name under which he will become a future legend is the dismissive comment that it will be hard to remember.
The somewhat dry nature of the play requires an imaginative staging to maintain interest. Director Matthew Xia includes some striking moments including an angry Sam Cooke walking through the theatrical fourth wall to exit the stage. Conor Glean mimics Clay's over-the-top oratory to breathlessly recreate the world heavyweight fight. In a sublime moment "A Change is Gonna Come" begins without musical backing and Matt Henry standing in profile as if conversing rather than singing. Xia has a fine sense of time and place. Grace Smart's set is a starkly furnished, downmarket motel making the point that colour of skin was, in 1964, far more important than fame in determining social acceptability.
The only flaw in the staging is the odd decision to include an interval in what is, after all, a short play. As a result, the first act starts to drag while the brief second goes by in a flash.
The acting is of a uniformly high standard. Malcolm X could be unbearably self-righteous but Christopher Colquhoun's dignified performance shows someone tormented by the choices he has made and seemingly aware he has little time left. Conor Glean is a vulnerable Cassius Clay—openly bragging and cocky but concealing a high level of insecurity as he contemplates his future. Miles Yekinni is a self-aware Jim Brown; not able to forget the prejudice he overcame to achieve his success and just about holding back his anger.
The stand-out is unquestionably Matt Henry's surprisingly fey Sam Cooke. Henry is clearly having a terrific time in the role—his transformation of HOME into a Gospel meeting gets a standing ovation and is so good you become distracted from the play just wanting to hear him sing again. But Henry is far more than simply a talented vocalist drawing out the doubts plaguing the outwardly confident Cooke who fears he may really have failed his race.
The imaginative staging and outstanding performances more than compensate for the under-developed plot in One Night in Miami…
Reviewer: David Cunningham