One Public: New York's Public Theater in the Era of Oskar Eustis
Kevin Landis
Methuen Drama
Released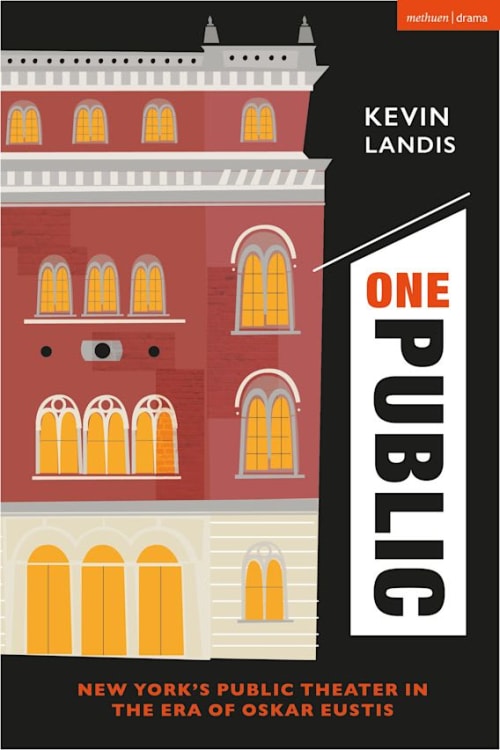 As Kevin Landis acknowledges in his introduction to the first book that this reader has seen with a 2023 publication date, the undisputed champion of theatre history is Daniel Rosenthal's The National Theatre Story.
While Landis has less lofty ambitions, he has written an informative and very readable book that takes readers into the heart of New York's Public Theater (America's National Theatre?) through the reign of its current Artistic Director, Oskar Eustis.
Before getting there, Landis outlines a history of the 70-year-old theatre particularly concentrating on the heroic efforts of its legendary founding father, Joe Papp. Rather than working chronologically through the Eustis years, which commenced on his appointment at the end of 2004, Landis prefers to explore his subject by theme.
He commences with the venue that generates most headlines. The Delacorte Theater offers Free Shakespeare in the [Central] Park to 2,000 people a night for a couple of balmy months every summer.
As well as outlining the ethos of the kind of runaway success that has people queueing all day for tickets, the book concentrates on four high-profile productions. Mother Courage and Her Children start Meryl Streep, Diane Paulus's revival of Hair transferred to Broadway while The Merchant of Venice featured Al Pacino. Eustis's highly controversial 2017 Julius Caesar, in which the protagonist bore a striking resemblance to Donald Trump, much to the distaste of the former president's fanatical "base" business who caused untold trouble and loss of corporate sponsorship.
There is then a parallel overview of the Public's sprawling home at 425 Lafayette Street, Astor Place with its five theatre spaces and adventurous ethos that might better be compared to the Royal Court rather than the National Theatre.
There are then chapters on major productions from recent years. These explain the background to David Byrne's Here Lies Love, Fun Home in which Alison Bechdel's autobiographical graphic novel was expertly adapted for the musical stage by Jeanine Tessori and Lisa Kron and, inevitably, the biggest hit of recent times and probably all time, Hamilton.
In addition to overviews of the shows themselves, Landis looks critically at what have at times been uncomfortable interactions between the Public and Broadway theatres, with major successes such as A Chorus Line that saved the theatre in the early days and Hamilton balanced by relative disasters, with particular concentration on Bloody, Bloody Andrew Jackson.
This musical was highly controversial due to its portrayal of Native Americans and forms part of a chapter that looks at how easily even the most enlightened producers and theatres can go wrong, culminating in something close to a revolution during the pandemic and Black Lives Matter years.
One of Eustis's proudest achievements is his work on expanding the Public beyond its fixed venues into the community and then, through Public Works, which has more recently been cloned by Rufus Norris at the National Theatre, bringing thousands of enthusiastic amateurs into major productions at the Delacorte.
Each section is rounded off by interviews with significant players, of which those with long-term writer-in-residence Suzan-Lori Parks, Lin-Manuel Miranda explaining how much the theatre means to him and, to close the book, Eustis himself trying to balance Marxist principles with capitalist imperatives and artistic needs, are the most wide-ranging and informative.
One of the greatest strengths of this excellent overview of an iconic theatre is that Kevin Landis is not afraid to bite the hand that feeds him, even though he has worked as an academic in residence at the venue for many years. The author is happy to take on the major controversies and tries to play fair, representing the views of those on every side of each debate.
Ultimately, although the Public Theater is not perfect under what can be the authoritarian control of Oskar Eustis, with equality and diversity at higher levels than its peers but still striving to reach perfection, this is a major venue that has survived many traumas and should continue to prosper into the foreseeable future.
Reviewer: Philip Fisher