One Thing and Another: Selected Writings 1954 – 2016
Jonathan Miller
Oberon Books
Released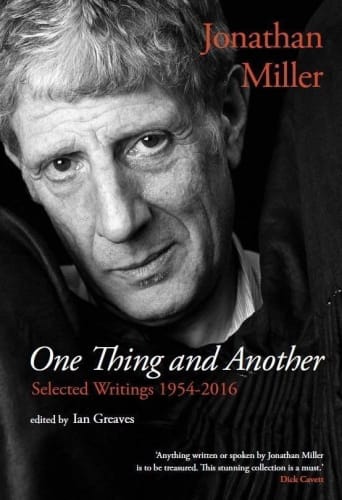 At first sight, readers flicking through One Thing and Another will conclude that approximately half of the content has little or nothing to do with their theatrical interests.
In fact, as Dr Miller explains in this series of essays, lectures and broadcasts that cover a span of more than half a century from student days to the brave new world of 2016, his world view easily encompasses both an academic and inquisitive fascination with the mind and the way in which actors and plays can be seen to best effect on stage.
Indeed, the doctor turned performer and director helpfully shows in "Reflections" that his experience and aspirations as a neurologist proved to be perfect training for a career as a theatre / screen / opera director.
Again and again, essays on random subjects prove fascinating and help to feed into the reader's understanding of the man and his careers both as a doctor with an interest in the human brain and a theatre director with similar leanings.
This can perhaps best be exemplified by the connection between "Communicating without Words", a fascinating philosophical and psychological investigation and "Directing Shakespeare", based on a long and informative interview by Ann Pasternak Slater during the process of recording the epic BBC Shakespeare series.
"On Chekhov" then does a similar service to those interested in directing or watching the plays of the great Russian doctor-playwright.
There is much to enjoy in this book, "King Lear in Rehearsal" proving such a revelation that it is literally the best instructive piece on the subject that this reviewer has ever had the good fortune to read. As such, it will change his perception of the play for ever more.
While the essay "On Rehearsing" may not say vast amounts more than many of us will already have gleaned from other books and life both in front of and behind the scenes in theatres, the quite brilliant "Plays and Players" investigating and explaining the uses of non-verbal communication in life and on stage should be compulsory reading for every aspiring director.
One Thing and Another is undoubtedly a great read as a means to learn about directing plays and more. It is also a superb opportunity to follow a butterfly mind into myriad fascinating topics that are of interest for their own sakes but also often help to inform the essays dedicated to the theatre business.
Reviewer: Philip Fisher