One Woman Show
Liz Kingsman
Ambassadors Theatre
–

Listing details and ticket info...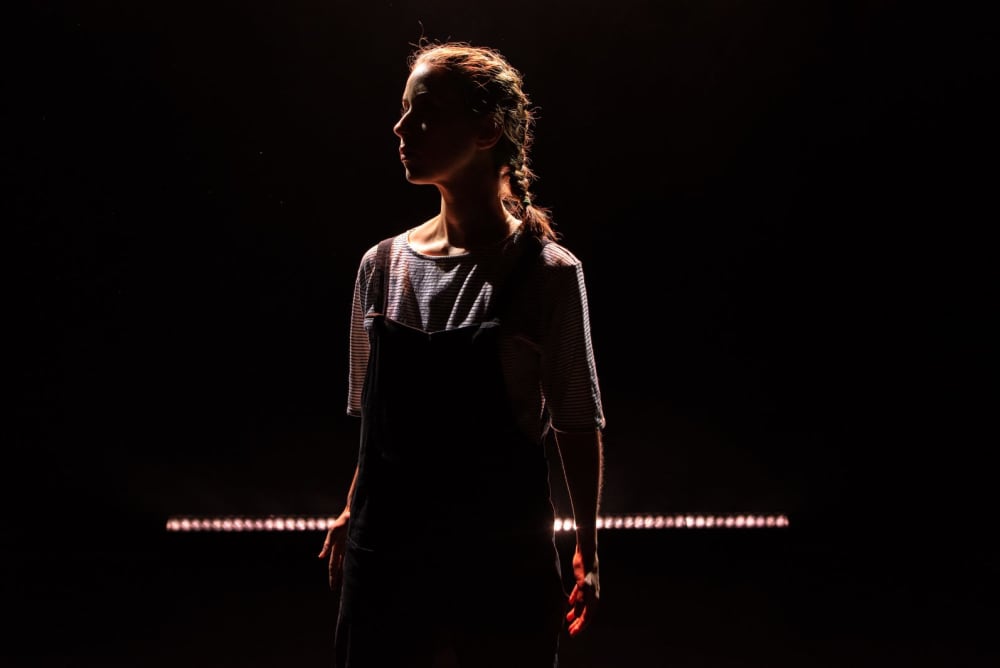 Liz Kingsman's One Woman Show has enjoyed a meteoric overnight success. Previously a member of an obscure sketch troupe Massive Dad, the demure Kingsman, an Australian who came to Durham University in England and stayed, has crafted a parody of Fleabag (and her imitators) that has made critics weak at the knees.
Following sold-out runs in London's Soho Theatre and the Edinburgh Fringe, Kingsman's show transferred to the West End to yet more ecstatic notices and delirious audiences. Apparently Broadway beckons. The Sydney Opera House beckons. See it before it's too late!
There's only one problem. One Woman Show isn't worthy to clean Fleabag's battered old trainers. It shouldn't have made enough money to buy one of Phoebe Waller-Bridge's infamously overpriced paninis. It's terrible. It's mean-spirited. So why are audiences in raptures and critics salivating over this offensively cynical slice of internalised misogyny?
Kingsman plays a haughty actress shooting a TV spot for her monologue. It's implied she's exploiting the traumatised woman trope (Fleabag, I May Destroy You etc). From the outset, things go "wrong"—the mic is broken and we get some clunky dialogue with an offstage tech guy. So far, it's a sophomoric version of Michael Frayn's Noises Off. And then the show within a show commences.
It's a manic pixie dream-girl monologue in which she plays a millennial girl-about-town falling in lust with implausibly tall men and having problems operating Zoom. She's been single "for most of the day". She expresses a desire to stay aloof by saying something non-committal to her boyfriend like "you complete me". We get visual gags about water coolers and meta jokes where her Aussie boss riffs on the contradictions of writing comedy about trauma. The trauma turns out to be daft, the office fling caught on camera not what it seems.
What made Fleabag great? She's an absurd and in some ways trivial character but we care deeply about her. We forgive her infatuations and invest in her processing of grief. We start at the groin and end up in the heart. But who is Kingsman's dreary animal charity worker? We can't get a grip on her.
One moment she's making wry, knowing industry jokes in the mode of "it's January but they haven't decided which woman is going to be successful this year" and the next she's prattling on about how hard it is to be a trustafarian. We're meant to laugh with her one moment and at her the next. Kingsman has tried to reverse-engineer Waller-Bridge's writing, but it's like a painter-decorator prancing around on stage giggling and throwing paint at the audience and claiming to be parodying an Old Master by using some of the same colours.
Shockingly, she claims in her Vogue interview that late-1990s female sketch show Smack the Pony is one of her favourites. Has she even seen it? Smack the Pony works because it doesn't have contempt for the bumbling single women in its sketches. It sees them and recognises them as people while laughing with them. One Woman Show thinks it skewers the conventions and contradictions of women making comedy out of trauma. It does none of those things. It's shallow and cynical. Worse, it tries to make a virtue of it by admitting its own cynicism.
Kingsman really had a choice. She could have gone for out-and-out absurdism. Or she could have written something from the heart. What we get is a character that it's impossible to know or like. She's merely a vehicle for some low-brow visual gags. Fleabag works not because it's exploiting female trauma but because it's great writing. We are taken from the ridiculous to the sublime and back again and we care. One Woman Show only highlights the skill of great writers like Kate Berlant (who does absurdism and metatheatrics so well) or Jacqueline Novak (whose Get on Your Knees, a sparkling, literary diatribe about language disguised as a personal history of fellatio, is perhaps THE essential contemporary one-woman show). Novak sends herself up but never at the expense of the emotional pay-off. She deserves a hundred Sydney Opera Houses.
We haven't seen the last of Kingsman. One Woman Show is destined for more international stages and no doubt more acclaim. What does the success of a show that is so dishonest about its own sexism say about us? Why are young women flocking to laugh at a show that suggests that one-woman shows are silly and frivolous, doubles down on misogyny and then indulges in "cakeism" by owning up to its own meanness?
The show pretends to be critical of a system that exploits female trauma and allows one woman to shine every decade or so by being a wreck. But in reality it just goes after other women artists, using their creativity for laughs while very loudly stating: I am not like them! It all feels like an example of the backlash against the Me Too movement. "It's all gone too far." "Not all men". "Those women need to be put back in their place and kicked off their soapboxes." How depressing to see those young women rolling in the aisles. The joke is on them.
Reviewer: Tim Fox