Onegin
Choreography by John Cranko, music by Kurt-Heinz Stolze after Tchaikovsky
Royal Ballet
Royal Opera House
–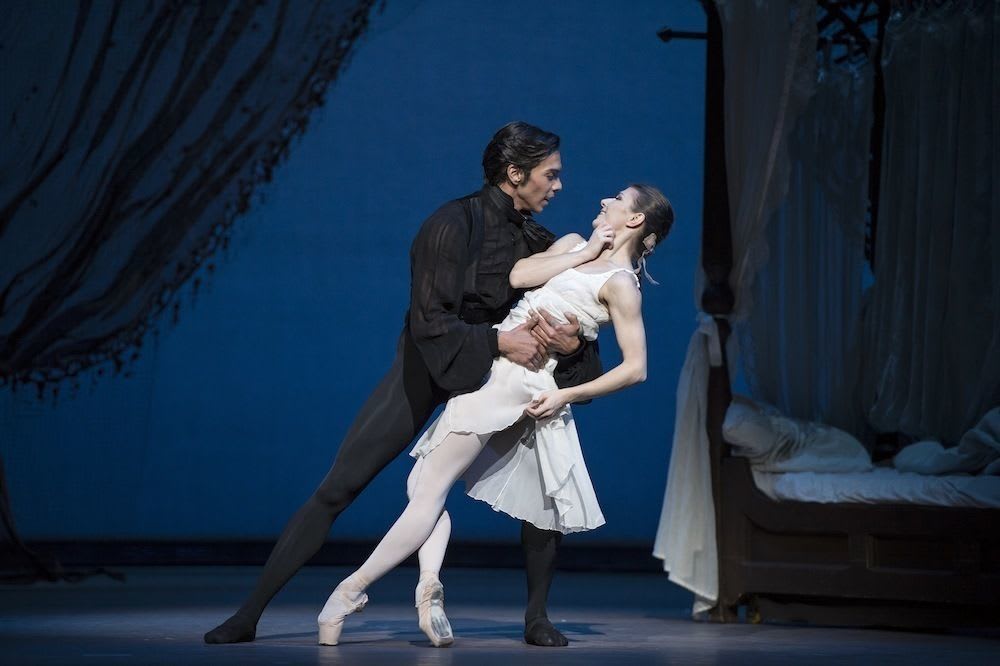 The Royal Opera House is having an Onegin fest this season with Cranko's Onegin ballet, last seen at the House in September-October 2010, overlapping with a new staging of Tchaikovsky's opera Eugene Onegin in February.
Both have to be a must: it was the opera rather than Pushkin's verse drama that inspired Cranko's Onegin. In both it is Tatiana, the lovesick girl, who takes precedence over the eponymous Byronic anti-hero, the disruptive 'superfluous man' (a recurrent figure in nineteenth century Russian literature), out of joint with his time and yet of his time.
Commissioning a new score from Kurt-Heinz Stolze, who seamlessly weaves elegiac music from Tchaikovsky's The Seasons with themes and fragments from other piano, symphonic and operatic pieces, Cranko cut to the emotional heart of the work within the framework of the period.
Each double scene act reveals the context of the personal dramas in balanced apposition, with Tchaikovsky's evocative musical extracts (I hear Pushkin's Autumn poem in my head) giving the setting its sentiment.
In a Levitan paysage of feathery birch trees framing a country house garden, young girls play a mirror game to see their own true love, but Tatiana, a shy dreamer, is not interested. A loner, books absorb her life and inflame her fancies.
In the mirror younger sister Olga sees her sweet betrothed, Lensky a poet (in the novel a follower of Kant, Schiller and Goethe, with black curls to his shoulders), but Tatiana has the misfortune to see Onegin, who is something else, a Childe Harold, Richardson's Lovelace, ice to Lensky's fire, Pushkin tells us.
Staying at his late uncle's estate in the provinces he has become friends with fellow aesthete Lensky, who brings him to the Larins, where he is to be a catalyst for no good: a coup de foudre for Tatiana and a deadly blow to the breast for Lensky.
A city sophisticate contemptuous of these country bumpkins, bored, with nothing better to do, his is a destructive presence. Chekhov borrowed this construct in his Seagull—a man comes along and for want of anything better to do destroys a beautiful creature. Onegin destroys several.
Dressed in cold black, his self-absorbed demeanour Cranko, and Jason Reilly replacing an injured Johan Kobborg, capture in performance. Tatiana tiptoes, a flurry of tiny steps on pointes, around him, timidly placing her hand on his shoulder, but she is not even on his radar.
That night alone in her bedroom, she pours her heart out in a letter to him, and conjures him out of her dreams. Jürgen Rose's lacy drapes catching the late evening rosy light change to black and Onegin steps out of her mirror, an Orphée from the underworld.
In a feverish pas de deux of ecstatic sweeping lifts, head spinning turns, and prostration at his feet (think Catherine and Heathcliff), she declares her love in a night of passion with a figment of her imagination.
The next day brings disaster to her name-day ball. She dances her heart out in a wonderful solo, but a haughty Onegin doesn't even deign to notice, he prefers the company of fellow aristocrat Prince Gremin.
Onegin humiliates Tatiana: tears up the letter of a foolish girl, and flirts with Olga, who plays along, goading poor Lensky. The fatal moral code of the era was that honour and pride had to be preserved. Lensky challenges Onegin to a duel. The two girls plead with him in a heartfelt pas de trois, but an incensed Lensky will not be dissuaded.
Early dawn, the moon still in the sky, Lensky waits for Onegin and dances his last solo: emotional, moving, eloquent, Steven McRae's Lensky is outstanding. The two girls in black headscarves, in premonition of what's to come, plead again, but honour must be served.
The end is swift. Only now does Onegin wake up to what he has done. Dismay and indifference come face to face. In that moment Tatiana grows up. Alina Cojocaru is devastating: fluent and expressive in her movements, her face a mirror to her soul.
Act three demands a change in acting from her. Tatiana, now married to Gremin and living in the capital city, is hosting a grand ball. In a peach red dress, she is part of high society now. A solo reveals her new confidence and status.
And who is the man in black? Onegin in neat moustache, and greying at the temples, a Chatsky returned from his travels. Still alone, still the outsider, he is struck by this mysterious elegant woman, and shocked to find that it is the country girl he let slip through his fingers.
Tatiana dances a tender duet with her husband—Bennet Gartside has grown in warmth and stature in this role and gives a marvellously credible performance. It is Onegin's turn to experience rejection. He recollects Olga and Lensky, and recognises his folly. Madly in love with Tatiana, he writes her a letter.
It is his turn to fall at her feet. Alone in her boudoir they dance an impassioned whirling pas de deux and she confesses she still loves him, "But I am someone else's wife, To him I shall be true for life." He clings but she is resolute. Spurning him, tearing up his letter, the honourable woman sends him away. And collapses in silent lonely grief.
The first cast was to be exactly the same as in 2010, but injury brought an outsider into the midst from Stuttgart Ballet, an outsider who doesn't upset the applecart or Alina Cojocaru. Their dramatic duets fully deserve the loud roar of approval, as do conductor Dominic Grier and the Orchestra of the Royal Opera House.
Steven McRae is a sure (and surefooted) favourite, and Akane Takada is exquisite as Olga, clear in her dancing. Cranko's storytelling, characterisation, and tight dramatic structure, Stolze's musical arrangement, and Rose's designs make for a Gesamtkunstwerk, that thrills the heart, eyes and ears.
Reviewer: Vera Liber