Only When I Laugh, or A Class Act
Jack Shepherd
Love&Madness
Greenwich Theatre
(2009)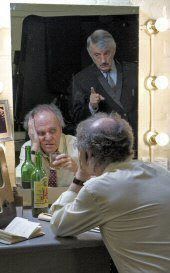 Although probably best known for being a stage actor or as television detective Charles Wycliffe, Jack Shepherd has written several plays (amongst them the epic Holding Fire! that premiered at Shakespeare's Globe in 2007). Presently he is combining skills by starring in a re-working of an earlier piece of his own, now called Only When I Laugh. Or to give it its full programme title Only When I Laugh or A Class Act.
As the original work, Comic Cuts, this play is set in the Leeds Empire during the 50s when variety entertainment was enjoying the best days of its last decade and, similarly, the play's core concerns class and around it hangs a comedy.
The raison d'être for both much of the humour and discourse is the principal character, Reg, who lives with the un-squared circle of being the star with top billing and being working class – a background he shares with his audience who, unlike him, remain entrenched in the austerity of the post-war years.
We also have the practical struggles of the long-suffering theatre manager, Stanley, who has to juggle many demands without letting any of the balls fall to the floor in a near-farce set-up, but the shenanigans of the young and lusty tap-dancing Rita are comparative small-fry. What sets the sparks flying is that a top-billing singer has been sent as a last minute replacement act and the job of telling Reg he longer gets the number one dressing room is left to Stanley.
Most of the characterisations work well, but on the whole the female parts are less well-drawn than the male ones which in particular leaves Nicole Schneider at a bit of a loss – just why would Janey Shore, posh star of the radio crooning world, bother to help crassly vulgar and ungrateful Reg.
On the other hand John Giles is winning as Freddie Osgood who has a low-billing paper tearing act under the name of Harri Gami and a second act slot as Mr B Lune. Freddie knows his place in the hierarchy and when he unassumingly says, "I've not got much talent – I might not have any", the antithesis between his humility and Reg's blustering is touching.
However there is more to Reg than conceit and alcohol. The writing gives him a deeper side to his character and Jim Bywater ably brings this out also giving Reg a likeable aspect; Bywater balances great drunken energy with a quieter sardonic hangover and his delivery of Jack Shepherd's brilliant quips and vituperous remarks, gives further credence to Reg's stage persona.
Jack Shepherd is wonderful as an appealingly rumpled and put-upon Stanley. There is great sincerity in Stanley's understated nervousness which makes this performance a joy to watch.
The polemic rather obtrudes in the second act, risking unbalancing the whole but the thought that it provoked after the show was revealing and some lovely one-liners make this a memorable piece.
Sandra Giorgetti saw "Only When I Laugh" in preview at Greenwich Theatre where it runs until 31 January and then tours the country including Harrogate, St Andrews, Middlesbrough, Oldham, Glasgow, Scarboroughbefore returning to London (Arcola Theatre) in April 2009. The play contains brief male nudity and strong language.
Rachel Sheridan reviewed this production at the Arcola
Reviewer: Sandra Giorgetti