On the Rocks
Amy Rosenthal
Hampstead Theatre
(2008)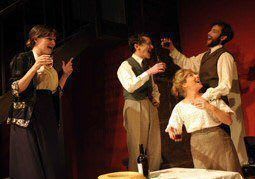 The main attraction of this biographical play multiplied fourfold is a chance to observe the seeds of what would eventually become D.H.Lawrence's Women in Love. If nothing else, this gives audience members an anticipation of excitement to come and especially the prospect of some naked wrestling, which never quite materialises.
Set in a pair of claustrophobic Cornish cottages in 1916, Amy Rosenthal's comedy focuses on two contrasting couples. Lawrence (Lorenzo to his intimates) and his wife Frieda are visited by New Zealand short story writer Katherine Mansfield and her common-law husband, the critic and poet John Middleton Murry.
The set itself is a wonder, perhaps owing something to Vincent Van Gogh, and does great credit to designer, Paul Burgess. It beautifully captures craggy Cornwall conveying the isolation but also close proximity from which no member of the quartet can escape.
Ed Stoppard's Lawrence is an overbearing but sometimes inspired fool, both heartless and caring but ultimately a nightmare to live with or even near. His cuddly German wife played by Tracy-Ann Oberman with a frequently impenetrable comic accent ("Vimmin in Luff"), lives for sex and food and there must be some debate as to which is the more important to her. This couple are fiery to say the least and in their home, neither crockery nor glassware is safe when tempers boil over.
The incomers could not be more of a contrast. Charlotte Emmerson is Katherine Mansfield, a sensitive writer, severely blocked and suffering from depression, while Middleton Murry (Nick Caldecott) is the kind of buttoned-up Englishman who could have given Sigmund Freud enough material for several books. His life is lived as much in the pages of other people's books as real life and he offers some lovely literary morsels during the play.
For 2¾ hours, that might well have been cut considerably by director Clare Lizzimore, the couples banter and fight, changing alliances and sympathies with great regularity. Every single relationship is love/hate, which can eventually become somewhat wearing.
The central figure, Lawrence, is excessively loud and bombastic, at his best when the writing obsession completely takes over but epitomised by jealousy of a literary establishment symbolised by Lady Ottoline Morrell (who was eventually immortalised in Women in Love as Hermione Roddice) and the Bloomsbury Group. His wife, though hounded because of her nationality, is played much more for comic effect than realistic portrayal. The other couple are not as fully realised and tend to disappear by comparison.
The idea of showing life that becomes novel is very enticing but with an excessively wordy play like this, viewers might conclude that they would rather have read the book or, more likely in this case, watched the film, one more time.
Reviewer: Philip Fisher