On the Town
Jerome Robbins and Leonard Bernstein, Book and Lyrics by Betty Comden and Adolph Green
Théâtre du Châtelet, Paris
(2008)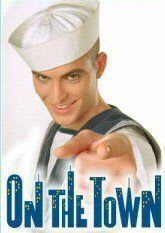 In 2005, when it opened at the Coliseum, Jude Kelly's spectacular production of On the Town was a pioneering work in the cross-over genre of musical-operas.
It took Leonard Bernstein's 1944 musical and introduced opera singers and ballet dancers to play alongside musical stars on a big stage with lavish designs, courtesy of Richard Jones, an always impressive designer, who is used to working in opera houses.
Three years on and after a revival at ENO (reviewed for the BTG by Kevin Catchpole), most of the original cast have crossed the Channel to play to packed houses at the 2,000 seat Théâtre du Châtelet, the least formal of Paris opera houses.
The story will be known to anyone familiar with Stanley Donen and Gene Kelly's 1949 movie, which starred Frank Sinatra alongside Kelly. Three hick sailors are on a single night of shore leave in New York City. The musical's most memorable and probably best known song tells us that "It's a helluva Town" and so it proves for 2½ hours.
As their type is supposed to, the implausibly handsome trio decide that their goal will be to pick up girls. This is all very well, but the Gene Kelly part of Gabey, played by Joshua Dallas, decides that his day won't be complete without meeting Miss Turnstiles, the lucky underground train rider chosen as the most desirable that month.
As his down-to-earth pal Chip (Adam Garcia in the Sinatra role) points out, this gives him a one in 2.5 million chance of finding her, let alone getting a date. It will surprise nobody that this lottery-odds chance comes up.
Before it does so, Chip meets a kooky taxi-driver, the versatile Caroline O'Connor getting to drive a marvellous, skeleton Yellow Cab on stage, in the part of Hildy. Meanwhile, Tim Howar's Ozzie gets Lucy Schaufer as Claire, a bluestocking anthropologist with nymphomaniacal tendencies - and a fiancé.
The happy ending is inevitably achieved, when Gabey finds and then eventually hooks up with his blonde beauty, Sarah Soetaert playing the prosaically named Ivy Smith.
The embellishments of this simple triple love story are introduced by the scale and artistic quality of the production.
Richard Jones ensures that all looks good on the big stage but leaves lots of space for a talented team of dancers who do a great job, well choreographed by Stephen Mear, after Jerome Robbins. He is also lucky enough to have Belgian ballerina, Miss Soetaert on hand. She is a lovely ballerina who performs with surprising sensitivity for a Coney Island showgirl and repeatedly wows her audience with solos.
The forty-strong orchestra makes a big sound, which is well balanced with the singing. The best comes unsurprisingly from the opera expert, Miss Schaufer but also two men in minor roles, bass-baritone Rodney Clarke and bass Jonathan Best. The last-named also elicits great sympathy for his character, Judge Pitkin, Claire's constantly jilted fiancé, whose resigned catchphrase, as he sings so poignantly and often, is "I understand".
If the singing and dancing are souped-up by these additions, the acting is not forgotten, with the three men all able to get laughs, though perhaps not as many as they should, as well as dance to a high standard. They are supplemented by a pair of seasoned character actresses, Sheila Reid, who is hilarious as Ivy's drunken singing teacher, and Janine Duvitski playing a perennial wallflower given a chance to blossom, at long last.
It is in the nature of productions of this type that one can pick holes in the weaker suits of most performers, more on the acting side than elsewhere, especially when they are seen beside experts in their fields. On this occasion, Jude Kelly has got the balance pretty much right, as song, dance and spectacle complement the musical comedy to give audiences a great night out.
Reviewer: Philip Fisher