Ordinary Days
Music and lyrics by Adam Gwon
The Oxi-Morons Theatre Collective
Northern Stage, Newcastle
–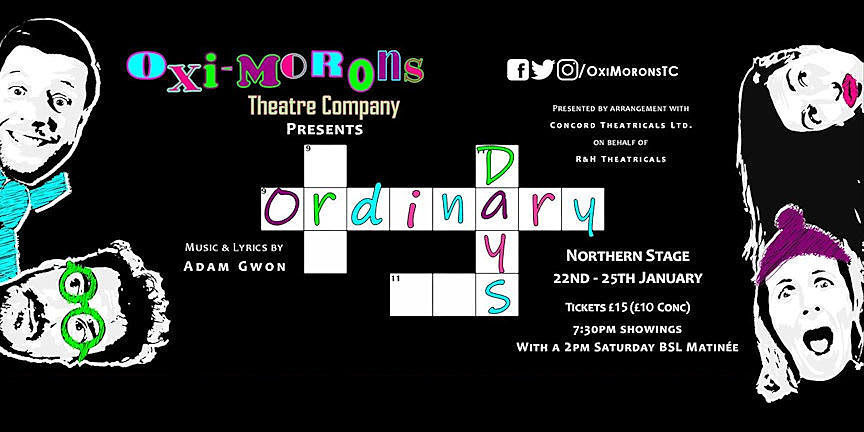 Two musicals in two days—quite a week! And they couldn't have been more different: one with a cast of 21 and a 9-strong band while the other had a cast of 4 with a single keyboard player.
One was in the magnificent 2,000-seater Sunderland Empire, the theatre with the largest stage between Leeds and Edinburgh, while the other was in the 160-seater Stage 2 at Northern Stage, Newcastle. One had lots of impressive sets and costumes while the actors in the other wore everyday clothes on a simple set, but a set which reflected some thought-provoking projected graphics. One had big music theatre stars in the cast while the other was produced by a NE-based young collective in the early stages of its development. One had lots of impressive dance routines and the other had no dance routines of any kind. One had music and lyrics by one of the greatest teams of the twentieth century, John Kander and Fred Ebb, while the other is the first piece by Adam Gwon who wrote it in 2009. One ran for three hours (including interval) and one for less than half that time (no interval).
One was Curtains: A Musical Whodunnit at the Empire and the other, of course, was the subject of this review, Ordinary Days.
Obviously Curtains is going to be the better of the two, isn't it?
Well, actually no. Sheer size is not a factor in determining quality (personally I'd rather have Schubert's String Quartet No. 14 in D Minor, Death and the Maiden, than the entire Ring Cycle!) and, in any case, these are two very different beasts.
I've heard Ordinary Days described as a "chamber musical" (which fits well with my Schubert comparison) but to me it is more of a song cycle, like Jason Robert Brown's The Last Five Years, which the Oxi-Morons brought to Alphabetti in 2018. And it's definitely Sondheim rather than Oklahoma! country.
It's music theatre pared down to its basics; with no distractions, we are focused on the characters and their stories, the story of ordinary days which turn into extraordinary days for the four characters: Jason (Jamie Brown) and Claire (Melanie Carss), and Deb (Eilidh Talman) and Warren (Gram Cummings), whose performances are accompanied by MD Ray Taylor.
It's set in New York and at first the only connection we see is that between Jason and Claire as he moves in to share her apartment. The other two have nothing to do with each other or with the couple. And then all four find themselves in the MET Museum and in this city of almost 9m people the lives of four people connect.
To say any more would be a spoiler—and it's not what you think; it's much more complicated than that!—but it is a very satisfying piece of work, well performed, with music which is compelling and emotional—and without even a touch of cliché. It's virtually unknown to the general music theatre-loving public in this country, but it's well worth a visit, as the enthusiastic students from Newcastle College in last night's audience will testify!
Reviewer: Peter Lathan