Oresteia
Aeschylus in a new version created and directed by Robert Icke
Trafalgar Studios – Almeida Greeks in the West End
–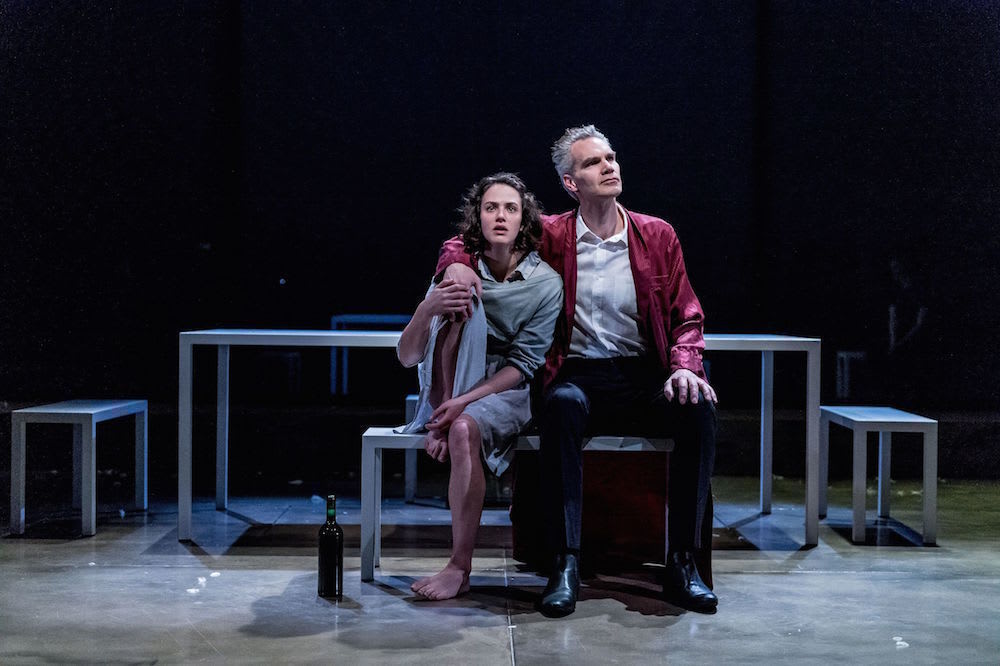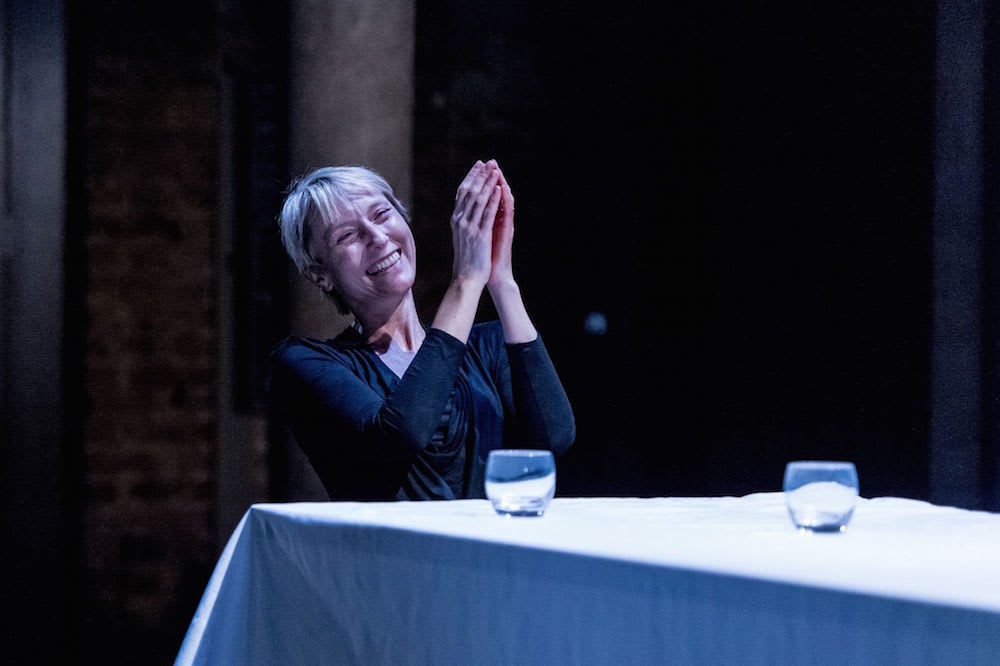 Traduttore—traditore (attributed to Umberto Eco), translator—traitor, and Robert Frost's "Poetry is what is lost in translation. It is also what is lost in interpretation" might well apply to Robert Icke's postmodern deconstruction of Aeschylus's Oresteian trilogy.
Icke's Oresteia has three acts but they have little to do with the structure of the three plays of Aeschylus: Agamemnon, The Choephori / The Libation Bearers and The Eumenides. Here these leak and leech into each other.
A note from adapter Icke, "the first act isn't a version of Euripedes' Iphigenia at Aulis but rather a dramatization of Aeschylus' version of that myth as retold in the first chorus of Oresteia", stresses the origin of the family tragedy, which here begins with Agamemnon's agony of faith and Orestes' repressed memory, with double-layered emotional and psychological confusion. The past is the present and the present is the past.
The backstory to Agamemnon, the sacrificial death (by Dignitas-style medication) of his daughter Iphigenia (an amazingly self-assured Cleopatra Dickens), is part of an interminable court case, and we the citizens of Athens are here to pass judgement.
The steeply raked 380-seater Trafalgar Studio, a lecture hall of a theatre, could well be an international criminal court: evidence is itemised strictly by the Greek alphabet system on an LED digital strip over the stage. But do try to sit nearer rather than further back, as some audibility is lost towards the back rows.
Swiftness and pace are sacrificed to forensic deliberation. It is a long exhausting evening, three hours forty minutes, with breaks and pauses counted down digitally.
Almeida's Associate Director, Icke spills with ideas, humour and conceits, not least The Beach Boys singing "God Only Knows" and Mark Lanegan "The Beast In Me" in exchange for epic song. Incidentally the latter was used in The Sopranos pilot, which plays into Icke's emphasis on family and family meals (the programme has a double spread of an arbitrary "Family Through The Ages" which includes The Sopranos, The Simpsons, The Kennedys as well as the House of Atreus).
How does one stop endless family blood vendettas? Orestes is the last of the line and he killed his mother, who killed his father, who killed his daughter. How does justice come into play?
The purpose of Aeschylus' tragedy is to empower democracy, to question the patriarchal state and the matriarchal Furies. Why is Clytemnestra's crime worse than Agamemnon's?
Video cams record interviews (television screens line the walls of the theatre and captions in Greek, of course, spell Clytemnestra with a K) and the hero's welcome home on a state podium, where Agamemnon and Clytemnestra take on a Soviet or a Ceausescu couple faux grandeur.
Marble bath and crimson robes feature in the classy minimalist palace (design by Hildegard Bechtler) of bare brick walls, columns and sliding glass doors, opaque one minute, transparent the next.
Crimson robes, robes of death become the red robes of court, the only colour on a monochrome set. A movie set, Antonioni or Resnais perhaps, cold and alienating. The ecclesiastical music (soundscape Tom Gibbons), however, is wonderful and apt.
Orestes has what appears to be a psychoanalyst (Lorna Brown) who is perhaps also his counsel. Nothing is clear. Even the existence of Elektra (Jessica Brown Findlay) is not entirely clear. Orestes (Luke Thompson) says he had two sisters but the court says he had only one, Iphigenia.
Is he a split personality? Confusion reigns. Oresteia as a state of muddled consciousness… Does 29-year-old Icke identify with Orestes? Has he seen too many art house films? Is Katie Mitchell an influence?
But there is no Aeschylean sense of wisdom gained through suffering. There is no chorus, the role of Nurse is doubled with a single blind Fury (Annie Firbank), and Angus Wright plays both Agamemnon and his cousin Aegisthus, which raises many questions as to Clytemnestra's mental state. She says it is all lies… But what is truth, Icke keeps asking.
Lia Williams in black, slender as a reed, a vivid exclamation mark, reminds me more and more of Vivien Merchant in her vocal delivery. But she doesn't move me to awe and pity. The most chilling moment is Iphigenia's clinical death on her father's lap. It won't hurt. Oresteia doesn't hurt, and it should.
Icke's psychoanalytical approach (academic Duška Radosavljević, author of Theatre-Making: Interplay Between Text and Performance in the 21st Century, is credited as dramaturg) is one of several Oresteias in vogue at present. The Globe has Rory Mullarkey's version with the definite article; Manchester is staging Blanche McIntyre's next month.
The ancient Greeks are back in business. Our 'interesting' times call for them. The past unravels and time is circular or on repeat. Stories matter. They are about all of us. "Ask the bigger question," says Agamemnon, how should we live? Does one put country before family? Is "war a necessary evil"?
Reviewer: Vera Liber