Orfeo ed Euridice
Music by Christoph Willibald Gluck, libretto by Raniero de' Calzabigi
Opera North
The Lowry, Salford


Listing details and ticket info...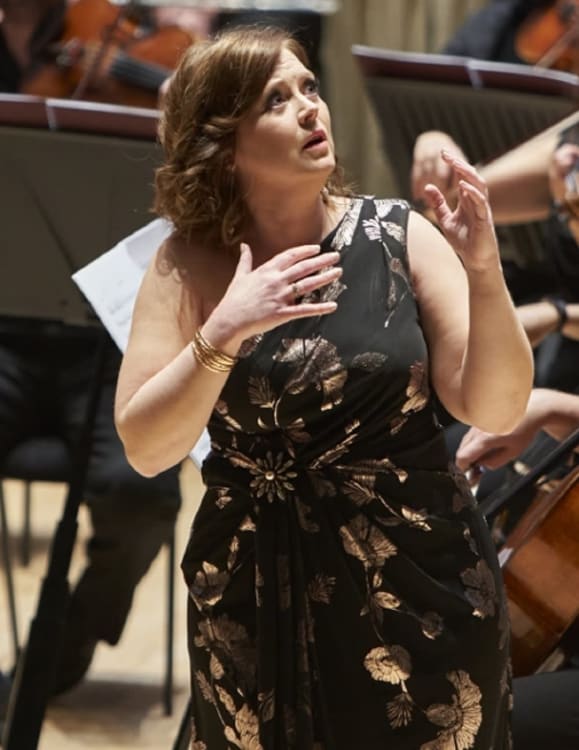 Although promoted as a 'concert staging', Opera North's Orfeo ed Euridice feels more like a stripped-down full performance. The opera lends itself to such an approach with just three principal roles and a plot in which the tension arises from the mental torment of doubt rather than any physical threat.
Orfeo (Alice Coote) is in anguished mourning following the death of his wife Euridice (Fflur Wyn). Moved by Orfeo's suffering, the god of love Amor (Daisy Brown) grants him safe passage through the underworld to recover his wife. But there is a catch—Orfeo's trust in the god must be absolute so he is not allowed to look back and check if Euridice really is following. Euridice interprets her husband's odd behaviour as indifference and begins to doubt he still loves her. Horrified by Euridice's suffering, Orfeo find it increasingly difficult to stick to the terms of the agreement.
This is a production in which the Chorus of Opera North is used to maximum effect visually as well as vocally. The curtain rises to the stunning image of the Chorus, in dark mourning clothes and set against a ravishing, star-filled background, sharing Orfeo's grief. The Chorus become The Furies who block Orfeo's passage through the underworld behaving less like vengeful spirits and more like dispassionate bureaucrats just doing their job by creating obstacles. The strongest impression arises when the Chorus finally gets to cut loose and celebrate Euridice's liberation vocally.
The set and costumes are minimalist, and no designer or director is credited. A raised platform serves as bench and tomb while a harp makes a striking impression. An image of Euridice is on the back of Orfeo's mourning gown and the capricious nature of the god of love is apparent as Amore enters in a shocking pink blazer like a shifty used car salesman.
Unlike previous concert performances staged by Opera North, the orchestra is in the pit rather than on stage to allow room for the full impact of the Chorus to be felt. Christoph Willibald Gluck's score is deceptive—the overture light and tripping. But marvellously ominous timpani push act one to a thunderous, emotional climax.
The journey undertaken by the characters is emotional rather than physical. Fflur Wyn gives an intense, tightly controlled performance, barely moving as Euridice is riven with doubt. The show is stolen, however, by Alice Coote's stunning vocals ripping out Orfeo's anguish and passion as he struggles to recover his love and becomes tormented by the actions he is forced to undertake.
With Orfeo ed Euridice, Opera North demonstrates the flexibility of the concert format to provide an intimate and intense entertainment.
Reviewer: David Cunningham