Original Death Rabbit
Rose Heiney
Jermyn Street Theatre
Jermyn Street Theatre
–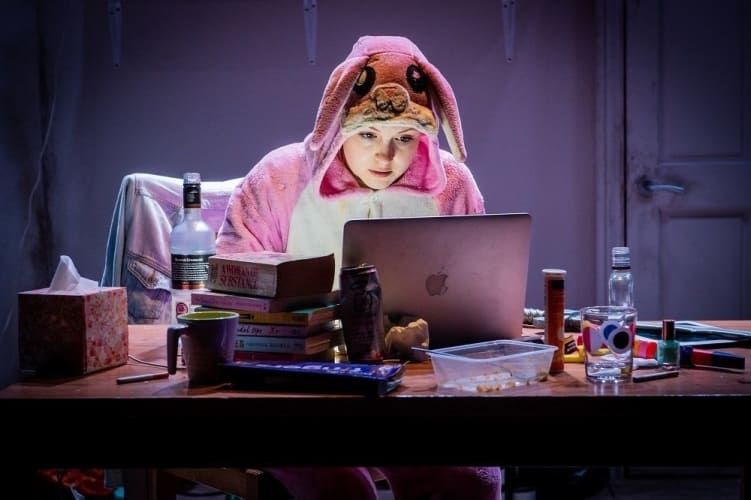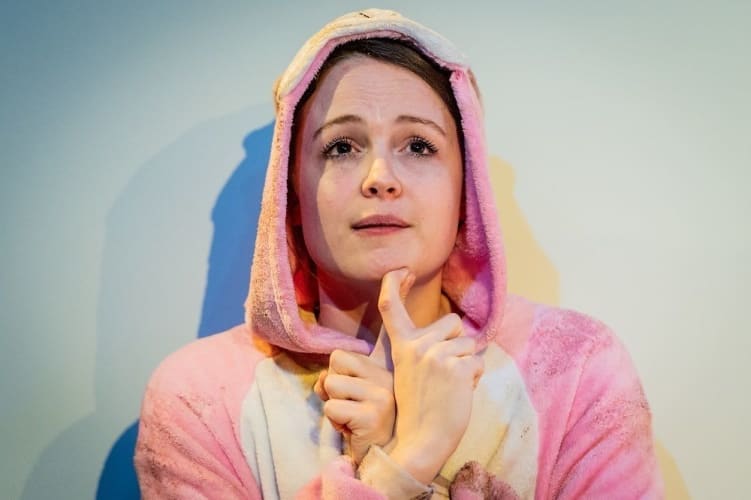 Jermyn Street Theatre's Portrait Season gets off to a sensational start with Original Death Rabbit.
First heard on BBC Radio 4 some 12 months ago, the play has been rewritten for the stage by its author, Rose Heiney.
It is a crafted piece of writing. Penetrating and frequently funny, occasionally uncomfortably so.
Initially something inside tells me that I shouldn't like the young woman who delivers this clever narrative. She has a potty mouth, swigs vodka from the bottle, wears a grubby onesie and lives in a flat where the mess verges on the squalid (well done Louie Whitemore for set and costume design).
But for all that I find her immensely engaging as she is also witty and erudite. And she is having "an actual physical, mental and emotional real-life trauma" which I find quite gripping as, guiltily, I laugh out loud.
The clue is in the "real-life" since Original Death Rabbit lives outside of normal society.
Her onesie is her long-time security blanket and since she was photographed, complete with bunny-eared hood, at a child's funeral and Death Rabbit became a meme, she has lived vicariously, and increasingly exclusively, through online persona.
Original Death Rabbit snaps angrily, cries affectingly, mocks and talks about mental health in healthily un PC terms.
It's "the Israel and Palestine of medical chat" she quips whilst explaining living with a "mad dad situation" and revealing her own intensely sad, damaging form of solitude.
For someone with OCD and self-loathing, the shallow fame of being the original Death Rabbit is all well and good when the online approval is flooding in via re-tweets and likes, but not so much when the rest of your life is going down the pan and you're not coping.
As the flow of online love turns to censure her lashing back is uncontained and visceral and there are consequences. Original Death Rabbit, who judges her self-worth by the number of followers she has, becomes easy prey to the dark side of internet obsession.
If you believe the affirmation, you have to believe the belittlement too. Right? It leaves her pathetically rationalising her behaviour and creating more online identities through which to communicate.
This funny yet heart-aching monologue is superbly delivered by Kimberly Nixon who took the role when Hannah Arterton's filming commitments forced her withdrawal.
Arterton's departure is our gain since Nixon has an appealing stage presence and gives a powerfully intimate performance.
Artistic director Tom Littler must be very happy indeed with the start of the Theatre's 25th anniversary year.
Reviewer: Sandra Giorgetti